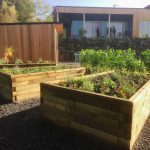 Our wooden raised bed kits are available in every size and shape from standard rectangles through to circles, our customers love using WoodBlocX because our modular system makes building them so simple, plus each structure is long-lasting and looks beautiful, here's is a look at our bestselling designs of 2019 so far...
Providing different levels and sections of planting this design is right at the top of our bestsellers list, placed against a wall or as a centre piece it provide a large and accessible growing space the interesting angular shape is completely different to standard raised beds and is ideal for anyone looking to make a statement in the garden.
Bestseller - Octagonal Dual Level Raised Bed / 2.548 x 1.524 x 0.55m
Not everyone has a raised bed for accessibility, many of our customers simply want to create a beautiful frame for their beds and borders for growing their own fruit and vegetables or for plants and shrubs. Low level planters are ideal growing tall edibles such as broadens and raspberries and for gardening with children as they keep everything contained.
Bestsellers
Low Level Raised Bed / 1.875 x 1.125 x 0.25m
Herb Garden / 1,5 x 0,75 x 0.35m
Short and slim raised beds
UK gardens are getting smaller, but having a small garden doesn't mean it can't look stylish, by utilising the space correctly you can create something unique and beautiful, whether its a multifunctional kitchen garden our an outdoor space to relax. Our slim raised beds and planters can be used as window boxes, or use an L-shaped design to make a feature of a tired corner.
Bestsellers
Slim Raised Bed / 1.875 x 0.75 x 0.45m
Short Rectangular Raised Bed / 1.5m x 1.125m x 0.35m