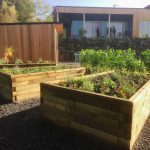 Read on to find out what our best selling raised bed shapes of 2020 using our easy to build, long lasting DIY kits.
Our top selling raised bed shape of 2020 was...
Of course traditional rectangular raised beds are always the firm favourite of all of our shapes! This timeless shape will work perfectly in all garden and property types from minimalist to cottage gardens. WoodBlocX raised beds are a great alternative to railway sleepers as all of the parts are pre-cut and pre-drilled making them easy to build and long-lasting. No sleeper screws or sleeper brackets needed! Plus the unique design of WoodBlocX makes your structure extra-strong so it won't easily distort, unlike other wooden products, so you can be confident your raised bed will not give away.
Second best selling raised bed shape of 2020 - Octagons
Our octagonal raised bed kits are extremely popular, they make the perfect centre piece to a garden. The design of them can even be adapted to create different levels and sections. The interesting angular shape is completely different to standard raised beds and is ideal for anyone looking to make a statement in the garden.
Corners and L-Shaped raised beds
Transforming an unused corner of the garden can make a huge difference and our corner raised beds are a great solution. The modular nature of our BlocX means that it is very easy to add seating, different planting levels and more. L-shaped raised beds are also brilliant for breaking up areas in the garden to create different zones.
More than a quarter of our customers opted to use our free bespoke design service in 2020. Our team of designers worked with customers to help their garden visions come to life with full garden redesigns, fire pit benches, terracing, retaining walls and more. Even bespoke raised beds designed to fit even the trickiest of spaces, something that is hard to achieve with railway sleepers, metal and plastic raised beds.
The design possibilities are endless thanks to the versatile nature of WoodBlocX.
Our website features hundreds of raised bed kits or all shapes and sizes for building raised beds, planters, ponds, garden furniture, walls and steps. If you can't find exactly what you're looking for get in touch with our design team who can create a something bespoke for your garden free of charge.
If you need inspiration for creating a low maintenance garden click here.