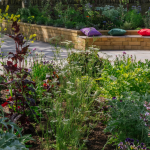 We asked Annabelle Padwick, the founder of Life at No.27 to share her expert advice on how gardening is a powerful therapy for positive wellbeing. Annabelle is a professional gardener, wellbeing therapist, gardening writer, public speaker and potato growing addict. Her therapeutic and educational programmes for children and adults, are proven to build confidence, teach new skills, help you make new friends and ultimately, have fun….
Gardening has incredible powers; it's healing, comforting, joyful, exciting and totally absorbing. Getting out in the garden builds your confidence, gives you time for yourself, keeps you active, feels good between your toes and makes you both physically and mentally healthier.
It is also hard work at times and doesn't always go to plan, just like life. I will always praise how gardening can help improve your life, as it totally changed mine. But I also recognise it isn't always bright sunflowers, perfect roses and juicy tomatoes. This is exactly why I teach gardening to children and adults, alongside wellbeing discussions and games. Growing your own food safely teaches resilience; if a seed doesn't germinate or a plant dies, you can try work out why and just try again. Sowing little seeds teach the power of self-care, love and nurture; give a seedling or yourself the right amount of water, food, sunlight, shade and love, then see what happens. You thrive! Plants and humans are very similar, some might just say that we have more complicated emotions. But, through experience with some of my plants, I think I find them very complicated too.
Here is just a few of my tips on how gardening can benefit you:
I love running outside to the containers and raised beds full of vegetables, immediately snacking on the nearest bean or tomato… yummy! Growing and storing your own produce keeps the winter stews coming too. The odd takeaway treat or junk cupboard dash will always stay I'm sure, but learning to grow your own food makes delicious goodness easier to grab, cook and eat!
If Annbelle's tips have given you the urge to grow something, start gardening or just make the most of your own garden then check out some of our other helpful blogs or head to the main website to find out more about about beautiful and easy to build raised beds.
To find out more about the work Annabelle does as part of the Life at No.27 social enterprise click  the logo below.