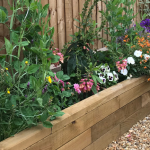 When you get the keys to your new build home, the excitement factor is high, everything is fresh and pristine and then you peer out the window and the outdoor space is generally anything but inspiring.
Simon and his partner got the keys to their new home in August 2018 and it is safe to say that their garden wasn't much of a garden at all, here's their story.
Tell us briefly how the garden was before you began updating it?
As with most new builds, the house builder provided us with topsoil and slabs, nothing more. Our garden also had a gradient, sloping away from the house, which made the space mostly unusable.
What did you want to achieve from the garden?
We wanted to create the ideal space for entertaining friends and family and give it a sense of purpose. We're also keen gardeners, but sadly we don't have much free time. With this in mind, we also wanted to create space for plants that would be easy to maintain.
How did you hear about WoodBlocX?
When we decided that we needed to level off the garden we started searching online for retaining walls. A few clicks later and we arrived at the WoodBlocX website.
Did you look into any alternative materials for the walls and seating?
We considered using reclaimed railway/timber sleepers but quickly decided it wasn't an option worth pursuing. Using sleepers would have not only cost more due to the waste, but the effort that comes with having to lift, cut and attach them together was also off putting.
How did you find working with the team and using the free bespoke design service?
Incredible. We worked with Lachlan who was extremely helpful (and patient!) as we refined our design multiple times to make it perfect. When you're in our garden you can immediately feel that the design is unique and has been designed to fit and maximise the space.
Tell us about the different elements of your new garden
Our garden is now split into two levels. The first level has a slate floor covering and is supported by two WoodBlocX retaining walls. We also worked an inset seating area into one of the walls maximise the space and provide a place to put the shopping down when you walk through the back gate.
We then have a semi-circular set of WoodBlocX steps that take you down to the lower level of the garden. As our neighbour's land is around 50cm higher than ours we have a retaining wall that supports their garden along the fence - this also provides us with a perfect raised bed for growing trailing plants along the fence (currently Sweet Peas). Moving further down the garden we needed to continue the retaining wall, but we wanted to ensure there was still space for seating. The space at the bottom of our garden appeared as an obvious place for a cosy seating area, but to do this while also needing a retaining wall was a challenge. During the design process we worked with Lachlan to create the perfect shaped benches that would also act as retaining walls. This has saved us space and money as we now have permanent seating that, unlike other garden furniture, doesn't need to be stored away during water in a shed that takes up space!
Our designer Lachlan says...
"Simon's garden was a great project to work on and a great customer to work with. We had to go through a few iterations of the design, but this is all part of the design process. We always ensure that our customers receive exactly what they need for their project regardless of what it is they want to achieve. For an intricate full garden redesign like this one, it was paramount that we focussed on the details to squeeze the most out of the space and budget, whilst fulfilling the original brief."
If you need help transforming your garden or to find out more about our free bespoke design service click here