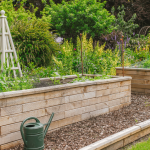 Designing an entire garden or even just a certain area can be a daunting prospect which is why we have made our free design service as quick and simple as possible.
Whether you're a new homeowner, the owner of a new build home with a fresh plot to put your stamp on, or have an established garden that needs a new lease of life, our modular system can help you transform it into a beautiful and functional space.
Our skilled designers have worked with customers to create full garden layouts and bespoke designs that fit their gardens perfectly using our modular system which can be used to build strong and long-lasting raised beds, planters, ponds, walls, steps, seating or a combination of all. Each structure can be built on any surface, even hills and slopes are no problem and the design potential is limitless.
Once you have an idea of what you want to include within the space head to our garden design service page and fill in our super quick feedback form, which has been designed to take minimal time to complete (five minutes maximum) and we will do the rest, all of the information provided will help us to build a bigger picture of your project and we can begin creating a design that is totally bespoke to your garden.
The benefits of using WoodBlocX timber structures to update your garden