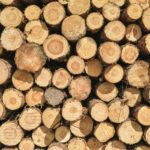 It's good to know that when you buy a product it is not just from an environmentally-friendly company, but that the good ethics are present all the way back down the supply chain to where that company sources its materials. When buying timber for a garden project it can sometimes be difficult to be sure where it has come from, but when using a company like WoodBlocX you are guaranteed not only a high quality product but also the highest environmental credentials.
The modular timber constructions from WoodBlocX – raised beds, planters, retaining walls and terracing, ponds, benches and more – are all made using mostly UK-grown timber (some shortfall is made up with Latvian timber that also meets the company's strict guidelines). Using UK timber drastically reduces the 'timber miles' and carbon footprint of the product. Plus, when it comes to delivering the BlocX to your site, they stack easily on pallets for efficient transportation.
Furthermore, WoodBlocX timber is accredited by the FSC® (FSC-C134890) (Forestry Stewardship Council ®). FSC®  is an international body that sets the standards for responsible forest management, so that you can be sure that your garden materials are from woodland that has its water, soil and ancient trees protected, and that the forestry operation does not use hazardous chemicals.
The timber is then treated using a water-based preservative (Wolmanit CX-10), so there are no nasty chemicals to leach into your garden's soil. WoodBlocX constructions are so strong that they don't need foundations – even for retaining walls – so you won't have to use any cement, which has many environmental concerns connected to it. The dowels that fix the BlocX together are even made using recycled plastic, so it's all in all one of the greenest products on the market.
The more UK-grown wood is used to make products, the more trees will be planted to meet the demand, and we all know that more trees in the world is a good thing. Imported wood can often be from areas that are not managed sustainably, causing untold damage to the earth's wildlife and climate – WoodBlocX UK timber has none of those concerns.
But the ethical aspects of sourcing materials extend to more than just the materials themselves. Using a product made of UK timber means that you are also supporting many UK companies, not just WoodBlocX themselves. The wood is not only grown but also cut in the UK, managed by forestry companies and WoodBlocX's own sawmill - all of which create jobs in rural areas. Jobs bring money and life to rural communities, often in areas that sorely need them. Using a UK-timber product such as WoodBlocX is the smart choice, for the environment and for your garden.