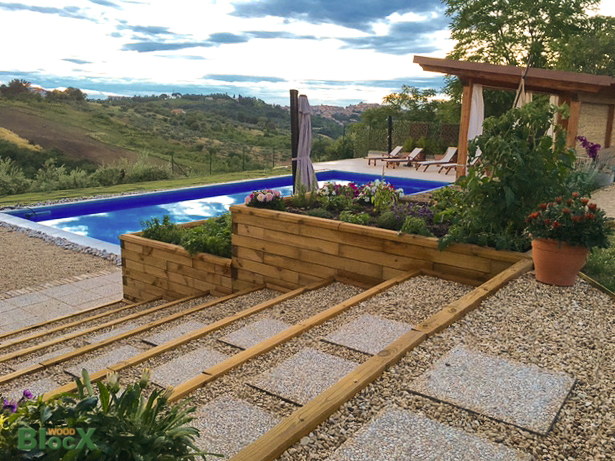 Undertaking any hard landscaping project in your garden can be a bit of a daunting task.. but when your garden is based in the picturesque rolling hills of the Apennine Mountains in Italy, it adds a new level of complexity. Luckily WoodBlocX, due their modular nature, are easy to transport via the international pallet network. This means that no matter where you're based, ordering and delivery is the same process.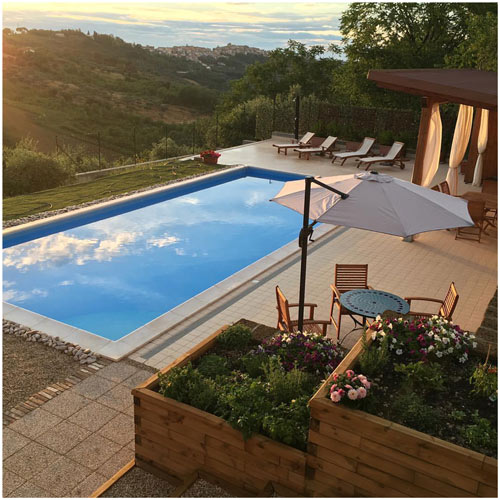 The challenge for Jerry was turning the rough and crumbling slope, currently constructed from a mixture of concrete and hard pack, into an attractive dining and entertaining space. Our designers worked with Jerry on a few design options, and finally settled on 7 large steps rising up the bank with an adjoining large 2 tier planter. It was paramount now that everything fitted like a glove, as Jerry had a small window to build the new poolside area, and being so far from home it wasn't quite as easy to get some replacement BlocXs onsite.
Measurements were checked, and double checked again, prior to the BlocXs being picked and the pallets being shipped. The full consignment arrived onsite within 5 working days, and the Jerry and the team were able to get started on the build immediately. Everything pre-cut to size and the layer by layer WoodBlocX build instructions there to keep them on track.
"It took about 8 days or so. It has completely transformed the garden and we are delighted with it. Thank you for designing the steps and arranging the shipment to Italy, it was a hassle free project" - Jerry Agass
The transformation at Jerry's garden has been a great example of how a modular and custom design solution can not only save you time and hassle, but also how a little bit of ingenuity in the design process can really open up a space and make a living space out of a garden. And in the warm climates of the Italian mountains, why wouldn't you want to get out in the garden as much as possible!