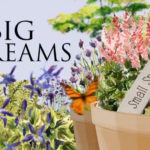 Did you watch the first episode of the new series of 'Big Dreams Small Spaces'? If you did, you'd have been treated to loads of beautiful shots of WoodBlocX being used in Glenn and Zoe's garden transformation project! Monty Don was on hand to help the couple revitalise the awkwardly shaped green space into something magical.
During the programme, Glenn and Zoe wanted to find a way to make their very steep garden more enjoyable by implementing level pathways and retaining walls. The solution was, of course, WoodBlocX! Glenn had heard of WoodBlocX beforehand, but had no first-hand experience building with the system itself. The team got straight to work planning and plotting the redesigned garden and assembled their bespoke WoodBlocX kit in a short space of time.
"For the terrace we're going to use WoodBlocX, built with a peg system, and they're relatively easy to put together," Glenn said on the programme. "Once you've got them level and square, it's just like a big LEGO set made of wood!"
In case you missed it, the full episode is available on 
BBC iPlayer 
right now.