The benefits of raised beds
Here at WoodBlocX, we know a thing or two about raised beds and the benefits they can bring to your garden.
After all, we have been designing, manufacturing and delivering raised garden beds to customers across the UK and Europe for the best part of a decade.
Keep reading to find our top 9 list of raised bed benefits:
We've gone into a little more detail below on these key benefits of raised beds.
Increase the quality of your soil
Raised beds give you greater control over what conditions your produce can grow in. That's why they are often a great option for new-build homes or gardens with poor soil quality.
Since new beds need to be filled, you can use the best quality surplus soil you can find in your garden if that's an option. Or you can add some brand-new soil.
Which soil should I choose?
When growing produce such as fruit and veg or herbs, we recommend using a fresh, sterilised topsoil to make sure your soil will be free from weeds, pests and diseases to start with.
Plus you can give the growth of your produce a boost by using a soil improver or organic matter (compost) for even healthier crops and bigger yields.
Pretty much anything can grow really well in a raised bed if you use the available soil options to your advantage.
Raised beds can be used to grow annuals, perennials, shrubs and even plants that need a specific soil, including ericaceous varieties such as azaleas, rhododendron and camellia. Just adapt the soil to suit the plant!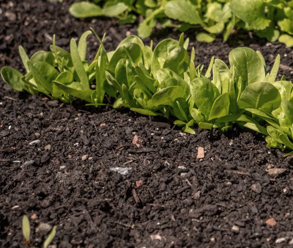 Benefit #2 - Soil drains properly in a raised bed
Say no to soil compaction
Simply put, raised beds can be accessed without having to walk on them.
This prevents soil compaction and helps plant roots grow more freely. Less compacted soil can also help plants take on more nutrients and make them more resilient to disease and frost.
In addition to this, WoodBlocX raised beds of all sizes allow for drainage through the air gaps between each block.
In general, raised beds are a great solution if you have boggy soil, clay soil or any other soil that doesn't promote optimal growing conditions.
Simply build your raised garden bed directly on top of your problem soil and fill it with new soil of your choice.
Drainage recommendations for WoodBlocX raised beds on various surfaces
WoodBlocX raised beds that are built directly on top of soil or grass do not require any additional drainage.
Those built on patios, tarmac and concrete can benefit from a drainage layer at the bottom of the bed.
We also recommend lining your WoodBlocX raised bed with a permeable liner across the based and a damp proof membrane (DPM) to line the sides and over the buttresses, this protect the wood and extend the lifespan of the strucutre. Once you have added one of these options, simply add a layer of stones or gravel for better drainage.
Ideally, your draining layer is about 100mm deep - which is equal to the depth of one block.
Benefit #3 - Build raised beds at a height that suits you
Easy access for all generations of growers
Raised beds are a great gardening solution for people of all ages. The added height is a massive benefit that makes everything from sowing to watering, weeding, pest control and harvesting so much easier.
Some tips on choosing the optimal raised bed height
Extra height is ideal as you get older but you may want to consider a low raised bed for youngsters to access.
Choose the height and depth of your raised bed wisely based on its end use and end user:

Low level raised beds (0.25m) are ideal for dividing up your growing areas. For low raised beds built on concrete or paving choose shallow-rooted plants such as sedums, crocosmia, calendula or nasturtiums.
For controlling pests such as rabbits or for keeping pet dogs away from your plants, raised beds up to 0.45m should do the trick to keep them at bay.
For maximum ease of access, tall raised beds from 0.55m are ideal.
Check out our Size Matters blog post for more information about choosing the right size for your raised beds.
Benefit #4 - Grow anywhere on any surface
No need for foundations or groundworks
The unique way in which WoodBlocX structures are built means that they don't need any significant foundations or groundworks. The modular system of individual 'BlocX' already provides extra strength and protection against movement, warping and cracks.
Build it on any level surface
This also means that you can build your WoodBlocX raised bed on any flat surface, such as grass, soil, tarmac, patio paving or concrete. We always recommend ensuring the ground is level ahead before starting your build. Use a spirit level and sand or subbase to achieve a flat surface if needed.
Benefit #5 - Keep out animals and pests
If you live close to a field you may be visited by rabbits or even badgers. Higher raised beds will prevent these animals nibbling your prized plants and veg.
Our handy made-to-measure raised bed calculator tool tells you instantly if the height you have selected is suitable for deterring pests.
Benefit #6 - Use raised beds to landscape gardens
Raised beds are an easy solution for landscaping sloping gardens. Stepped raised beds can be used for both flat and sloped gardens. Use them to add height and interest to a patio area, or to add different sections for planting or use them to landscape a sloping garden.
Lots of our customers opt to add steps to run alongside the raised beds that are used to landscape the garden to tie everything together. To see exactly how our structures work retaining earth to landscape a garden click here.
We recommend using our Free Bespoke Design Service for sloping  garden designs to ensure you get exactly what you need for your project.
Benefit #7 - Get your greens to grow for longer
Compared to open ground, raised beds warm up much quicker in spring and retain heat for longer in autumn. This is great for growing edibles as it extends the growing season.
In addition, having easy access to the entire growing space means you can quickly add protection such as plant covers, fleece or cloches to certain plants when the frosts arrive.
Benefit #8 - Add value to your property
Research suggests if your property has a garden it can add up to 5% to the value of your house and that figure could be much higher if you have invested in quality items for your plot such as raised beds, ponds, sheds and beautiful paving.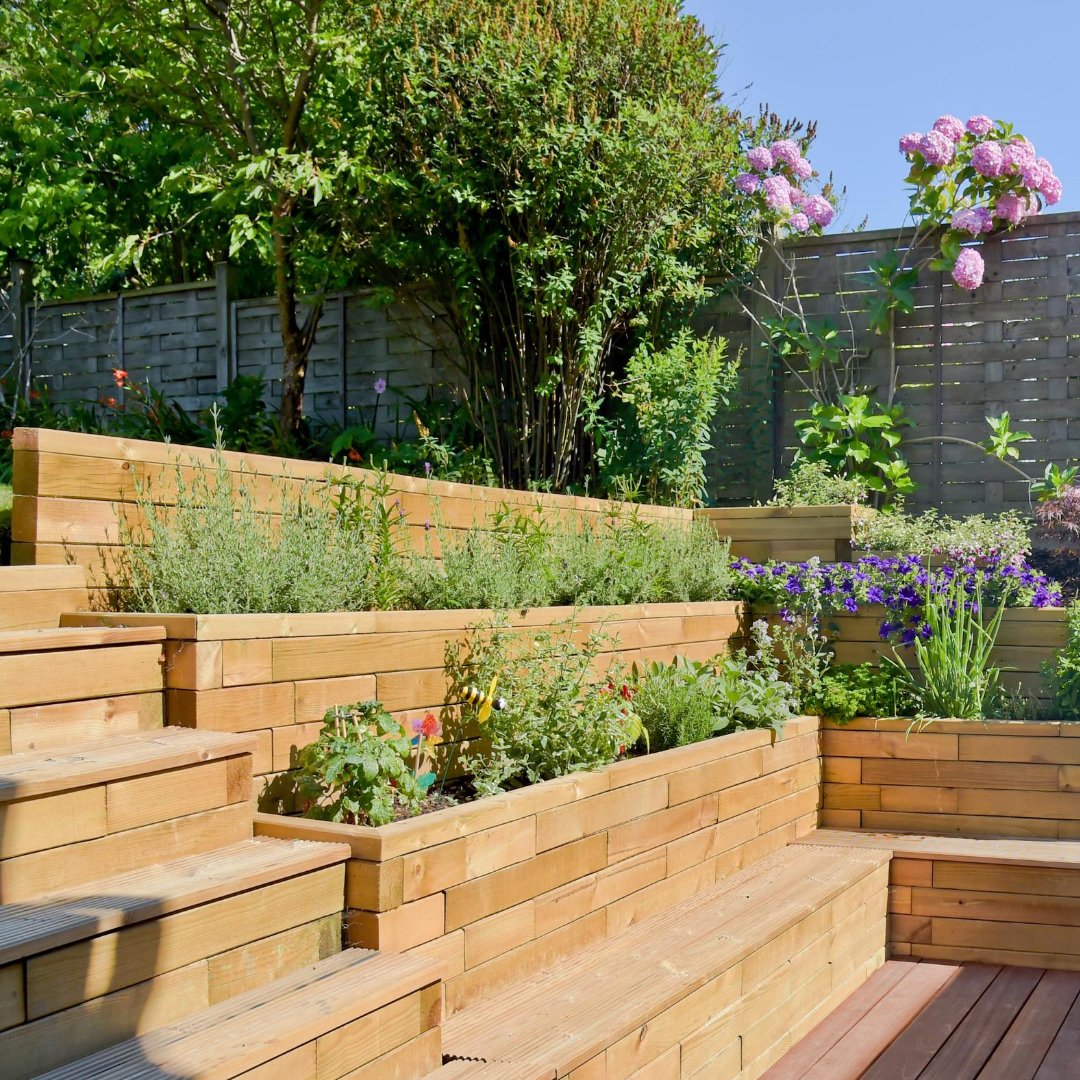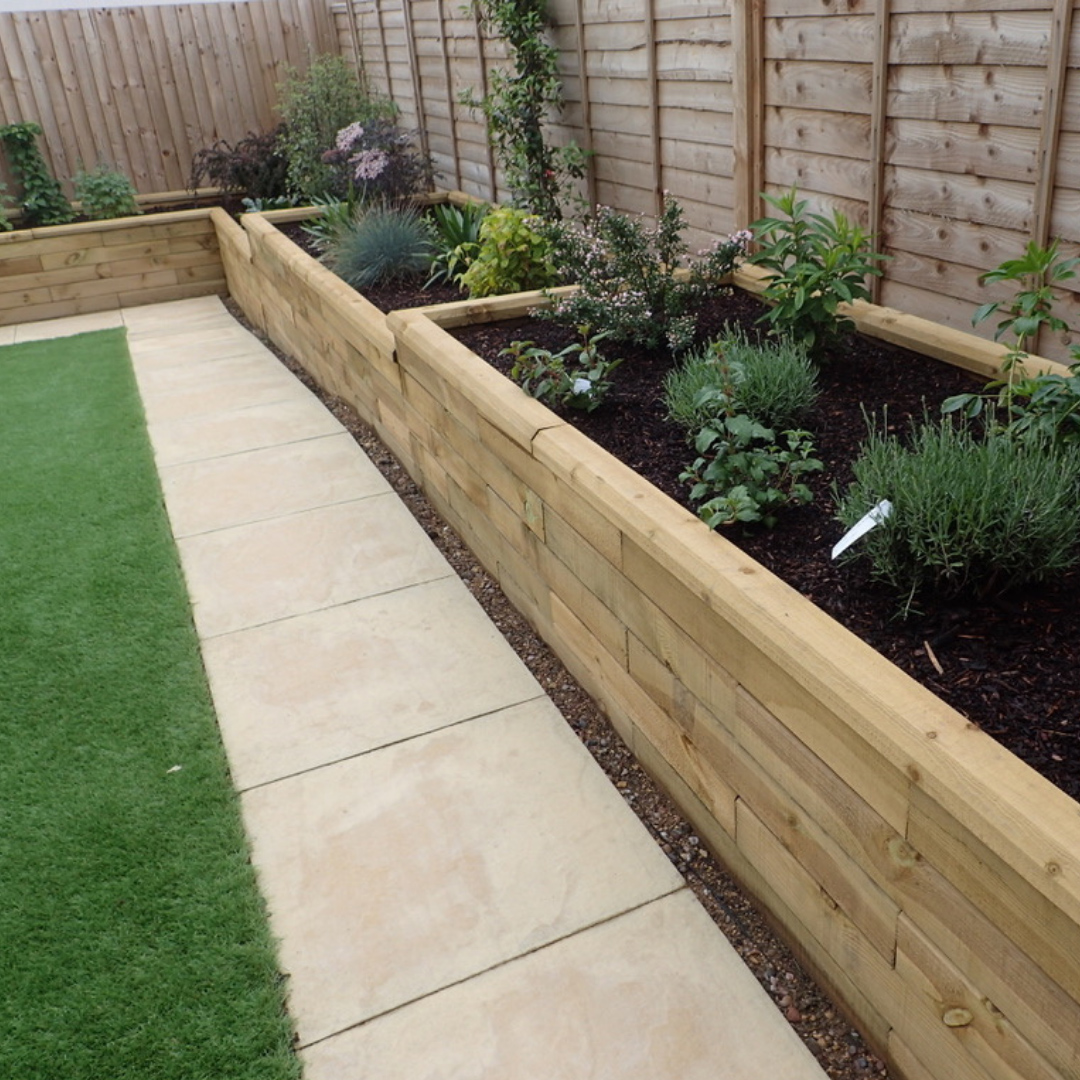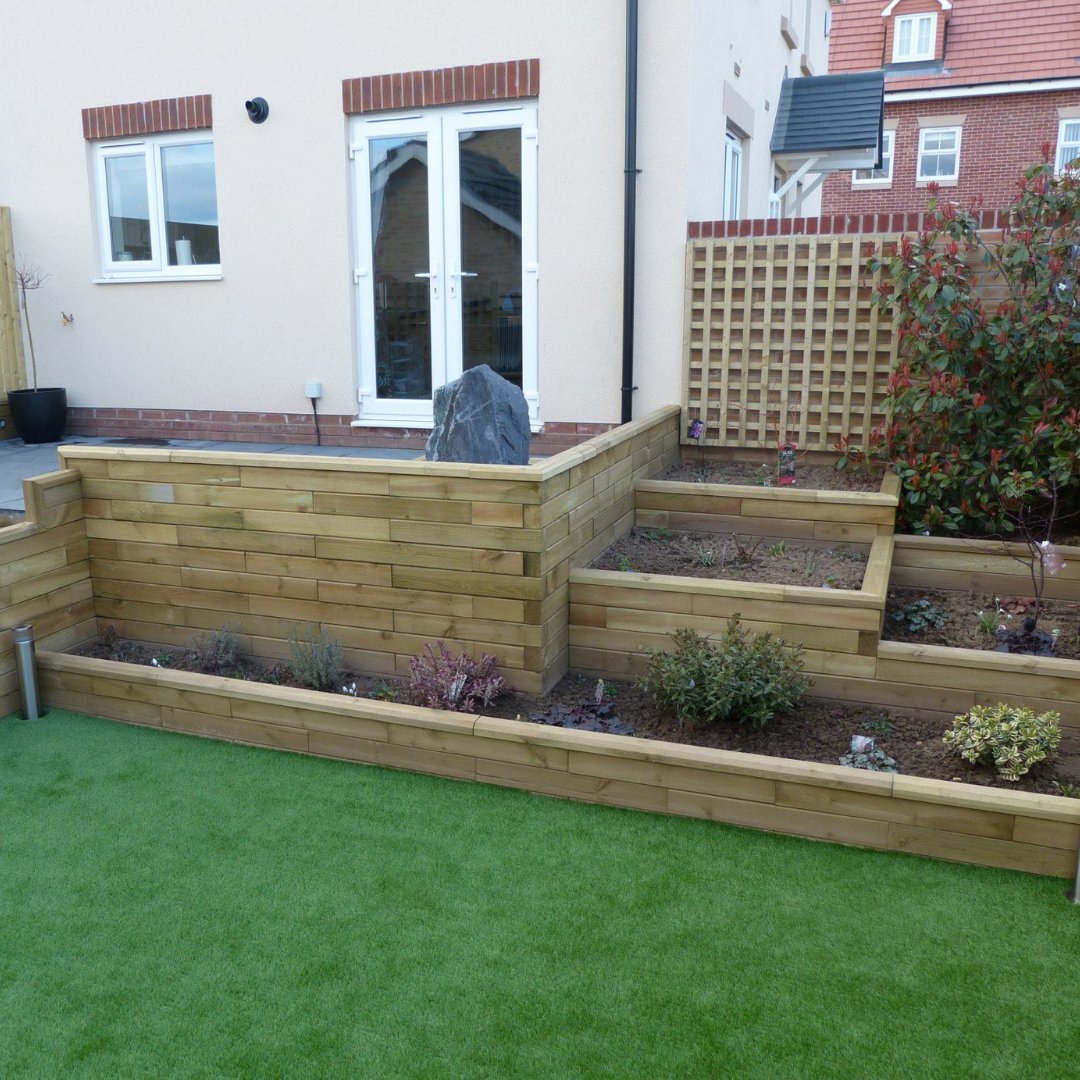 Benefit #9 - A sustainable and non-toxic alternative
Wood is one of the best materials for raised beds and our raised beds are made from the highest quality timber.
The wood is pressure-treated and because WoodBlocX are pre-drilled, the non-toxic treatment penetrates to almost 100% of the wood, making our structures durable, long-lasting, and a great alternative to railway sleepers which tend to be chemically-treated.
We use rough-sawn wood which will naturally fade to a grey over the years and doesn't need any maintenance or treatment. 
To find out more about our wide range of wooden raised beds and planters and to find out how simple it is to build beautiful long lasting structures for your garden click the button below