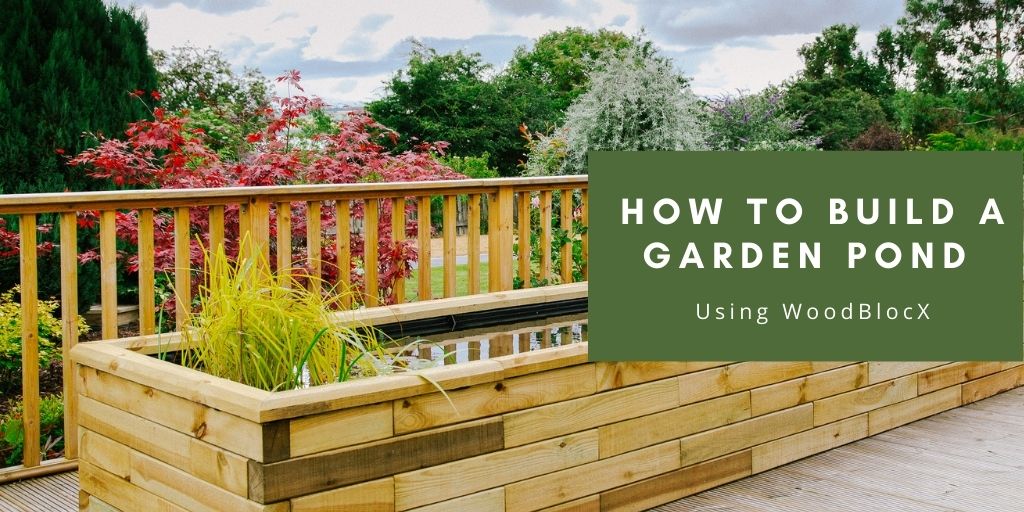 In this blog we explain how to build a garden pond using WoodBlocX, quickly, easily and without the need for any specialist tools.
The beauty of using a raised pond is that you don't have to dig a great big hole! By using a WoodBlocX pond you can create a raised pool that can be put on any surface, even a patio, allowing you to incorporate water into your garden very easily. Our ponds are just as easy to assemble as our raised beds, plus we can even calculate what size liner you'll need. Choose from a pre-designed pond kit, use our pond calculator tool or send us your ideas and we will create a design for you.
Create the perfect pond
We have two styles of ponds which are available in a range of different shapes and sizes:
Water blades
We don't supply water blades for your pond but we can adapt your design to accommodate one.
Here's how to build a garden pond using WoodBlocX...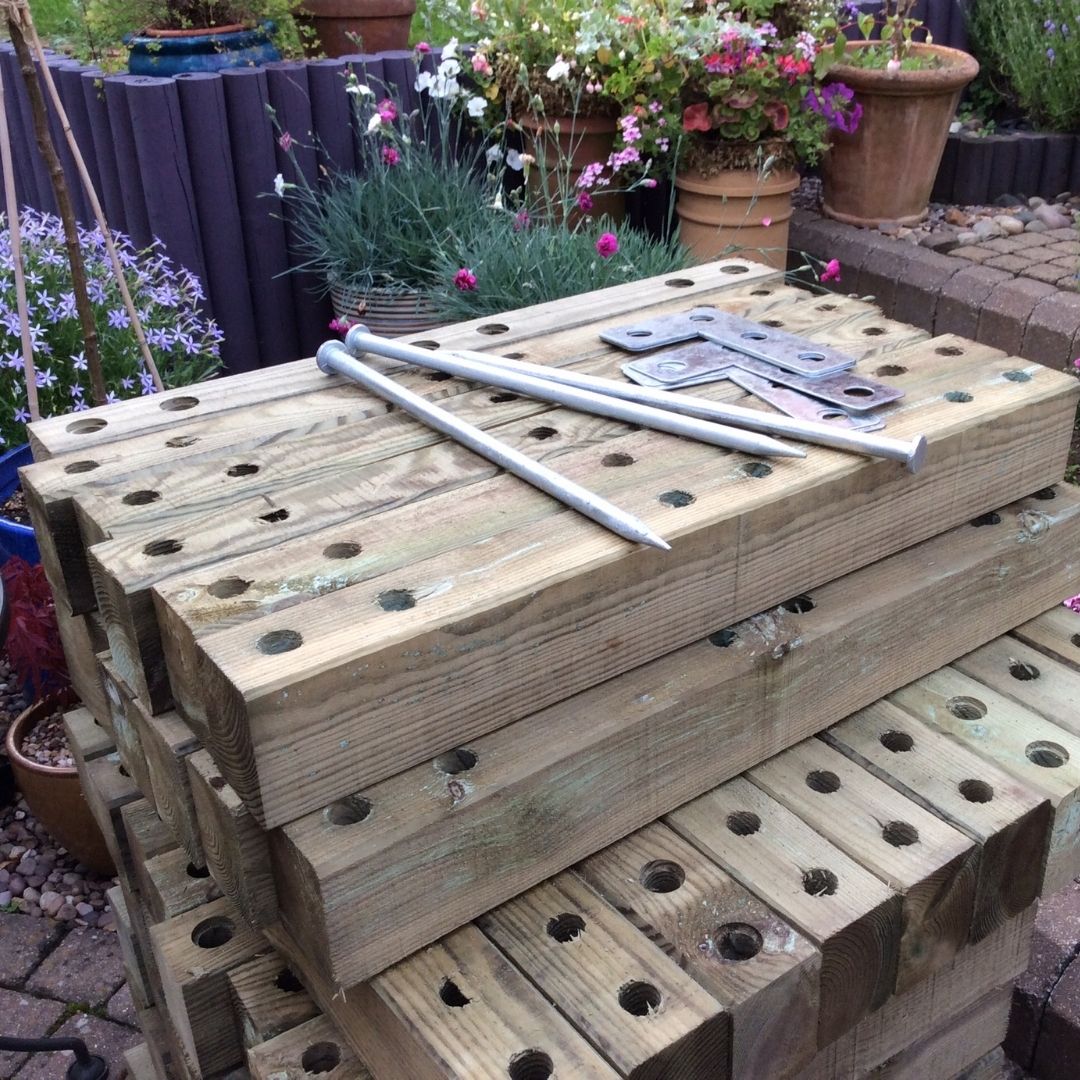 Your WoodBlocX delivery will look similar to this. Everything you need here, wooden blocks, capping, dowels, angle plates and your bespoke pond liner. All wooden parts are cut exactly to the sizes requested so there's no waste at the end of the build.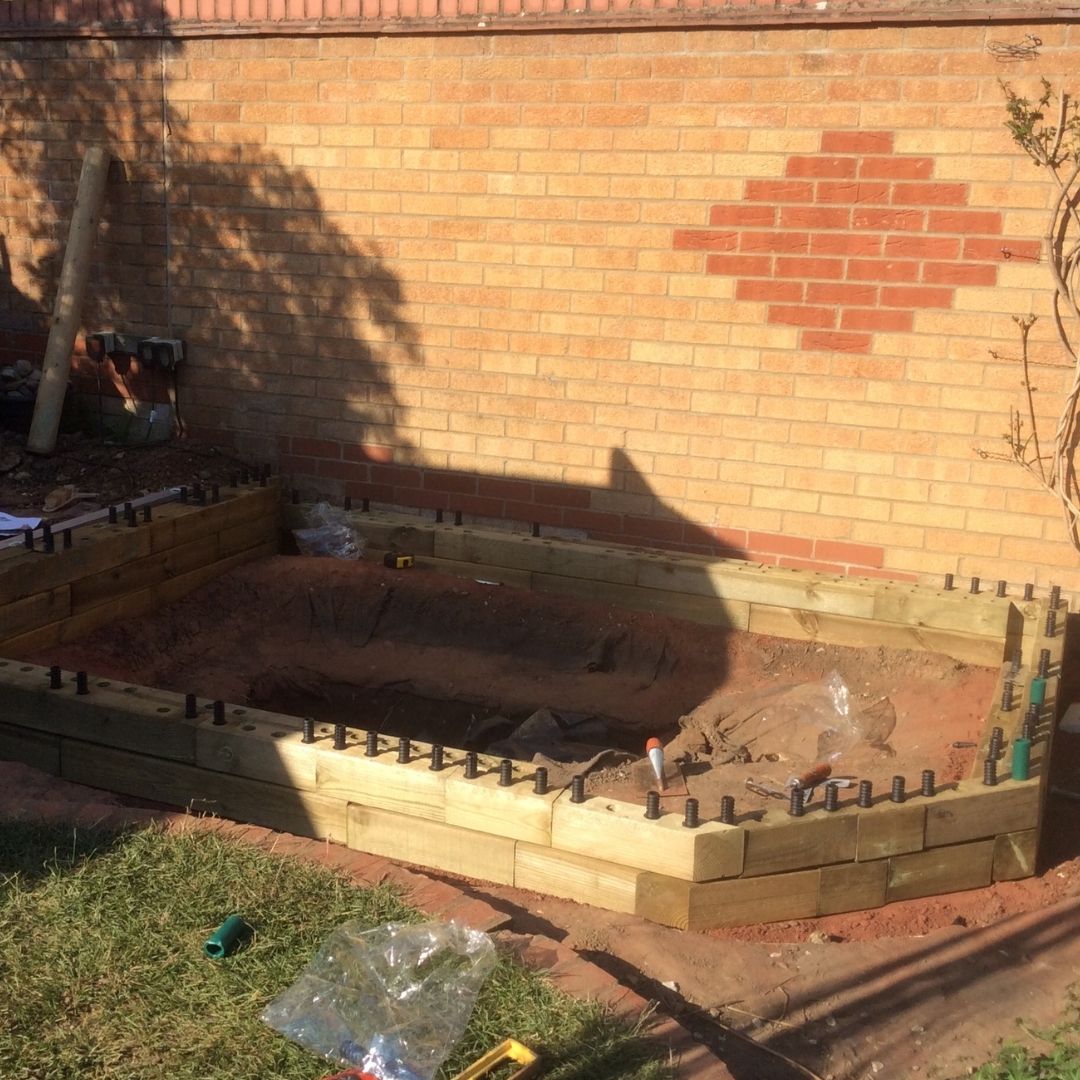 When you have decided where your raised pond bed will sit in the garden, you will need to level the ground, once this is complete carefully set out the bottom layer of BlocX. Refer to the instructions to check where the supportive buttresses and angle plates need to be positioned.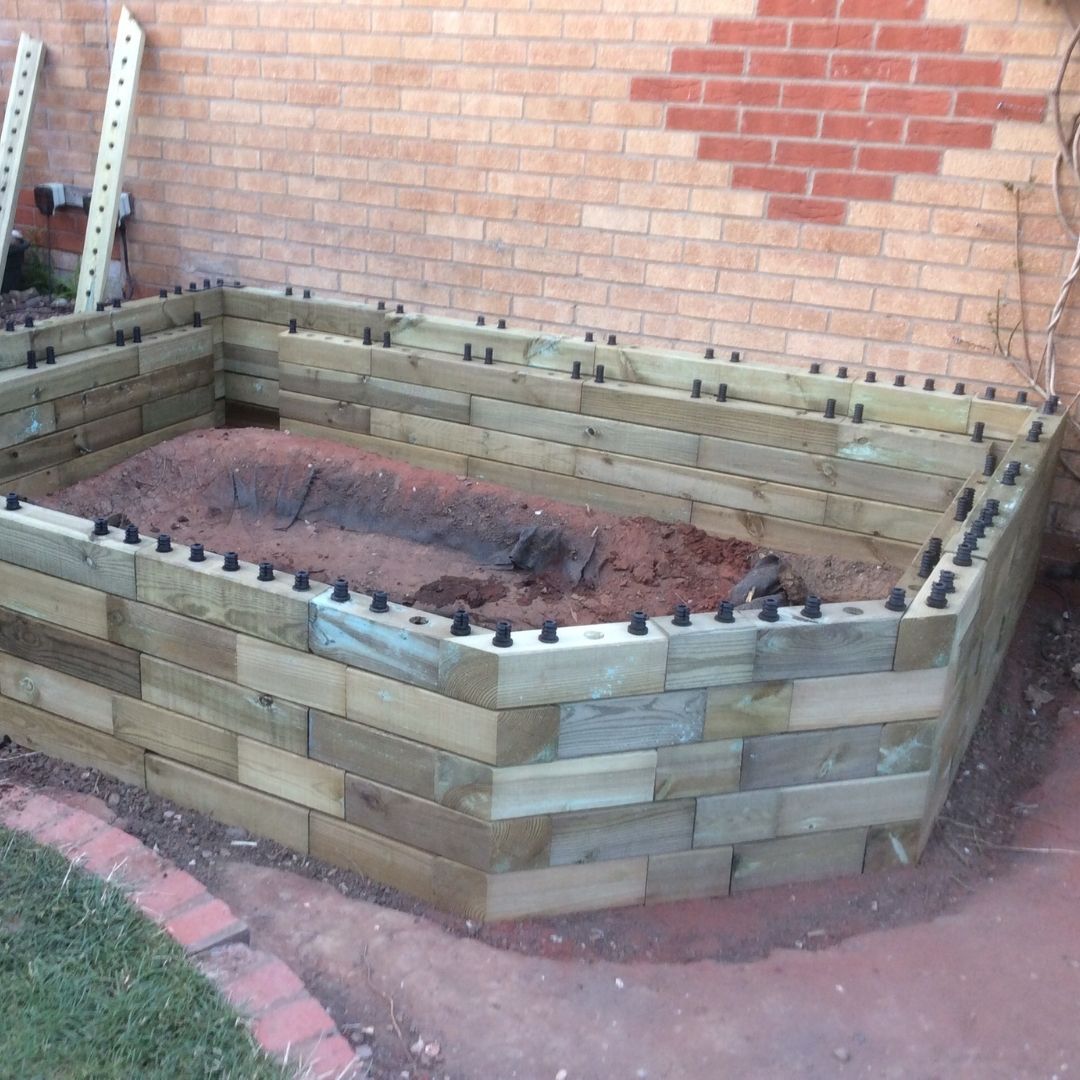 Our clever dowel system holds the structure together, simply knock these into the recess holes, make sure you refer to your instructions to ensure you're putting them in the correct places - we provide full step by step instructions with every kit.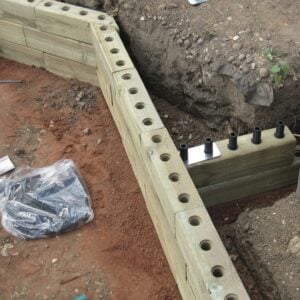 Angle plates need to be placed on the supportive buttressed for extra strength and on the corners of the final layer before you add the capping. Once you've reached the final layer before the capping is added, cut the dowels down by three notches using a saw. Now you're ready to fit your liner.

You will need to cut the liner to fit over the capping, this will not cause any leakages as the water level should always be lower than the capping. Lastly, fit the capping with a lump hammer, using a protective piece of wood to ensure you don't damage your caps.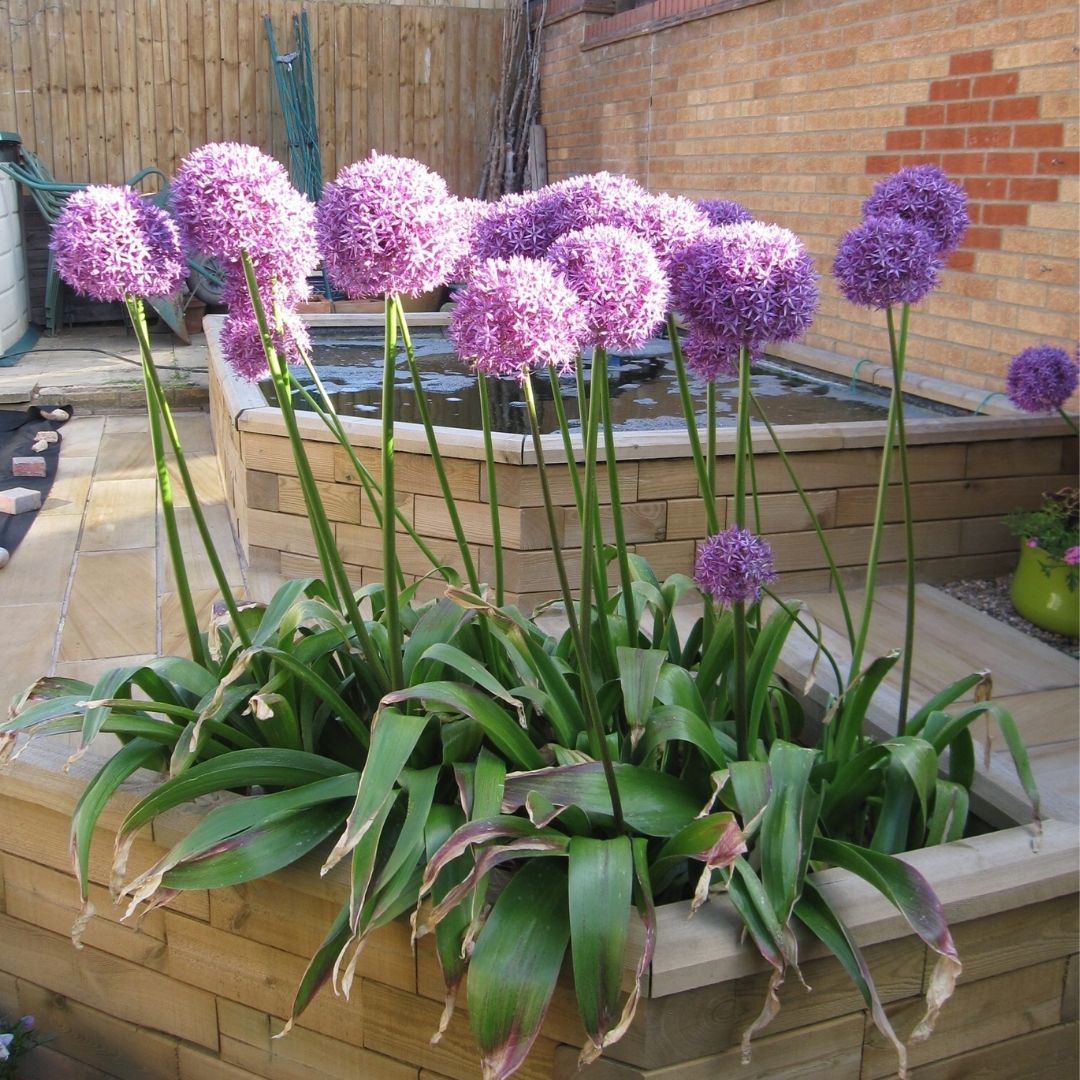 That's how to build a garden pond using WoodBlocX!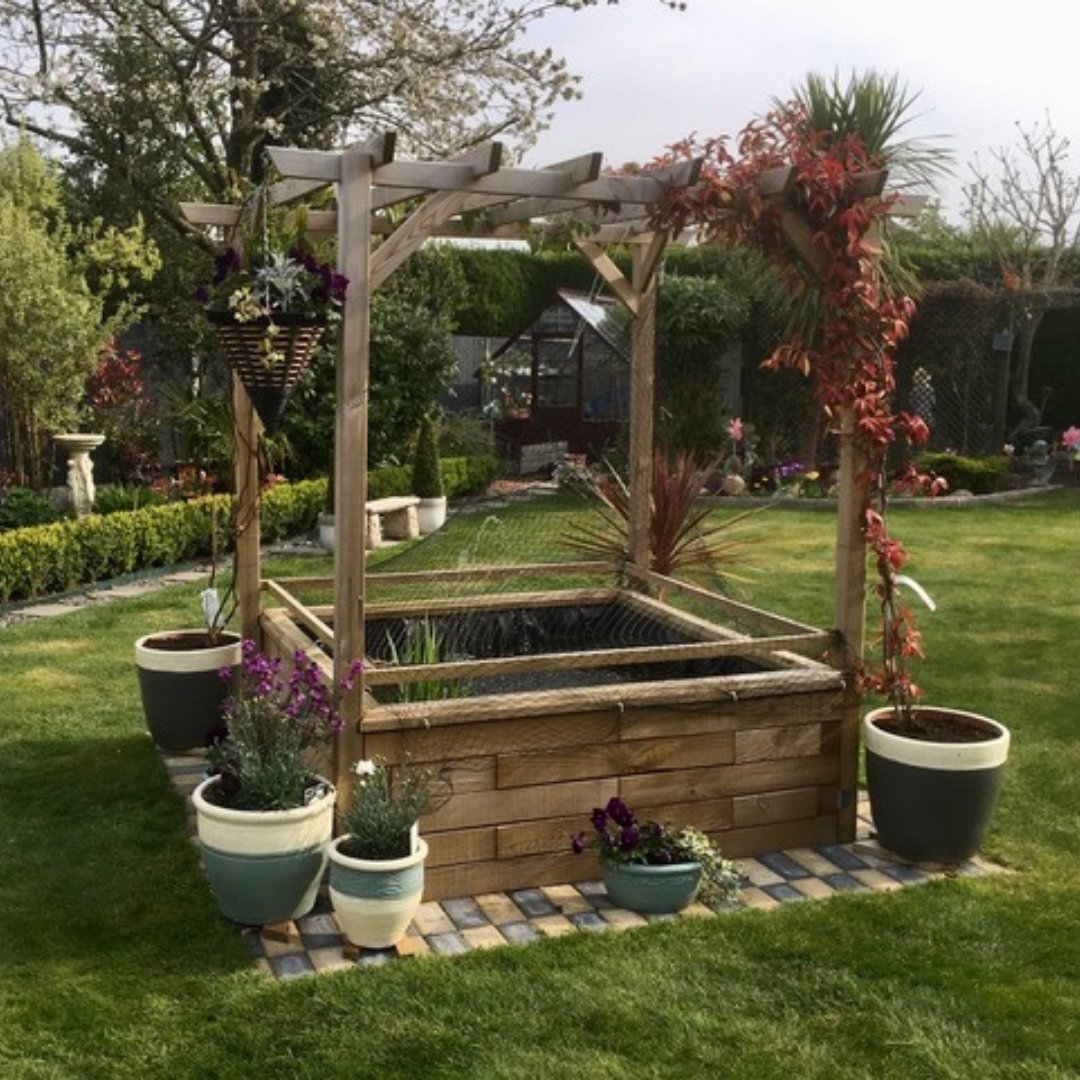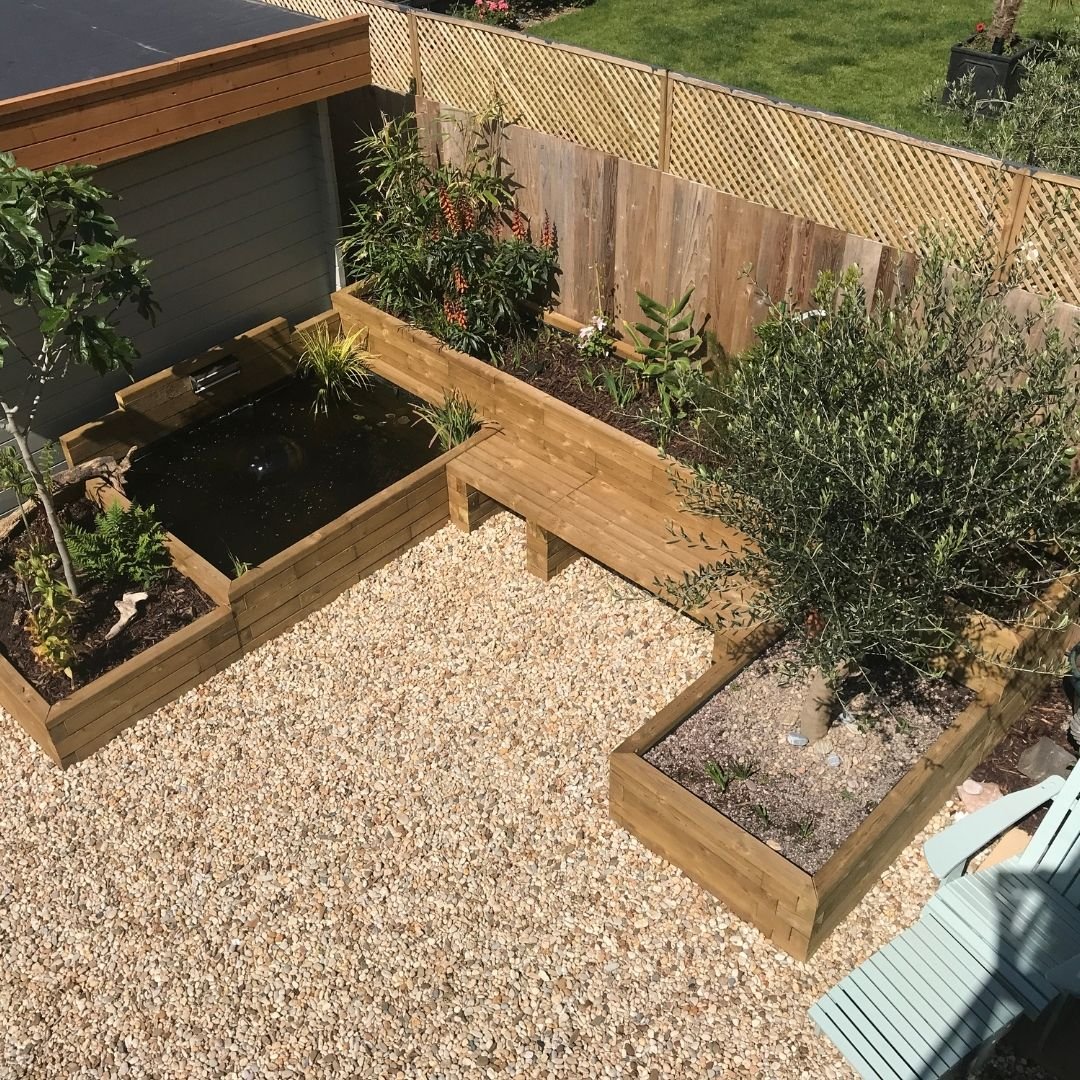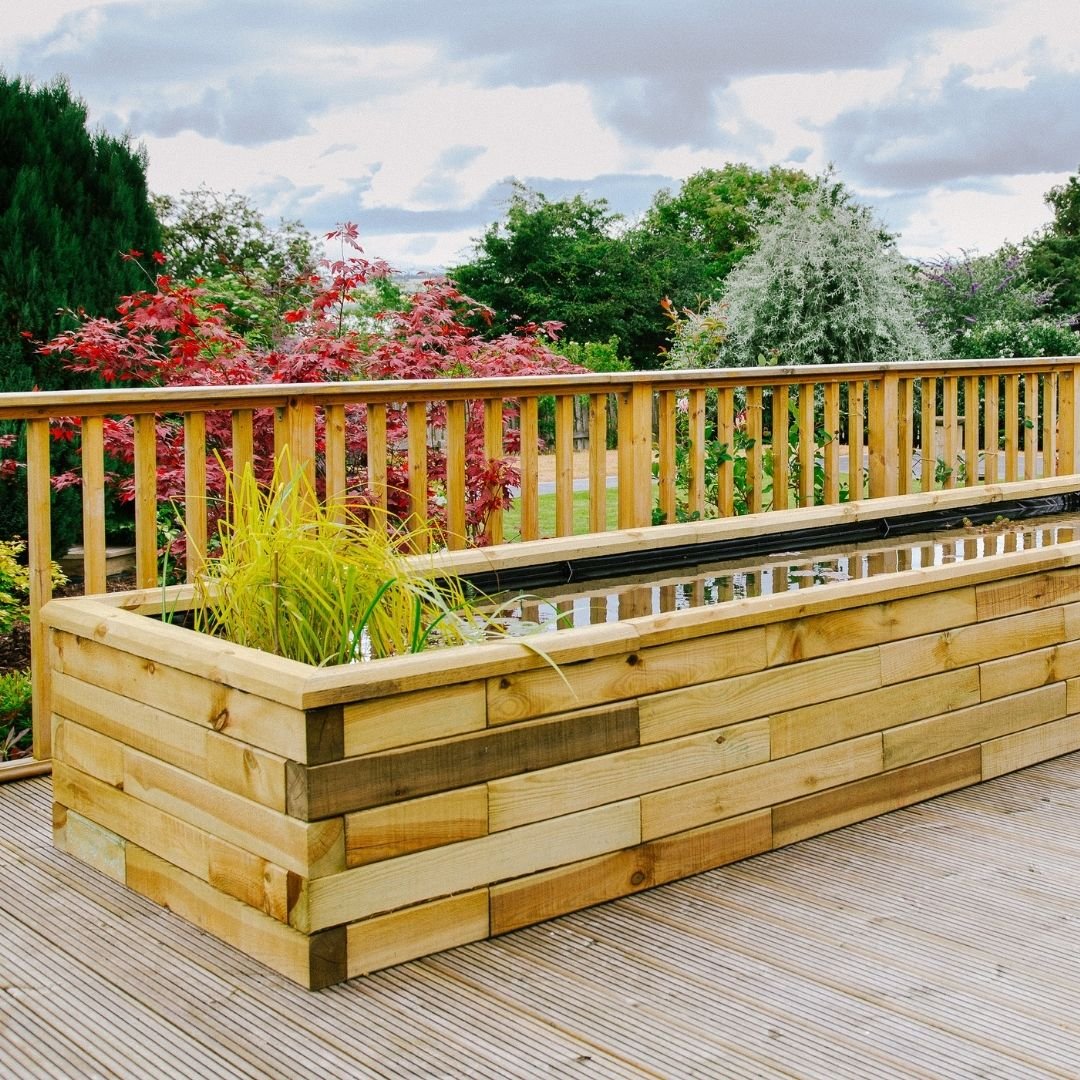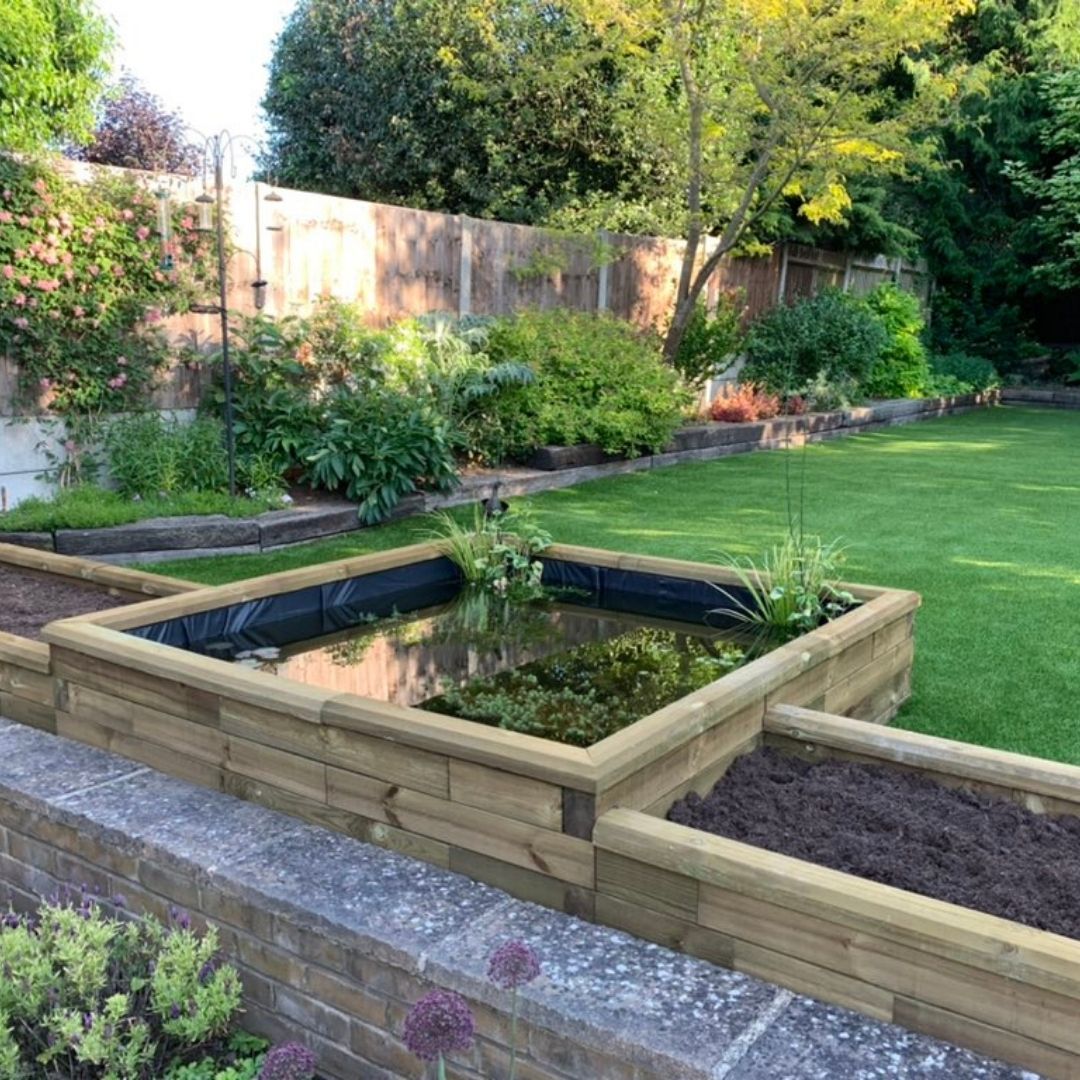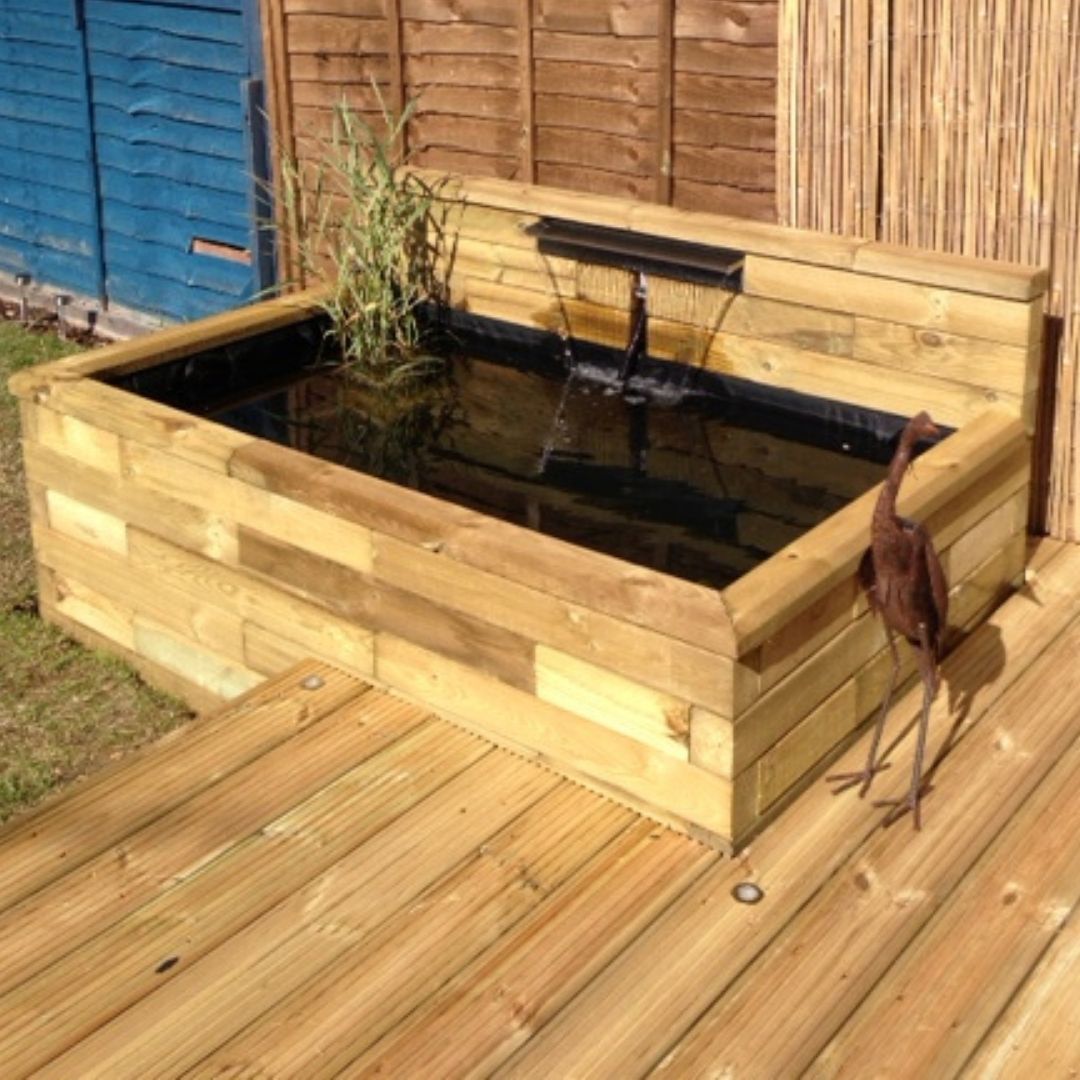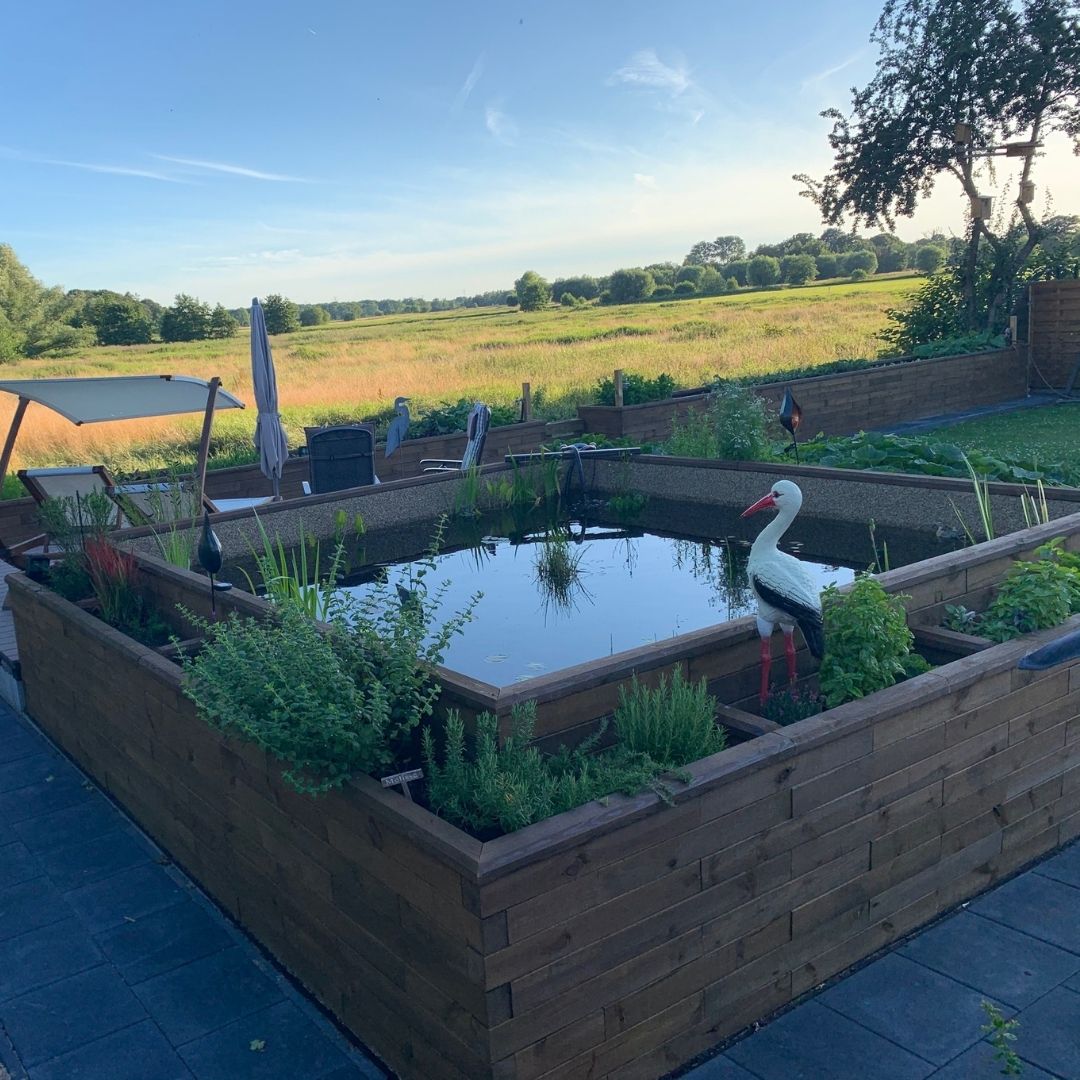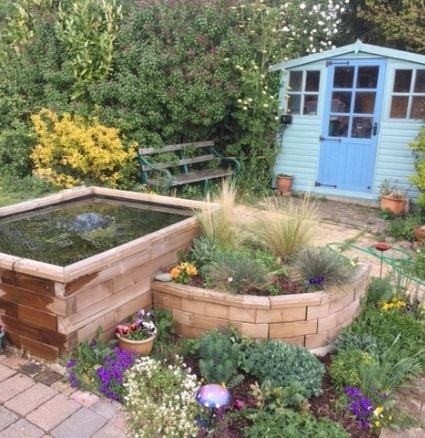 What our customers say about our raised ponds
The benefits of garden ponds
Water in a garden has an enormous value to wildlife, bugs such as pond skaters and water boatmen live in the water, birds can drink and bathe in it, and amphibians such as frogs, toads and even newts will make a home there too. With this additional wildlife in residence, your plants will benefit too; the amphibians are great slug-eaters, and the increased insect diversity will attract other bugs that will feast on aphids and other plant pests. Plus, of course, all this life is fascinating to observe.
Read more about the benefits of garden ponds here.
Best plants for garden ponds
All ponds benefit from a variety of plantings. Broadly they can be divided into three types – the oxygenators, the floating plants and the marginal plants. However you plant up your pond, always make sure you include some kind of ramp for creatures such as frogs and birds to get in and out of the water safely, otherwise they may drown.
Here are some good choices from each of the plant groups to really get your WoodBlocX pond off to a great start:
Marginal plants. These are the plants that live at the water's edge – and while they like their roots to be in permanently damp soil, their foliage and flowers are borne above the surface. Yellow flag irises (Iris pseudoacorus) and a variety of rushes and reeds will give a natural look. You'll need to construct shelves around the edge of your pond (standing the pot on a brick is fine!) for the plants' pots to sit on at the correct depth – check the label for this information.
Floating (also known as aquatic) plants. Water lilies are the most popular of this group, and lovely to include. They are available in a range of colours, but Nymphaea odorata types will add fragrance as well as beautiful flowers.
Oxygenators. These are essential to keep the water healthy, but can need reducing every year to prevent them taking over the pond. Most live submerged in the water. Good ones for smaller ponds include Hottonia palustris (water violet) which bears purple flowers on the water's surface in spring and Eleocharis acicularis (water grass).
To really complete the look, some WoodBlocX ponds offer the ability to add beds at the side of, but not part of, the pond – plant these up with a bog garden and you'll have a beautiful, calming and wildlife-friendly pond in no time.