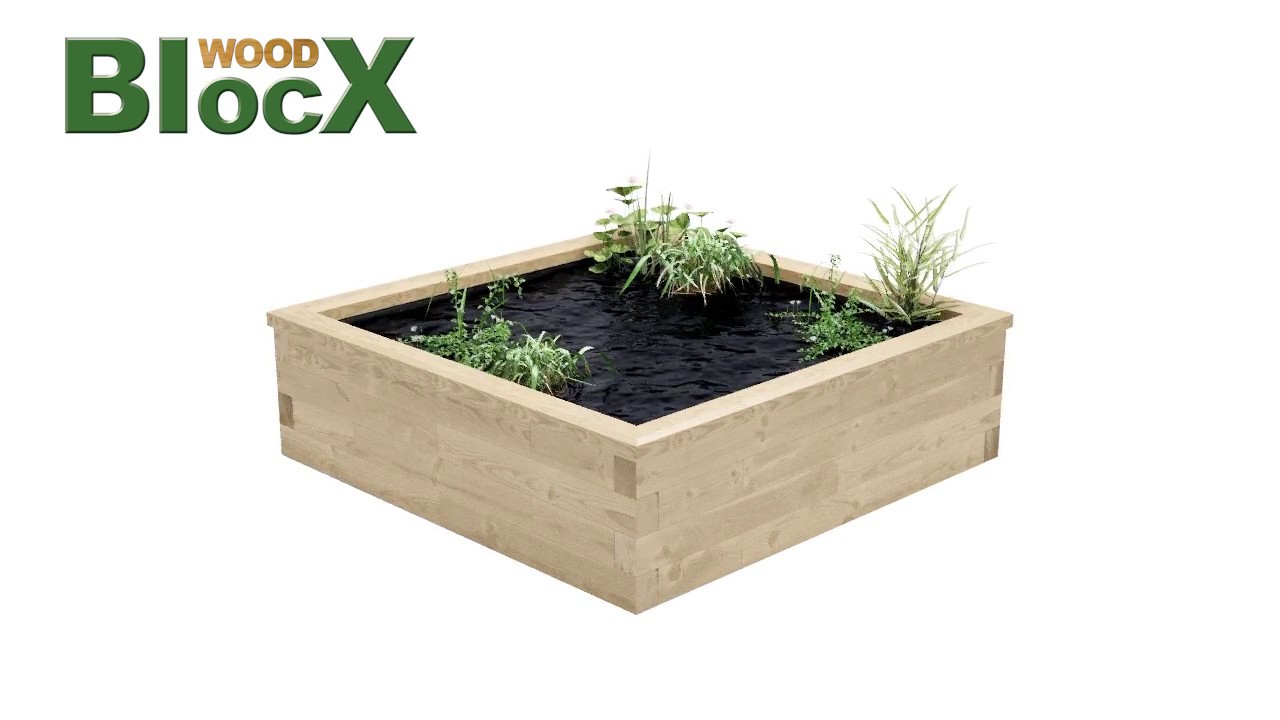 Building a raised pond for your garden is easy with WoodBlocX™ award-winning system. WoodBlocX™ can be used in the same way as new or old railway sleepers, without the problem of creosotes seeping from the reclaimed sleepers in warmer weather, making them unsuitable for certain projects like fish ponds.
If you're planning a garden landscaping project featuring railway sleeper raised beds, railway sleeper retaining walls, flower beds or vegetable beds why not consider using WoodBlocX instead? They perform the same function as wooden sleepers and unlike them, WoodBlocX are clean and lightweight. There is no heavy lifting required – construction can be performed by a single person and no power tools are needed at all.
Made from sustainable timber and using the same technology that our award-winning raised beds are made, WoodBlocX ponds are a beautiful addition to any garden or landscape design. Made to last over a decade, our high quality raised garden ponds will provide an aesthetically pleasing garden feature that recreates the tranquil qualities of the natural environment within your garden space.
The WoodBlocX™ themselves are light and easy to build into the pond. Incorporating other features into your pond design, such as benches and planters are also optional. No heavy lifting or power tools to build are required for your pond kit and we manufacture pond liners that you can purchase directly from us for all of our raised garden pond kits.
Offering a free "Made to Measure" service for any pond, the Garden Pond Calculator provides volume measurements and recommendations for any of our raised pond designs. Once your order has been finalised we aim to have it delivered within 3-4 working days. Begin your raised garden pond project now by following these easy steps:
Description

Details

LINERS

WoodBlocX offer two options for pond liners which are sold separately.

Option 1 · WoodBlocX PVC pond liner · Liner will only fit our smaller ponds under 2m in size. · Our heavy duty PVC is a tougher and thicker material than standard PVC · Maintains its flexibility · Delivered with your WoodBlocX

Option 2 · WoodBlocX made to measure liners · Liner custom made to fit any size pond · Choose between Butyl and EPDM · Delivered separately but should arrive on the same date as your order

What we can do

- Calculate water volume
- Bespoke liners
- WoodBlocX build support
- Free design service
What we don't do

- Pump
- Filter system
- Pond overflow equipment
- Water

courteous and fast to respond

Courteous and quick to respond.




Very easy to assemble. I had a working pond the same day I started preparing the ground!

Thank you!

FAb

The blocx turned upon time and my husband found it easy to put together. Also when i emailed to return the pond liner they were very helpful




the liner wasn't what we thought it would be and are returning it but they havve been great bout it

Thank you for your feedback happy to resolve the issue for you!

Fantastic product

Absolutely fantastic product so easy to put together, did it on my own in 2 hours and a very good price. Have recommended your company to other people. Thank you




Great product so easy to put together

Superb really happy to hear thank you so much for recommending us

Great product

Customer service was excellent. I called several times as I wasn't sure how the wood blocx system worked but all was explained with clarity each time




Customer service was excellent. It was explained thoroughly how the woodblocx system worked and delivery was arranged For a day of my choice. The pro it looks as good as the pictures and I m hugely impressed with the ease of assembly .

Thank you for your feedback we are always on hand for any questions!

Will use every time

Fantastic product, great customer service.




Exactly what I wanted. Great customer service.

Superb we really do appreciate your feedback

Made to Measure Pond - Length 1.125m x Width 1.125m x Height 0.55m Review

10/10 so helpful and easy to contact. Answered questions promptly & went out of their way to assist.




Easy to follow instructions, construction a dream

Thank you so much!

Easy and fun to use

I really enjoyed using woodblocX. The instructions were clear and the construction method was like Lego for grown-ups. I now have a fully functioning pond which looks great




Easy to follow the instructions. I only needed a hammer, saw and spirit level

That's great! Thank you so much for the feedback! Enjoy your pond.

Made to Measure Pond - Length 1.125m x Width 1.125m x Height 0.35m Review

Speedy and helpful delivery




It was like having an instant pond. Really easy to put together. Looks good

Made to Measure Pond - Length 6 Feet & 2 Inches x Width 4 Feet & 11 Inches x Height 2 Foot 2 Inches Review

About the only good thing was the delivery. Calling a wooden frame that was no different from the raised frame planting beds a pond was a joke and had I known this I would not have wasted my time and money. A wooden frame is no more a pond then an egg is a chicken.




I think my Customer Experience says why.

I'm incredibly sorry you were not happy with the pond we supplied. The product we produce is only the pond shell and does not include filters, pumps or other pond accessories.  We do provide pond liners which can be purchased separately or if you buy one of our pre-designed small pond kits they come as standard.  It was in no way our intention to mislead you in anyway. We would have been very happy to arrange for the WoodBlocX to be collected and offered you a full refund.  We always want to make our customers happy so if you had contacted us directly we would have rectified the issue immediately.  


Easy and quick to assemble

delighted with my purchase, arrived very promptly exactly when the company said it would arrive. easy to assemble, no need for screws, saws or other tools and looks really good. Even got a bag of Haribo included in the parcel!




Love it! Easy to construct, everything included in the package, no need for screws, saws or other tools and unlike flat pack furniture fits together perfectly and easily.

Great stuff! We aim to make the whole process as easy as possible (sweets always help too!)

Excellent service, and easy to build.

Excellent service. I had a couple of queries both before, and after, my purchase, and all were handled quickly.




The blocx were fairly easy to put together following the layer by layer plans. Though my wrist ached after wielding the lump hammer continuously, I would suggest building in stages. The hardest part was getting the base level. After that it was just like building lego.

Great stuff! Glad we could help with your project. You've done a really good job with the build - taking the time to get the base good and level can really make the difference.

Good product, simple to build and looks great when completed. I had one que...

Good product, simple to build and looks great when completed. I had one query and when I called my query was solved immediately. I would buy from this Company again.




The product was as good as it was advertised.

We're so happy you like our product and service.

Made to Measure Pond - Length 1.875m x Width 1.5m x Height 0.65m Review

Staff were very helpful.




Excellent

Made to Measure Pond - Length 1.5m x Width 1.125m x Height 0.65m Review

good item great service very good product thank you




Excellent

Excellent quality product which looks fantastic

Very helpful guiding me through my purchase.




Easy to follow step by step instructions which made building it much more enjoyable. I built a 6ft X 6ft X 2ft 10in single skin pond. Highly recommend.

Our dedicated team is always available to answer any WoodBlocX related questions.

Bespoke Single Skin Pond Review

great service with helpful staff




Great product easy to assemble with easy to understand and clear visual and written instructions

If you ever need help from our team again please don't hesitate to get in touch.

Fantastic people and fantastic service

Fantastic people and fantastic service




We love our pond and great quality.would buy again and will be buying again

We endeavour to make the whole WoodBlocX process as enjoyable and easy as possible. WoodBlocX

I would say mixed. Looked good but we had lots of problems with the dowels. The…

I would say mixed. Looked good but we had lots of problems with the dowels. The higher we went the less likely they were to go in smoothly. By the 3rd layer we had to trim the top of most of the dowels and counter sink the bottom holes to get it all to fit.




Same as above mixed. Probably wouldn't buy again unless it was on a concrete base. Due to the fixing problems we didn't go anywhere near as high as we'd planned

I'm very sorry your WoodBlocX experience wasn't as you would have hoped. We are always very happy to help if any problems arise and we will try our utmost to resolve any issues you might encounter. WoodBlocX

great service from company needed advice and got it straight away

great service from company needed advice and got it straight away




pond looks great,we are very pleased with product and are telling all our friends to get one

Thanks very much for spreading the WoodBlocX word. WoodBlocX

Arrived bang on time.

Arrived bang on time.




Looks good. Simple instructions

When you order WoodBlocX you can choose a delivery date that suits you. WoodBlocX

Shipping

Delivery costs?

Delivery on all UK mainland areas is Free!

When can we deliver?

Delivery takes just 4 working days. If you are in a hurry for your BlocX please call us and, if we can, we will try and speed up delivery for you.

Delivery is on a day you select (at checkout) between 9am and 5pm Mon - Fri (except Bank Holidays). Saturday delivery is available at extra cost of £50, select this at the checkout if it's required.

Unfortunately on some occasions deliveries can be delayed due to circumstances out of our control. We would advise choosing a suitable delivery date a few days prior to the date you wish to start your build, just in case.

When we despatch your order we will send you full tracking details for your pallet so that you can contact the delivery company and find the location of your BlocX.

The pallet does not have to be signed for and we can arrange for it to be left at a secure location at your property if you are not in at the time of delivery.

Full Delivery Details can be found on our Delivery Page HERE

Commercial

WoodBlocX is an ideal solution for any scale of commercial project.

Our components are covered by our warranty for 15 years and we can offer design calculations for any retaining wall up to 1m in height.

New housebuilders and Landscape architects can specify WoodBlocX in the knowledge that our system will match the most exacting standards.

If you are looking to use WoodBlocX on a commercial project then please get in touch with our technical team on 0800 389 1420 where we can provide design calculations and bespoke details.

Alternatively visit our Commercial website

HERE