How to build a mortarless retaining wall with WoodBlocX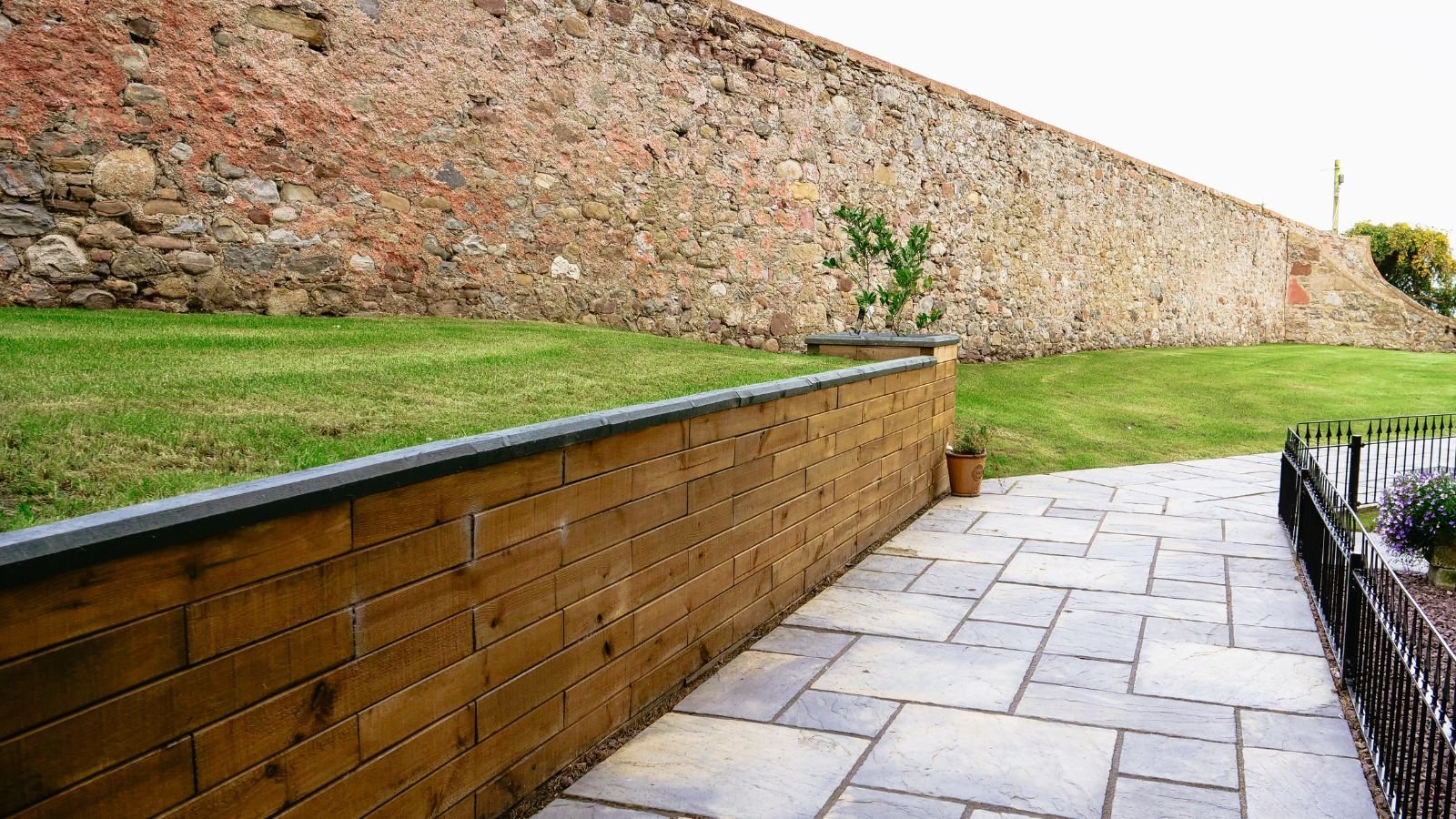 If you have ever wondered how to build a mortarless retaining wall then you have most definitely come to the right place. The modular nature of WoodBlocX makes it possible as our wooden blocks are designed to offer the same retaining strength as brick or stone retaining walls. 
In this blog we're going to explain exactly how WoodBlocX works and how you can reduce material and labour costs by using our timber BlocX system to build a mortar-free retaining wall.
Interlocking retaining wall blocks
WoodBlocX is a unique system comprising of a series of timber blocks, similar to bricks, which are pinned together by a series of strong dowels and can be built up layer-by-layer to create strong and long-lasting retaining walls.
WoodBlocX can also be used to create beautiful raised beds, ponds and garden seating. Our wooden BlocX are pre-cut and pre-drilled and then pressure treated to last up to 15 years.
When built to our recommended guidelines, our modular block retaining walls are strong under pressure and compression and will stand up to frost and ground movement. Each WoodBlocX dowel can withstand 0.9 tonnes of sheer force which means that your structure won't distort or crack under pressure.

Designing a retaining wall
Adding retaining walls is a great choice for landscaping a garden. In most cases they're an essential part of a design, however, it can be tricky and also a little daunting when planning to add a wall or working out how best to replace an existing one.
Our Free Design Service has helped 1000s of customers over the past 10 years ensure they get exactly what they need for their retaining walls. We use customer's measurements and ideas to not only produce accurate and detailed 3D plans but to also provide additional design ideas for making their retaining wall design the best it can be - whether it's adding decorative tiers, adding some seating or building in a set of garden steps, our design team has got you covered.
WoodBlocX mortarless walls can be built at a max height of 1.05m for safety. If a higher retaining wall is needed, we can step your retaining wall design by using a series of tiers/layers.
How to build a mortarless retaining wall
We're already mentioned that using WoodBlocX for a retaining wall will cut out waste and reduce labour costs - now we're going to explain how!
Our DIY interlocking retaining wall blocks can be used by anyone, no specialist building skills are needed. We provide step-by-step building instructions with every order and all the support you could need to get your project off the ground. 
The same rules apply to building any WoodBlocX structure; start with a flat surface (this is very important!). This may involve some digging to ensure that you are laying your first layer of BlocX on an even and flat surface -  use a spirit level and some compacted building sand or small gravel to get the most accurate starting point. If your structure includes buttresses and you are building a wall against a raised area of earth, you will need to dig out the space for these supports (watch a demo video).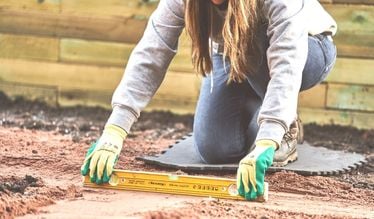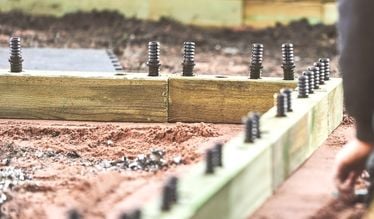 No significant foundations or groundworks are required for building a WoodBlocX retaining wall and our walls include buttresses which tie the structure into the area that needs retaining.
If you're building directly onto soil or grass we include ground spikes - these strong metal rods are fixed into the base layer of blocks, the combination of buttress and ground spikes is proven to fix our retaining walls in place. If you're building directly onto concrete or paving we include angle floor brackets which need to be screwed into the surface you are building on. 
Building your mortarless structure
Once the first layer of BlocX is laid onto level ground, just build the structure up following the step-by-step instructions provided with your order - this guide will show you exactly where the dowels need to be placed at each layer. Your building kit will also include a set of steel angle plates, the instructions will show you exactly where and when to add them, these support the dowels in tying the retaining wall together and will be placed between the facade of the retaining wall, between buttresses and under the top layer capping.
Please note that if you are building steps, seats or tiers into your retaining wall the process of building will be slightly different but all of the principles are the same. We're here to help you if you have any questions.
Not a drop of mortar needed!
Once the wall has been built up it is finished with a capping layer of your choice; either our popular traditional capping which features a slight overhang or our contemporary capping which finishes flush with the structure.
To install your capping, your top layer of dowels will need to be cut down by 3 notches. Our WoodBlocX modular system is a fantastic alternative to traditional retaining walls made from bricks and mortar and best of all, it's great fun to build!
Why choose WoodBlocX for your retaining wall
FREE retaining wall design service

Build yourself - reduced labour costs

No significant groundworks needed

No cutting, mixing mortar or waste

Easy-to-follow step-by-step instructions

Support from our friendly team
WoodBlocX mortarless retaining wall designs
The beauty of creating modular block retaining walls using WoodBlocX is that the design possibilities are endless! We can help you design a bespoke structure that works perfectly for your garden. Whether you're looking for a straight wall or a curved retaining wall or even a wall with integrated seating our Free Design Service ensures that will get exactly what you need.