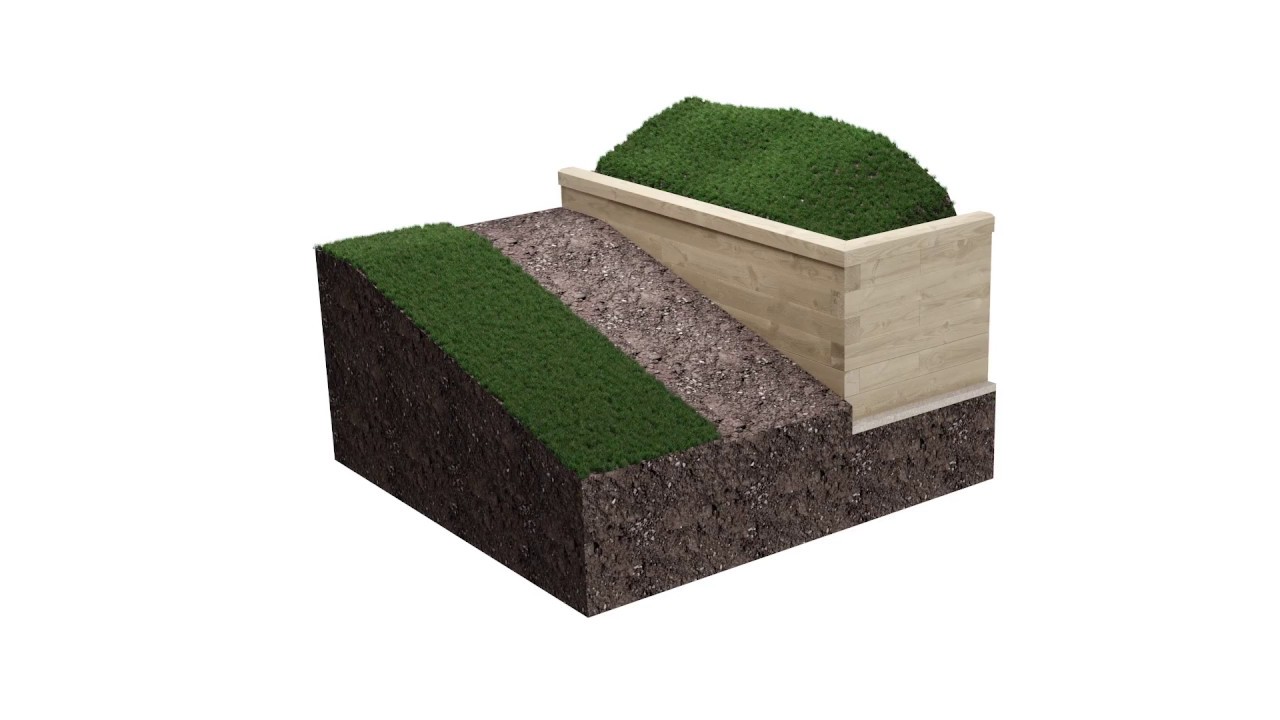 WoodBlocX™ garden retaining walls are the natural and beautiful choice for landscaping your garden with everything you need supplied directly to your door meaning there are no hidden costs and no need for foundations or substantial groundworks. The BlocX™ themselves are light and easy to handle and building requires no heavy lifting. Orders can be delivered within 2-3 days of purchase and in most cases it is possible to order on Tuesday and build your project over the following weekend.
The beauty of a WoodBlocX™ wall block system is that it can be adapted to suit any size of project, far cheaper than stone, brick or gabion walls and better quality than all other other timber products on the market. Our design team can also add in unique features including steps, planters or even a pond and this service is completely free of charge.
With our award-winning system, building a retaining wall for your garden is incredibly easy. Our easy to use solution enables you to build on flat or sloping surfaces, and the timber used is sustainably sourced from the Highlands of Scotland. Each WoodBlocX™ kit is created and pressure treated at our family-owned sawmill, where our manufacturing team ensure the quality of every component before dispatch.

Description

Details

The pros outweigh the cons when it comes to our WoodBlocX™ system. You can be assured that you are recieving the highest of quality products that will outlast alternative retaining wall materials. Some of the many benefits to using WoodBlocX:

WoodBlocX™ are joined using our patented dowels meaning there is no need for nails, screws or power tools.
A design can be adapted to suit any size of project and is far cheaper than stone, brick or gabion walls whilst also being of superior quality, outshining all other timber products on the market.
A WoodBlocX™ retaining wall can be expected to last for at least 15 years and can be built up to 1 meter high in a single span and many structures have been built higher using terraces.
Once you have placed an order it will then be processed and delivered on a day that is suitable to you arranged directly by our courier. When you receive your BlocX™ you will also get detailed layer by layer instructions.
To use our bespoke service fill out our simple form and our skilled team will create your design for you within hours.
Alternatively, if you know the dimensions you need for your garden retaining wall, simply create your wall using the calculator below. First choose the lengths for your wall, then a height and add it to your cart.
If there is anything we can help you with regarding WoodBlocX™ you can also call us on 0800 389 1420 for a chat.

If you require a more complex design than our calculator will allow please don't hesitate to contact our team for a free design. We usually have bespoke designs back to you within 24 hours. You can also Browse our popular pre-designed kits at your leisure.

All that is left to do is to have the fun with our building blocks whilst create the stylish garden feature that will take your garden to the next level!

Timber Retaining Walls / Made to Measure / Length1 2.25m x Length2 0.375m x Length3 0.375m x Height 0.35m Review

Product is fantastic but the delivery service was poor. Dumping a heavy pallet on the pavement is not an acceptable fulfillment solution. When ordering on line one is only told that this might occur AFTER one has placed one's order. As it happens we had builders in the house at the time who offered to carry the delivery through to the garden; had they not been with us we would have found it difficult to cope with the delivery as we are both old and have difficulty carrying heavy items.




Great design and easy to construct.

Easy to use and excellent results!

I purchased a retaining wall, the website was easy to use and delivery was made on the date as requested, all the staff were very helpful. The build was really simple and took no time at all. Overall I am very pleased with the finished result, the wall is very sturdy and does its job perfectly and is a great feature point in my new garden! Thanks!




Very strong structure and great design, does its job at retaining the soil perfectly and the added bonus of looking great in the garden tops it all off! I am very pleased!

Thank you so much!

Timber Retaining Walls / Made to Measure / Length1 6.75m x Length2 0 x Length3 0 x Height 0.25m Review

I would recomend, however block colour/presentation is not as clean looking as web site photos.




Easy to use and well thought through idea.

Thank you for your feedback!

If only I had all the parts.......

Very easy to build even though I had some different parts contrary to the design plan recieved. Fortunately I was able to modify a part and spread the plates out to build the wall. As it is only a low wall I am content it will do the job. Aside from that it looks amazing.




The parts list , design and recieved parts were different

we appreciate all feedback we are sorry to hear for the error, we would have rectified this by resending the correct parts happy to hear you found a solution our design team is always on hand for any questions.

Excellent!

Came when they said it would, went together as they said it would. What more can you ask for?




It was exactly what I wanted

Wonderful thank you

Good, long-lasting and decorative

Delivered when they said, and, if it lasts as long as a previous purchase from them it'll still be doing its job in 25 years time. Good decorative product.




Does the job I wanted and it looks good.

Great service and product

Excellent service, fast replies to queries.




Excellent product, easy to assemble.

Fantastic thank you for your feedback

Timber Retaining Walls / Made to Measure / Length1 7.5m x Length2 1.5m x Length3 0 x Height 0.25m Review

responded to queries with the product quickly, clear instruction and easy to instal




ease of installation with clear instructions

Excellent Thank you

Excellent product, just right for the job

Excellent product, easy web site ordering and great delivery service




Perfect for the job and easy to build

Excellent! Thank you

Timber Retaining Walls / Made to Measure / Length1 2.25m x Length2 1.5m x Length3 1.5m x Height 0.25m Review

The customer service was excellent and delivery was on the planned date




Good way of making a retaining wall

Fantastic Thank you very much for the taking the time to leave feedback!

Very proud of WoodBlocx walling

I have used WoodBlocx for two garden projects now and have been very pleased with the product and finished look. I have unreservedly recommended WoodBlocx to friends and family who have similar projects in mind.




Well designed product, easy to follow instructions and professional finish. Behind the product was the helpful design aspect of the service too.

Looks fantastic !Thank you 

Made to Measure Wall / Choose any length, shape or size shape that suits your garden - Length1 6m x Length2 0.75m x Length3 0 x Height 0.55m Review

Excellent products and brilliant customer service




Excellent product easy to build and very solid

Thank you for the feedback! Glad you are happy with our product!

Excellent product

Although I only needed a small corner to hold back a border so that I could site a pressure filter for my pond the result is solid and excellent. Thank you WoodBlocX excellent product.




Solid easy to assemble and arrived quickly. Thank you!

We're so pleased you are happy with your WoodBlocX product and our service no job is too small 


What an amazing product so easy and transformational

Brilliant product and great helpful service thank you




Fabulous product so easy to install and transformational

Superb we are so pleased you are happy with your WoodBlocX and customer service too, thank you.


Made to Measure Wall / Choose any length, shape or size shape that suits your garden - Length1 8.25m x Length2 2.25m x Length3 0 x Height 0.35m Review

Great service and great product, easy to assemble, even when you get it wrong you can easily dismantle and put it right and I am a 63 year old girl.




Very impressed with finished product

Superb go you! happy to hear you enjoyed the woodblocx experience  

Made to Measure Wall / Choose any length, shape or size shape that suits your garden - Length1 11 Feet & 1 Inches x Length2 1 Feet & 3 Inches x Length3 1 Feet & 3 Inches x Height 1 Foot 2 Inches Review

fantastic ,would recommend




great service quick delivery

Brilliant! Thank you for your feedback.

Perfect

The hardest part about building with wood blocx is digging where you want it go! Once you get started and follow the instructions it's a breeze! I was a bit sceptical at first about taking the plunge and buying them when I hadn't seen first hand what I was buying! But after finishing my retaining wall I couldn't be happier!




So easy to use! Will definitely be buying again for stage 2 of the garden project

Brilliant! Thank you so much for your kind feedback. We are proud of our product and it's ease of use.

Excellent service by WoodBlocX

Arrived on time. Good quality and all as advertised




As I've already said - all excellent!

Superb, glad we could help!

Fantastic product - love it.

A beautiful product and excellent service. Don't hesitate as you will not regret the purchase. IHighly recommended.




I got great advice and help to make sure I bought the perfect product for my garden.

Thank you for your kind feedback! We're really glad to hear how much you liked your WoodBlocX!

Good service, great product - let down by mediocre delivery service.

Good advice regarding the planning of a retaining wall. Prompt action when I realised that some of the order had not been delivered. Significant delays by Parcelforce, the delivery service.




Excellent

Shipping

Delivery costs?

Delivery on all UK mainland areas is Free!

When can we deliver?

Delivery takes just 4 working days. If you are in a hurry for your BlocX please call us and, if we can, we will try and speed up delivery for you.

Delivery is on a day you select (at checkout) between 9am and 5pm Mon - Fri (except Bank Holidays). Saturday delivery is available at extra cost of £50, select this at the checkout if it's required.

Unfortunately on some occasions deliveries can be delayed due to circumstances out of our control. We would advise choosing a suitable delivery date a few days prior to the date you wish to start your build, just in case.

When we despatch your order we will send you full tracking details for your pallet so that you can contact the delivery company and find the location of your BlocX.

The pallet does not have to be signed for and we can arrange for it to be left at a secure location at your property if you are not in at the time of delivery.

Full Delivery Details can be found on our Delivery Page HERE

Commercial

WoodBlocX is an ideal solution for any scale of commercial project.

Our components are covered by our warranty for 15 years and we can offer design calculations for any retaining wall up to 1m in height.

New housebuilders and Landscape architects can specify WoodBlocX in the knowledge that our system will match the most exacting standards.

If you are looking to use WoodBlocX on a commercial project then please get in touch with our technical team on 0800 389 1420 where we can provide design calculations and bespoke details.

Alternatively visit our Commercial website

HERE