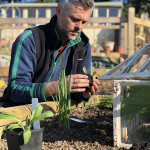 Rob Smith knows a thing or two about gardening, he won the 2015 BBC Big Allotment Challenge, is a regular writer for popular magazines; Kitchen Garden and Garden News, he is also a seed guardian for the Heritage Seed Library and has a range of grafted vegetables and cut flowers, its safe to say he's a busy man!
Rob has recently installed two WoodBlocX natural wood raised beds in his kitchen garden that will be used for very different purposes. His garden is sloped and he has his work cut out with the soil, as it is mainly clay and rock, so to successfully grow anything he needs to raise the level of planting and add new soil, making raised beds are the perfect solution.
"Most of my raised beds are made from corrugated metal, so I plumped for a couple for wooden raised beds to break things up, plus they're slightly deeper, allowing me to grow a wide variety of edibles.
"I wanted to make sure that any wooden planter I used was free from chemicals, after all I'll be eating the plants I grow in them and don't want anything leaching into the soil. I went for a WoodBlocX raised bed as no chemicals are used in their construction and they're easy to put together, just like giant building blocks."
Rob Smith
Circular raised bed
Admittedly the circular bed is a little trickier to build than our other raised bed designs, due to its curves and the angles, but the challenge nor the rain on the day caused any set backs.
Rob selected the circular planter design specifically to install a flowering crab apple tree, which will help to pollinate the other eating and cooking apple varieties he grows, making it a great addition to the garden.
Since building the circular bed and planting the crab apple tree (the variety is 'red sentinel') the base has been planted with box hedging to divide the space into four where flowering plants that attract bees and butterflies will be added.
Rectangular raised bed
Lots of our customers buy our rectangular raised beds for growing edibles as the height makes planting, watering, weeding and harvesting much easier. Rob is utilising his to grow varieties of perennial vegetables, which are ideal for busy gardeners, as they will look after themselves all year round with a just little watering and mulching.
Rob' top perennial veg varieties include:
Turkish rocket
Bath asparagus
Perennial kale
Sea kale
Earth chestnut