Ben's New Build Zen Garden
From a generic new build garden plot to a WoodBlocX Zen paradise!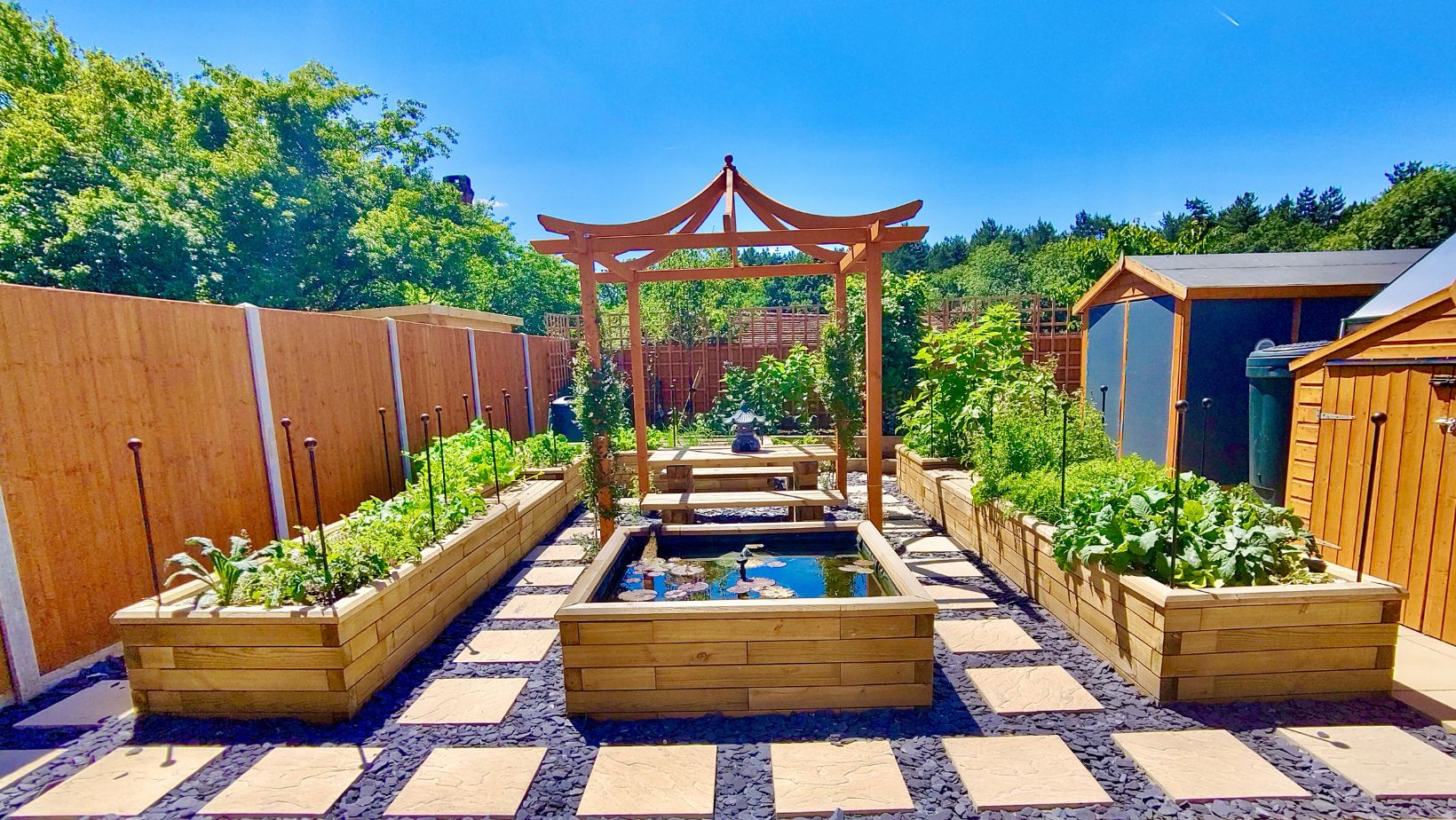 New build gardens are usually handed over to buyers with just two main features; turf and paving. Whilst this creates a blank canvas for the buyer, the garden will often remain in this state; lacking attractive details and good planting soil for many years. 
WoodBlocX raised beds are a great solution for adding some much-needed beauty and functional space, creating a garden that is totally bespoke to its owners. 
Ben's garden fitted the new build stereotype completely, however, he had a vision for the 120m2 plot: To create a multifunctional, low maintenance, permaculture zen garden to grow food and create ecosystems, whilst creating a stylish space to relax and entertain. 
The plot
The location had all of the elements needed to achieve his goal, south-west facing, plenty of direct sunlight, fields beyond the garden boundary which would help to attract even more beneficial wildlife and pollinators to the garden.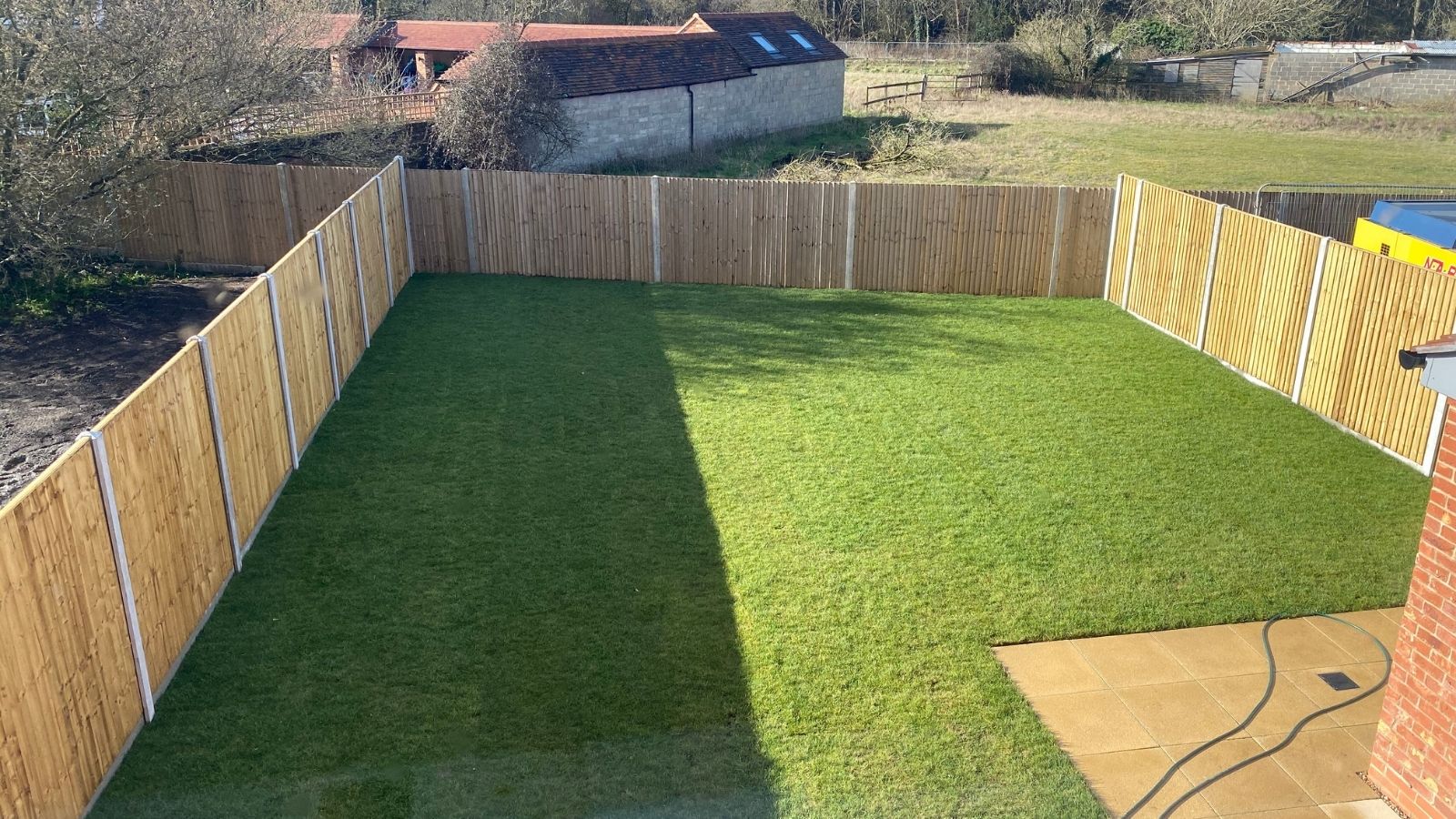 Why use WoodBlocX?
Ben initially considered using 2.4m railway sleepers for his project in the first instance, however creating shapes and different cuts to achieve certain shapes would prove challenging. WoodBlocX provided much more versatility and an option that didn't require the extra costs of tradespeople.
Ben submitted his ideas and layout design for the space, our designer Calum took the outline and calculated what was needed to bring the design to life, using his expertise to make some suggestions for how the design could be improved.
A pergola was planned for in the centre of his garden, Calum used the measurements Ben provided to add that to the design, showing the dimensions between the raised beds and pergola's supports to ensure there was enough access either side.
Great service
All customers that use our Free Bespoke Design Service receive a personalised Design Pack which includes detailed drawings of the design, giving customers a great insight into how their final design will look in their garden.
The outcome
The final design includes a large L-shaped raised bed with integrated seating, a raised garden pond to the front of the garden, a table and bench in the centre which sits neatly underneath the pergola and a long rectangular raised bed with integrated seating mirroring the L-shape on the other side of the garden.
For the walkways between the raised beds, Ben has used decorative crushed slate and paving stones to create the ultimate low maintenance finish.
After the ground was prepared, Ben and his partner Dom built the full WoodBlocX system themselves over the course of four weekends. They were apparently assisted by their cat Mr. Pants.
The WoodBlocX area is the attractive 'front of house' section of the back garden that is most visible from the house. This is connected to the more concealed 'back of house' areas of the garden which include a greenhouse, rainwater storage, composting bins and an aviary containing a flock of quails. This forms a mostly closed loop permaculture system on a small suburban scale. 
Sum up your WoodBlocX experience in one sentence
Ben said: "WoodBlocX offered an excellent design service, accurately machined materials, overall good cost value, efficient delivery and after sales service."
"Ben's garden was a brilliant and varied design to work on. I made a number of changes and suggestions to his original design to ensure it would provide the best solution possible.
For all bespoke designs we will use our knowledge and expertise to create an alternative that the customer may not have considered in the first place. In Ben's case an alternative design with integrated seating in the two adjacent raised beds was included. I also widened the pathways between the raised beds to ensure there's enough space for a standard wheelbarrow to pass though."
See the transformation in this video
Watch our videos to see how to build and what else can be achieved using WoodBlocX.