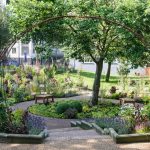 We have been sharing lots of tips for detoxing your garden in 2019 and creating a healthy space to relax and grow because the garden is much more than an extension of your living space.
Being outside in the fresh air with the sounds of insects humming and birds singing is one of the best kinds of escapism, whilst tending to the garden can help to take your mind off the stresses of everyday life.
We have provided our timber raised beds for a number of public gardens designed by RHS ambassador and gold medal winner, Jekka McVicar , that place health and wellbeing at the centre of the design.
St Mungos – The Quiet Garden, Notting Hill
St Mungos is a homeless charity and one of the largest providers of outreach services to homeless people in the UK, as part of the charities.
The Quiet Garden was created in partnership with the fragrance brand Jo Malone London as part of the Putting Down Roots project which aims to offer people a place to learn new skills and gain experience tending to the garden.
Filled with fragrant flowers and herbs to stimulate the senses. The garden is a circular design centred around a tree that was already in place, with an archway for climbers to grow up and steps leading into it. It really is a beautiful space and a great initiative for the charity's clients to experiences the benefits that gardening can bring.
Malvern Health and Wellbeing Garden
Launched at the RHS Malvern Spring Festival in 2017 Jekka McVicar unveiled the show's first permanent garden which was designed in support of the Pathways charity, a work-focussed day service for adults with learning disabilities and difficulties.
The design of the garden was inspired by the increasing need for reflection and escape from the stresses of modern life and seeks to preserve and share the vital knowledge of how horticulture and its associated therapies can help soothe the mind, body and soul.
Featuring curves and a central seating area we were honoured to provide the materials to build the large wooden planters with seating built-in to our modular system.
There is so much evidence to show that gardening really is beneficial to health and wellbeing and it doesn't matter if you have a garden or not there are loads of opportunities to garden through community gardens and allotments.
If you need some inspiration for your own garden head over to our inspiration section and see how our customers have used WoodBlocX raised beds, planters, seating, walls and ponds to create a garden they love.