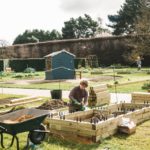 We are really proud to be involved with Macmillan Cancer Support and the Move More Edinburgh Project, by supplying the new 
WoodBlocX Raised Beds
 at the Botanic Gardens for the group to use.
Move More Edinburgh is a programme to help and encourage people affected by cancer to get moving. With various activities including gentle movement classes, walking, gardening and group activity classes, there is something for everyone. It's not about running marathons; it's about taking those small steps to get people outdoors and becoming active again. All the activities are free of charge and participants share time with others who are going through similar experiences.
The 'official' advice used to be that 'rest was best', however modern research shows that moving about more can actually help with recovery and make patients feel better.
Move More Edinburgh is a partnership between Macmillan Cancer Support and Edinburgh Leisure and many of the classes take place within Edinburgh Leisure venues, as well as local community spaces. Support is provided by instructors and volunteers.
To find out more about the group, or to get involved visit:
https://www.edinburghleisure.co.uk/activities/be-active/move-more-edinburgh