How To Build With WoodBlocX
THE EASIEST WAY TO BUILD YOUR DREAM GARDEN...
If you have ever thought about adding a new growing area or revamping your garden? Then WoodBlocX is an ideal place to start.
This short video takes you through just how easy it is to build with our BlocX.
WoodBlocX can just as easily be integrated into an established garden as a new garden setting or a small city garden as a more dramatic landscape. Leave out the wedges and you can disassemble your project for reconfiguration at a later date.
WoodBlocX designs don't just have to be standard squares, rectangles or circles. Our unique, easy to use system allows you to incorporate curves, angles and layers into any planter or raised bed design, giving you the opportunity to create something individual and bespoke for your garden.
The unique WoodBlocX system – as seen on the BBC's Dragon's Den – is the best choice for creating raised beds, ponds, seats and walls in your garden. It is easy to use, light but strong, and will last many years, putting it head and shoulders above other wooden garden structures, railway sleepers and wooden boards.
It is also a great solution for kerbing, corner boxes, low walls, terracing and decking supports. We have a whole host of pre-designed kits as well, just click the link to browse online today.
Why not just use railway sleepers, stone or boards?
Railway sleepers are often impregnated with nasty chemicals that can leach out into the soil. They are also incredibly heavy and difficult to work with, and often expensive to buy. Plus, they are so thick that a lot of potential growing or path space is lost purely on the sleepers themselves.
Stone is expensive and requires mortar and foundations, as well as the skills to build with it successfully. WoodBlocX is also comparably cheaper than bricks.
Building with boards can be complicated, and requires screws and the power tools to apply them. Boards can also warp and bow over time. With WoodBlocX there's no need to work out how much timber you need or factoring in offcuts, we do all the calculations for you and send you precisely what is needed to build your structure. Boards – both new and recycled – can also be impregnated with nasty chemicals.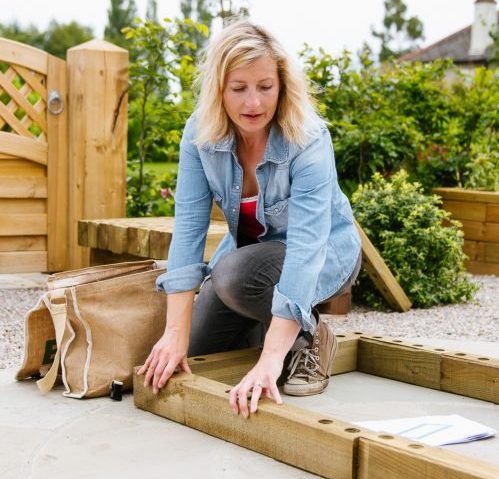 The unique WoodBlocX system means that it can be adapted to almost any garden situation, and any size or design that is needed. There are hundreds of pre-designed beds, planters, ponds and more, but we can also help you to design whatever it is that you need, so that it fits perfectly into your space.
Once the design is finalised, delivery only takes 3-4 days, and the WoodBlocX are so simple to construct, your garden could be transformed by the end of the weekend!
Use the menu to navigate to the type of product that you need to view our predesigned kits, use our online calculator to work out the price of your own design, send us a sketch with your requirements, or simply give us a call on 0800 389 1420 to talk things through. Click here to order our catalogue and information sheet.

5 Reasons why WoodBlocX are great for your garden
DURABILITY
Nothing lasts as long as stone, but we can't all have the expertise or money to build beautiful stone walls. WoodBlocX provides a simple alternative that will last much longer than made-up wooden structures. Because it is pre-drilled the pressure treatment penetrates almost 100% of the sapwood and it can be expected to last 15 years or more, when installed following our simple instructions.
STRENGTH
WoodBlocX has more strength than masonry in some situations because it can withstand tension forces as well as compression. It will not crack with ground movement or frost. WoodBlocX is put together with many joints (each dowel withstands 0.9 tonnes shear force) and forms a rigid structure that will not easily distort like other timber products.
EASE OF USE
Here WoodBlocX really comes into its own! It is light and easy to carry and all the parts fit into an average car. To put it up you need no elaborate foundations, no cement mixer or water, and only a hammer and some common household tools. It is quick! No waiting for cement to dry.
APPEARANCE
WoodBlocX has a really neat attractive appearance. If desired it can be painted with exterior wood paints or just left with its natural colour which will last for several years. Because it retains its shape WoodBlocX will generally look much neater than assembled-on-site wooden products.
COST
Naturally stone is expensive to buy and to build. WoodBlocX is comparable to brick, and less expensive if you do it yourself. Other wood products that are cheaper to buy are not so durable or attractive and are generally much harder to put up.