Ideas for raised beds and steps - Jerry's Italian garden
We loved working on ideas for raised beds and steps for Jerry's garden. Located in the picturesque hills of the Apennines in Italy, with the garden set into a hillside meant that landscaping the space could have turned into a logistical nightmare.
Thankfully, WoodBlocX kits are easy to transport over the international pallet network due to its modular design. That means, no matter where you're based, ordering and delivery is the same simple process.
The challenge for Jerry was to turn his rough and crumbling hillside, which now consists of a mix of concrete and hardpack, into an attractive dining and entertainment space. Our designers worked with him on a number of design options for him to consider. The final design included seven large steps with an integrated two-tier raised bed.
Jerry was working to a tight timescale as he also need to build the new pool area. His kit arrived within five business days on site, and Jerry and his team could begin building immediately. All of our components are pre-cut and our step-by-step instructions are easy to follow, even with a complex design like this one.
The transformation at Jerry's garden is a great example of how our modular and individual design solution can save time and effort. The versitility of our wooden modular system means than designing raised beds, retaining walls and steps as an integrated design is easily done. The result for Jerry is a garden that is now a functional outdoor living space.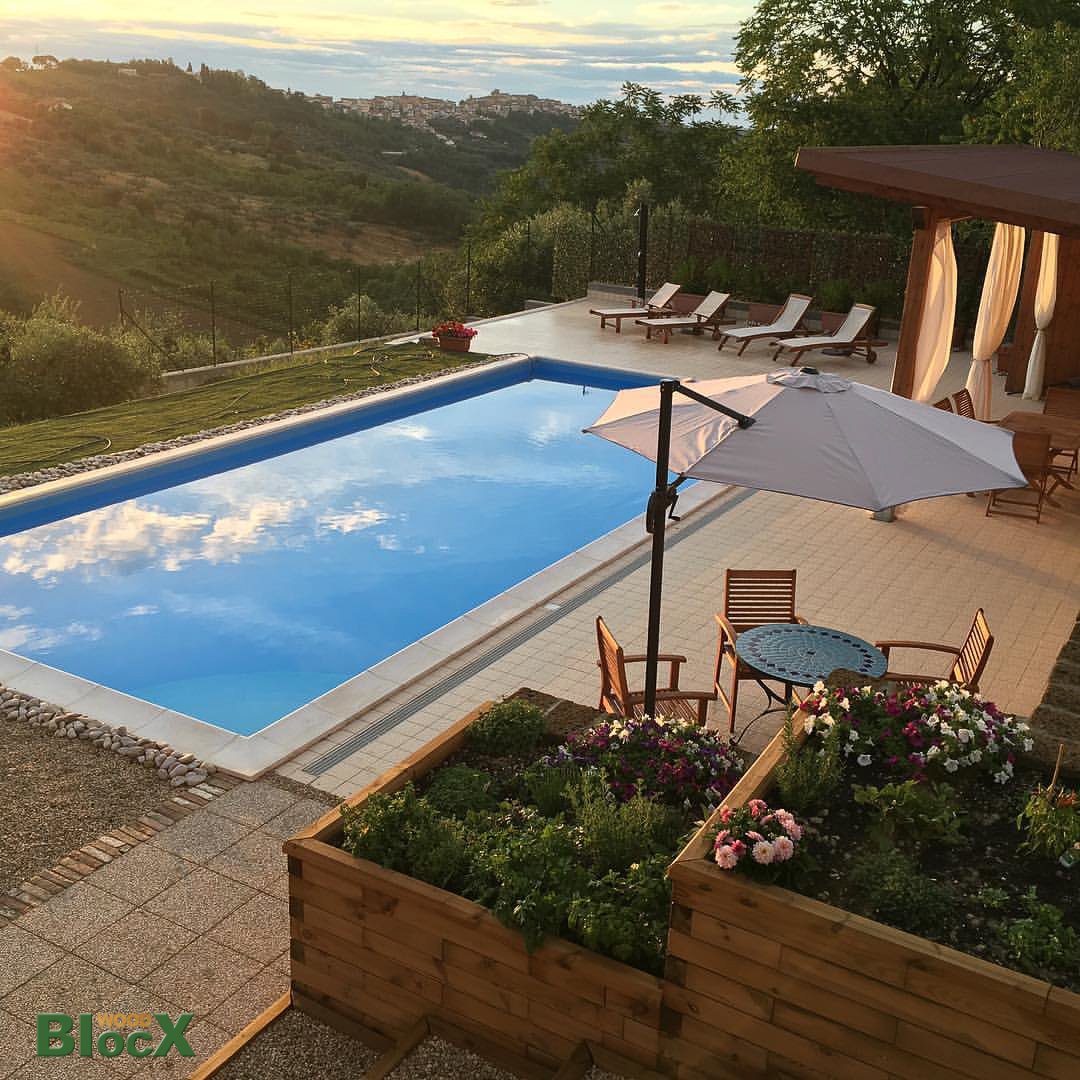 "It took about eight days or so and it completely changed the garden, we are excited about it. Thank you for planning the steps and organising the delivery to Italy, it was a hassle-free project" - Jerry Agass
More ideas for raised bed and steps
Integrating different garden structures is our speciality. Our bestselling wooden raised beds can be seamlessly integrated with retaining walls, steps, seats and ponds using our Free Design Service. Here's how some of our customers have used WoodBlocX to transform their gardens. Or if Jerry's garden has inspired you to create a mediterranean garden click here for inspiration.
For more raised bed and step ideas click the button below