Jerry's raised beds and steps
Using WoodBlocX to landscape a slope down to a swimming pool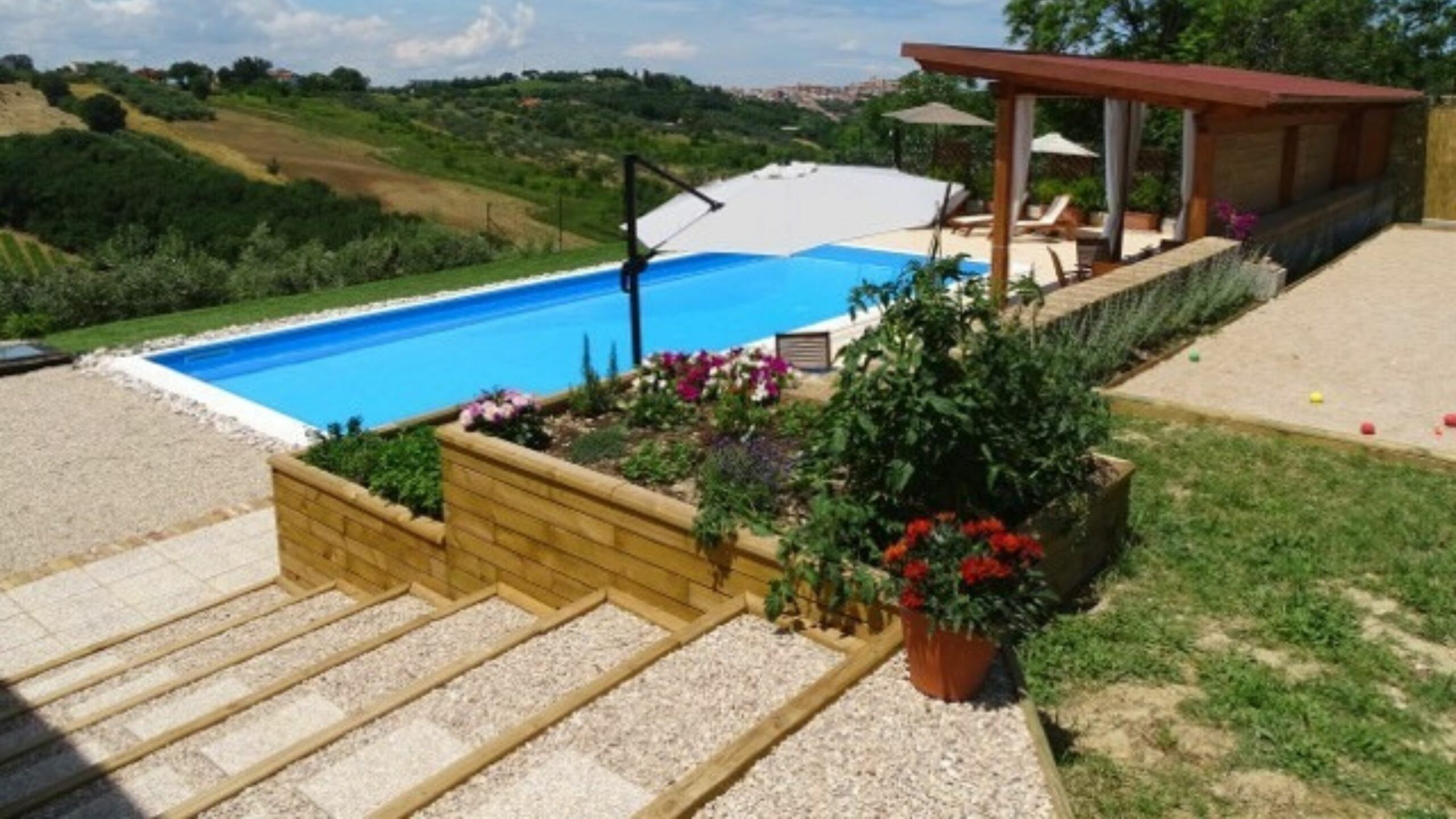 Jerry built a house overlooking the picturesque hills of the Apennines, the garden was set into a hillside which meant that a clever solution was needed to landscape the space to make it accessible and to make the most of the amazing views. The challenge for Jerry was to turn his rough and crumbling hillside, which consisted of a mix of concrete and hard-pack, into an attractive dining and entertainment space.
Jerry contacted us and used our Free Design Service, our designers worked with him to create a series of design options for the space. The major elements needed were; a set of steps to lead down to the lower part of the garden and some space for planting to add colour and interest to the entrance of the lower garden. 
Jerry was working to a tight timescale as he also needed to build the new pool area. His WoodBlocX kit arrived within five days, and Jerry and his team began building immediately. All of our components are pre-cut which saves time when building plus we provide a set of step-by-step instructions that are bespoke to each project, these are easy to follow, even with a complex design like this one.
The transformation at Jerry's garden is a great example of how our modular system can save time and effort. It means that designing raised beds, retaining walls and steps as an integrated design is easily done. The result for Jerry is a garden that is now a functional outdoor living space.
Jerry said: "It took us around eight days or so to build and it has completely changed the garden, we are excited about it. Thank you for planning the steps, it was a hassle-free project."
The final design
The final design included seven wide steps which made the slope down to the swimming pool much less steep, plus an integrated two-tier raised bed which would be built into the slope and provide plenty of space for planting colourful blooms.
Use WoodBlocX for retaining walls and steps
Our unique modular system is ideal for building retaining walls with and without steps in the garden, whether its a simple straight wall to retain a space or something tiered to make the most of a sloped area, it can all be done with WoodBlocX. Steps can be added to a wall design or as a standalone set, our design team can create the perfect solution for your space quickly and effectively.