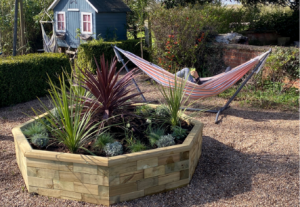 Building raised beds and other garden structures using our modular system is easy, planting an edible garden is fairly straight forward too, but ornamental planting can be a little bit trickier, how many plants do you need to fill the space? Where should you position them? Will they grow too big? What will provide colour and when?
We gave stylist Pandora Maxton (Instagram @pandora.maxton) an octagonal raised bed to work her magic on, find out below how she got on with building and planting herWoodBlocX raised bed.
Pandora says: I was asked recently by WoodBlocX if I would like to work with them and build one of their raised beds. I had a little area in the garden that just wasn't working and I knew straight away that this would be the perfect spot. I was given the choice of various shaped beds but opted for an octagonal one. The garden planter is ideal for making raised flower, shrub or vegetable beds.
Building the bed was like playing with giant wooden Lego bricks. The blocks arrived stacked on a pallet all wrapped and all I needed was a wooden mallet hammer, no other tools needed. Raised beds are often associated with heavy pieces of timber like railway sleepers with lots of sawing and drilling but here there was none of that.
Filling the raised bed
Over the years we have created our own compost. Lots of grass cuttings and general green wasted down. We managed to fill the entire bed with our own compost. It took a few hours but this was a family affair due to lock-down so I was more than happy to delegate the filling to my kids. After an hour or so we were ready to get planting.
The plant list
I decided to go for a little colour theme in my new raised bed. I opted for lovely deep purples, bluey greens and mauves.
Lavender
For it's structure and lovely purple flowers
Sage
Deep bluey green tones and lovely shaped leaves
Blue Fescue

 
Amazing blue colours and form
Fritillaria
Gorgeous deep pruple delicate flower
Cordyline (purple & green)

 
Good all year round plant
I planned to use Palm (Trachycarpus hardy) as seen on the pallet but ran out of space so it is now sitting pretty on my patio but thought I would share as these would have really worked well too. Good all year round structure and greenery.
When planting, a good tip is to plant in groups of three or five. I used the large purple Cordyline for the centre piece, then divided the rest of the plants into three around the middle. Three green Coryline and so on so all the plants were divided around the bed evenly. I chose to spend a little more money and buy bigger plants because I am so impatient but you can buy all these plants smaller to make it cheaper. The beauty of these plants is that they will look lovely all year round. The planting took around an hour or so and looks really lovely. In a few months time the lavender will bloom and the other plants will grow and bush out.