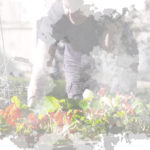 Ground Elder can be a real pest, and a tricky one to get rid of when it takes hold of your vegetable patch. But if you follow these quick tips you should be able to banish it from your garden in no time.
The key thing is to make sure you pull out the whole root, not just the plant itself. Each section of the white fibrous root will grow back into another plant, so dig down and make sure all the little pieces are taken out to.
Then check back to the same area a once or twice a week for the next 4 weeks to make sure no more pop up.