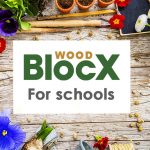 We are working with fundraising platform Ralloo to give five primary schools the opportunity to receive a WoodBlocX raised bed worth £500 without asking parents for a penny.
The Ralloo concept asks teachers, parents, friends, family and members of the wider community to share the opportunity via Facebook and Twitter, helping you to earn points to fund your project. There's only six simple steps to get your project moving:
Wait to be 'paired' with us
Once paired your project will go live
You have 10 days to encourage parents, friends and the local community to share via Facebook and Twitter
Each share earns funds for your project
Once you reach your target your WoodBlocX raised bed can be ordered
Update your school grounds, garden or nature/wildlife areas with beautiful and long lasting WoodBlocX raised beds. The beauty of WoodBlocX is that they are just like kids building bricks. They're so simple and versatile to use, you can even get the kids to help build them.
The kits are really easy to build and the parts included in the kits are small and require little technical expertise, so everyone can get involved! We have found that if the children help build the raised beds then generally they become more interested in planting and gardening.
Planted out with ornamentals and flowers to encourage bees, butterflies and other beneficial insects or vegetables and herbs to tend and harvest, your WoodBlocX raised bed can become part of a fun and engaging learning experience outside the classroom.