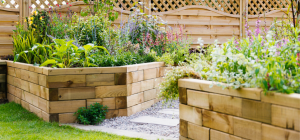 We have compiled a list of the most frequently asked questions from the last three months, with everything from pest control to watering. If you have a specific question feel free to get in touch via email - [email protected] or phone 0800 389 1420.
How do I create an accessible garden?
Raising the height of your garden beds and borders makes gardening instantly more accessible, but you also need to consider the layout of the rest of the garden. Paths and steps can prove troublesome, opt for wider paths if possible, especially between raised beds if you have more than one. Our wooden raised beds can be built at heights between 0.25m - 1.05m and each structure is strong and sturdy enough to sit or lean on.
Read our accessible gardening blog here.
Can I build raised beds on a slope?
Yes! Raised beds can be used to landscape a sloping garden by stepping the structures to follow the incline, this is where our free design service is priceless, we will do all the calculations and design specifications for you, simply tell us a little bit about the space you have, the size of the structures you would like and send a couple of photos so we can build a picture up of the space and we will work out exactly what is needed to landscape your hilly garden.
Click here to find out more about our Free Design Service.
How do I keep pests out of my raised bed?
If you have problems with rabbits we recommend building your raised bed at 0.35m and above to prevent them getting to your prized plants and veggies. Crop protectors can provide some cover, especially from cats, insects can be a little more difficult to control but there are friendly ways to keep them out; adding a bug hotel nearby will help encourage beneficial insects into the garden who can feast on pests such as greenfly and black fly and if you add a bird feeder they will repay you by picking out insects too, bit make sure you add a deterrent to keep them away from seedlings and strawberries!
Use our raised bed calculator to input your own sizes and get an instant price.
How much soil do I need to add to my raised bed?
If you are filling your raised bed completely then a simple way to work out how many litres is length(m) x width(m) x height(cm), but if you are adding a drainage layer to the bottom, subtract the height of the layer from the equation so you don't over order. We advise customers to use a good topsoil mix and add a soil improver or compost mix to the top layers.
For 10 reasons why WoodBlocX raised beds are great for your garden click here.
How often should I water my raised bed?
This totally depends on there time of year but during warmer weather water twice a day, early morning and in the evening to prevent the sun scorching the plants. Solar or electric watering systems are a really good option if you struggle to lug watering cans around the garden. Raised beds also warm up quicker in the spring and cool down slower when the weather turns cold, which is brilliant for growing in general.
How do I improve the health of the soil in my raised bed?
Raised beds are a great solution for gardens with poor soil as you can select the type you use. We advise customers to use a good topsoil mix and add a soil improver or compost mix to the top layers. Sandy soil is the best all-rounder. Using a bought-in topsoil rather than using up any surplus from the garden gives you much more control over weeds. Soils can be made richer through using your own homemade compost or manure, adding mycorrhizal fungi when planting is also a great way to boost soil and plant health in the long-term.
How do I improve the drainage of my raised bed?
Raised beds can be accessed without having to walk on them, this prevents soil compaction, which also improves drainage, helping plant roots to grow more freely and take on more nutrients. WoodBlocX raised beds of all sizes allow for drainage through the air gaps between each block, customers building our raised beds directly on patios, tarmac and concrete could benefit from a drainage layer at the bottom if the bed - stones or gravel can be used for this. 
Can I build a raised bed on a roof or balcony?
Yes! WoodBlocX is perfectly suited to balconies and roof gardens thanks to the small light weight blocks which can be easily moved around, whereas lengths of timber and heavy railway sleepers can be difficult to get up stairways and into lifts. Our raised beds and planters can be made to fit tight or narrow spaces and will instantly add character to your outdoor space.
Find out about our free design service here.
What weedkillers or fertilisers can I use when growing plants in a raised bed?
This is entirely up to the individual, we recommend using products that are kinder on the soil and environment, check for products that are clearly labelled natural, biological or have the stamp of approval from organic growing organisations such as the Soil Association or Organic Farmers & Growers Association. For weeds you can remove by hand or, if you're keen to use the no dig method, and have a space that you're starting from scratch with you can cover it with a sheet to stop the light getting in and then remove the weeds once they have perished.
To find out more about our wide range of raised beds and the different shapes and sizes available click here.