Retaining Walls are fast and easy with WoodBlocX
The simple, quick and easy way to landscape your garden
If you are thinking about building a Timber Retaining walls and steps in your garden. WoodBlocX system could be the solution you have been looking for. Like giant kids building blocks our system is easy, quick and fun to build with. 
WoodBlocX is equally simple on sloping or banked gardens
Our timber retaining walls and steps are so simple and quick to put together that anyone can have fun building with. This video shows how you would build a retaining wall on a sloped garden. Just contact our design team today for a free design specifically for your garden.
WoodBlocX timber retaining walls and steps can be designed by our team to fit your exact space and needs. We have a team of designers waiting for your pictures and sizes. With your guidance, they will then put together a design for you based on years of garden design experience.
Our team can help you design any shape or size structure that you feel would fit your space and needs best. With WodBlocX you are not limited to straight walls as we can design curves, circles or ovals of nearly any radius to suit your garden.
Once a timber retaining wall design has been agreed we will do the rest for you. We will work out the components then put together a full layer by layer instruction pack for your build.
The components will be delivered to your location. We try and make every step along the way as easy as possible.
All that's left to do then is get a level surface and the fun part of knocking the BlocX together.
Why not just use railway sleepers, stone or boards?
Sleepers need a foundation or footing to sit on, concrete is messy, hard work and expensive. They are also incredibly heavy and difficult to work with, and often expensive to buy. Its also difficult to cut them to your exact angles or sizes without heavy landscaping machinery.
Stone or blockwork is expensive and requires mortar and foundations, as well as the skills to build with it successfully. WoodBlocX Timber Retaining walls and steps is also comparably cheaper than bricks.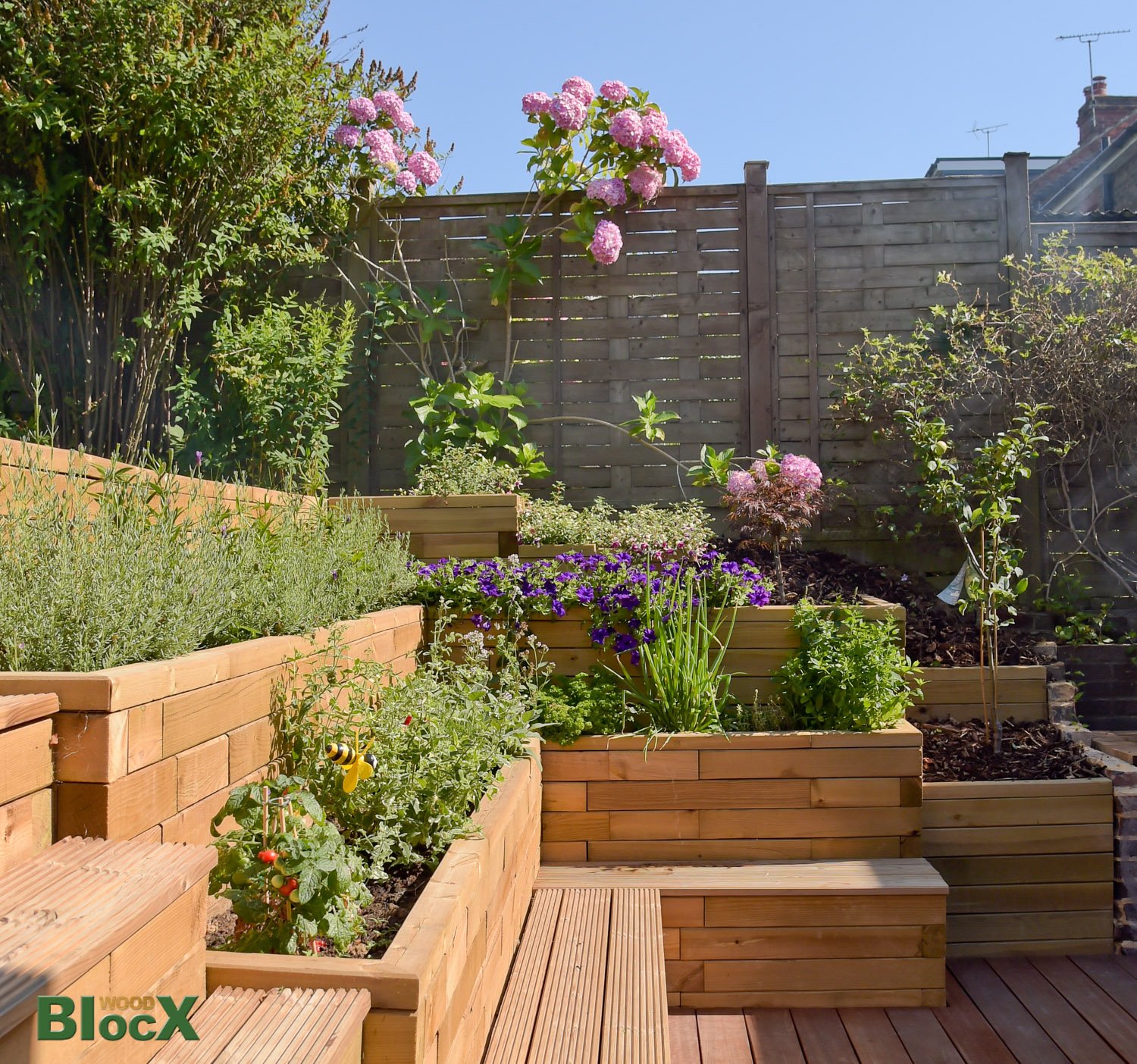 WoodBlocX Retaining walls are:

The unique WoodBlocX system means that it can be adapted to almost any garden situation, and any size or design that is needed. There are hundreds of pre-designed beds, planters, ponds, timber retaining wall and steps and even more. We can also help you to design whatever it is that you need, so that it fits perfectly into your space.
Once the design is finalised, delivery only takes 3-4 days, and the WoodBlocX are so simple to construct, your garden could be transformed by the end of the weekend!
Use the menu to navigate to the type of product that you need to view our predesigned kits. Use our online calculator to work out the price of your own design, send us a sketch with your requirements, or simply give us a call on 0800 389 1420 to talk things through. Click here to order our catalogue and information sheet.

5 Reasons why WoodBlocX Timber retaining walls and steps are the number 1 choice for your garden
DURABILITY
Nothing lasts as long as stone, but we can't all have the expertise or money to build beautiful stone walls. WoodBlocX provides a simple alternative that will last much longer than made-up wooden structures. Because it is pre-drilled the pressure treatment penetrates almost 100% of the sapwood and it can be expected to last 15 years or more, when installed following our simple instructions.
STRENGTH
WoodBlocX has more strength than masonry in some situations because it can withstand tension forces as well as compression. It will not crack with ground movement or frost. WoodBlocX is put together with many joints (each dowel withstands 0.9 tonnes shear force) and forms a rigid structure that will not easily distort like other timber products.
EASE OF USE
Here WoodBlocX really comes into its own! It is light and easy to carry and all the parts fit into an average car. To put it up you need no elaborate foundations, no cement mixer or water, and only a hammer and some common household tools. It is quick! No waiting for cement to dry.
APPEARANCE
WoodBlocX has a really neat attractive appearance. If desired it can be painted with exterior wood paints or just left with its natural colour which will last for several years. Because it retains its shape WoodBlocX will generally look much neater than assembled-on-site wooden products.
COST
Naturally stone is expensive to buy and to build. WoodBlocX is comparable to brick, and less expensive if you do it yourself. Other wood products that are cheaper to buy are not so durable or attractive and are generally much harder to put up.