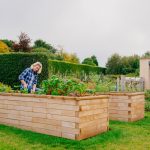 There are many different types of materials that can be used to build raised garden beds from wood through to brick, our customers tell us they spend time researching the options to find out which material is best suited for what they want to achieve in their garden. The aim of this blog is to include all of the information you need in one place to save you time searching and to help you make the right choice for your next garden project.
We've listed the different materials you could use and included approximate costs based on raised beds of similar sizes, Options listed are in price order.

Brick raised bed maintenance- Repointing of mortar joints, plus frost-damaged bricks may need to be replaced as and when
Bricks, concrete for the footings, sand, cement and, coping stones

2. Railway sleeper raised beds
Building raised beds out railway sleepers is fairly straightforward, you can buy lengths from timber merchants or garden and DIY retailers in hardwood and softwood varieties (pine or oak), the lengths will need to be cut to size, and you will need to drill holes down through the sleepers and insert reinforcing bars to hold them together. Most new railway sleepers are pre-treated with a preservative, older sleepers or reclaimed sleepers tend to be treated with creosote which is harmful and not recommended for using in the garden.
Based on L 2.25m x W 1.5m x H 0.45m - approx £25 per sleeper, most popular length is 2.4m, £375 and £100 for reinforcing bars
An easy-to-build, waste-free option, no cutting or drilling is required, the pieces are similar to Lego and are built up like brick-work and held together with a series of dowels, these combined with the layers of blocks make a strong structure which will last for 15 years or more. No special skills or tools are needed to build a WoodBlocX raised bed and each kit comes with a set of step by step instructions.
(All included in your kit) wooden blocks, capping, dowels and wedges, angle plates, step by step instructions
By far the cheapest option for building raised beds, however, wooden boards are only suitable for low-level planting as the boards are not strong enough to hold the weight of large amounts of soil. Simply cut the boards to size and use 3" 2" timber as stakes and to reinforce the corners and to create a frame to build to.
Wooden board raised bed maintenance - Replacing rotten and warped boards, every few years, painting
Lengths of board available in a variety of sizes, 3" 2" timber for securing the boards in place, screws of varying lengths
Based on L 2.25m x W 1.5m x H 0.45m - approx £110 for boards, £10 3" 2" timber and £10 for the screws