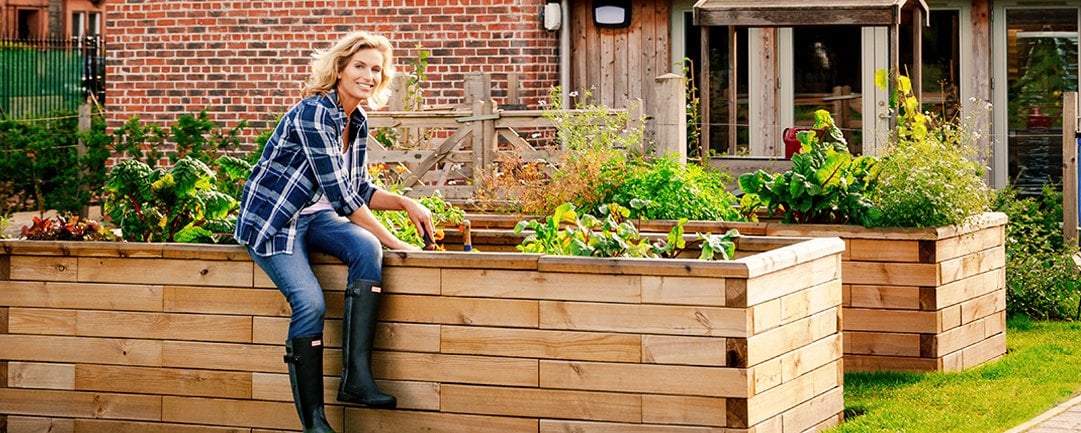 There are many different types of materials that can be used to build raised garden beds. From treated wooden blocks, to railway sleepers and bricks, each material can vary in cost and annual maintenance must be considered. Our customers tell us they spend time researching the options to find out which material is best suited for what they want to achieve in their garden. So what is the best material for making a raised bed?
To help you make the right choice for your next garden project, we've listed the different materials you could use and included approximate costs.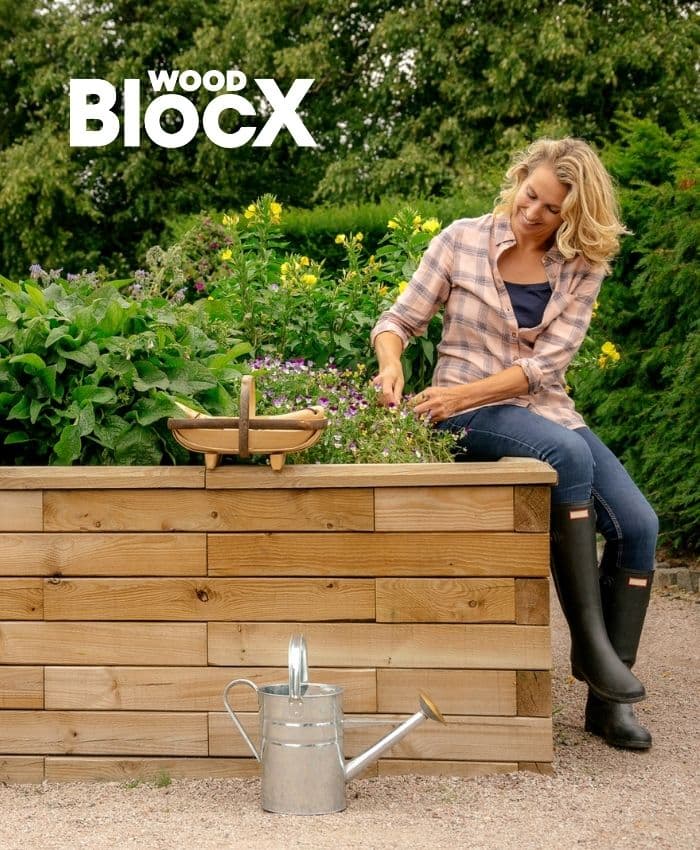 An easy-to-build, waste-free material, that requires no cutting, drilling or power tools! No special skills are needed to build a WoodBlocX raised bed and each kit comes with a set of step-by-step build instructions.
Easily adapted to suit your garden size and design, the individual blocks are similar to Lego and are built up like brickwork in no time at all. Held firmly together with a series of recycled plastic dowels, the layers of treated wooden blocks make a strong structure that will last for 15 years or more.
All included in your modular kit which includes wooden blocks, capping, dowels, angle plates, ground spikes or brackets and your step-by-step build instructions.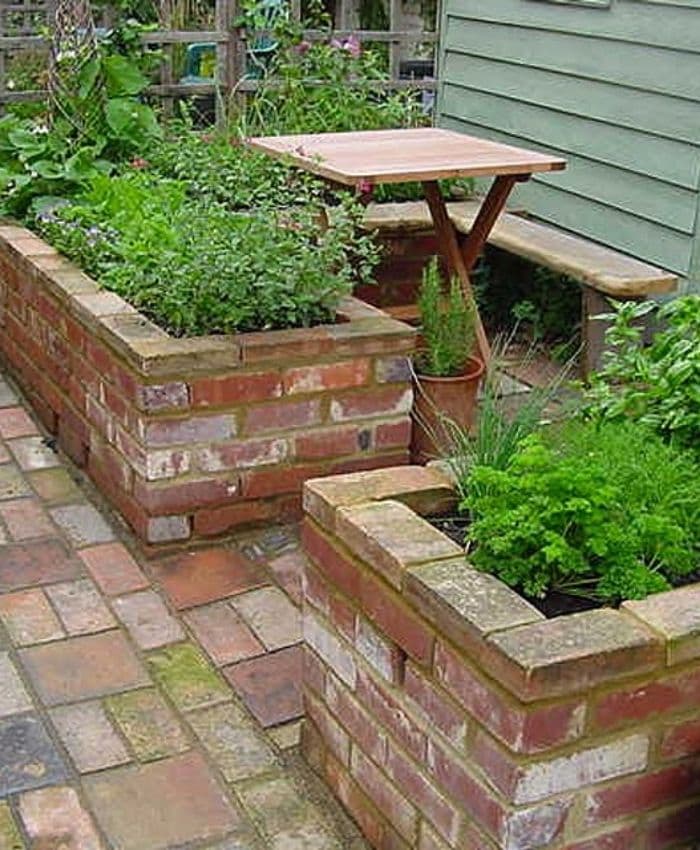 Brick Raised Beds
Raised beds can be made from either brand new or reclaimed bricks, you will need to include foundations to build on to create a stable structure. To build it you could set yourself a challenge but you will need to ensure that the bricks are laid straight and level and the mortar mix is correct. If you're not confident in bricklaying it is best to enlist the help of a skilled tradesperson.
Brick maintenance - Repointing of mortar joints, plus frost-damaged bricks may need to be replaced each year.
Materials - Bricks, concrete for the footings, sand, cement and, coping stones.
Costs - Based on a brick raised bed: Length 2.25m x Width 1.5m x Height 0.45m - approx £500 for materials buying directly from a trade merchant) Don't forget additional labour costs if you are not building the walls yourself!
Railway Sleeper Raised Beds
Building using railway sleepers is fairly straightforward, however, power tools and some skill will be required! You can buy sleeper lengths from timber merchants or DIY retailers in hardwood and softwood varieties such as pine or oak.
The lengths will need to be cut to size, and you will need to drill holes down through the sleepers and insert reinforcing bars to hold them together. Most new railway sleepers are pre-treated with a preservative, older sleepers or reclaimed sleepers tend to be treated with creosote which is harmful and not recommended for building raised beds in your garden or allotment.
Based on a size: Length 2.25m x Width 1.5m x Height 0.45m - approx £22 - £28 per timber sleeper (£330) and £100 for screws, brackets, reinforcing bars. Don't forget the additional labour costs if you require a tradesperson to build your structure.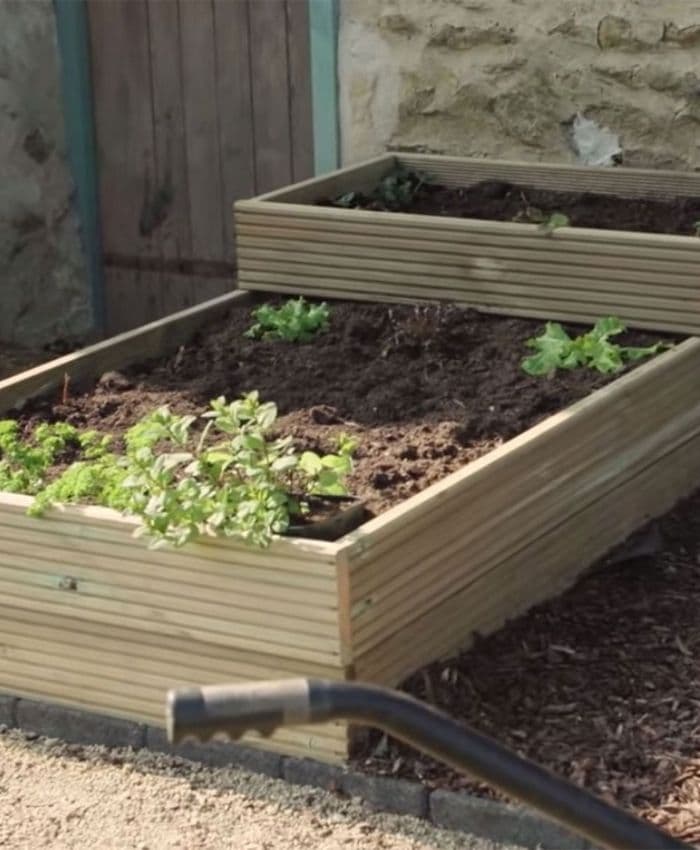 By far the cheapest option for building raised beds, however, wooden boards and decking are only really suitable for low-level planting as the boards are not strong enough to hold the weight of large amounts of soil.
To build, simply cut the boards to size and use timber stakes to reinforce the corners, helping to create a support frame. Wooden boards or decking boards are a good option for allotments, however, they are not long-lasting and will need to be replaced every few years.
Wooden board maintenance - Replacing rotten and warped boards, every few years plus wood treatment or painting.
Lengths of board are easily available in a variety of sizes, 3" or 2" timber for securing the boards in place, screws of varying lengths.
Based on a raised bed size: Length 2.25m x Width 1.5m x Height 0.45m - approx £110 for boards, £10 3" / 2" timber and £10 for the screws. Additional labour costs may be required if you are not building yourself!
Is wood the best material for raised beds?
Yes! Wood is by far the best option for making raised garden beds, in most cases it's easy to obtain, comes pre-treated and offers good value for money. The best wood for building depends on your preference, however, the most common varieties for building raised beds, planters and even garden edging is pine or oak (oak is generally much more expensive).
There are a few other materials worth considering. Metal raised bed kits (made from galvanised steel) are fairly simple to put together using bolts with prices starting from around £450. Plastic raised bed kits are another cheap option for low-level planting areas but these are usual not very durable.