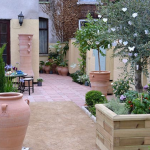 Our maintenance-free wooden planters are ideal for patios, driveways and balconies, made from high quality Scots pine, which is treated with a water-based preservative to make them hardwearing and long lasting.
If you're looking to reduce the amount of plastic products you use in the garden a WoodBlocX planter is an excellent choice and it will look great surrounded by terracotta pots too. Here's six reasons to choose a WoodBlocX planter for your next container purchase.
Make a statement
Doorways flanked with planters either side make for an inviting entrance, twisted bay trees, fragrant lavender bushes or shaped buxus. Our Large Planters are ideal for making a statement at the front and rear of the house or at the base of steps and in front of gates.
Small spaces
Our planters are available in range of shapes and sizes, they are ideal for gardens of all sizes. The square Small and Large garden planters are popular options for smaller gardens, patios and balconies, whilst the Slender Planter can run along a wall or be used to divide a space.
Versatile
WoodBlocX planters are really quick to build thanks to our unique modular system, the lightweight wooden blocks and the simple dowel system means that planters can be built really quickly, in less than an hour in some cases. The lightweight pieces make our planters idea for use on balconies as parts can be easily carried up stairs.
Indoor and outdoor planting
Our Small Garden Planters are not restricted to just being outdoors either, conservatories, garden, sun rooms even hallways and kitchens to bring natural planting indoors. Use as a pot for indoor plants such as yuccas, cheese plants, or for olive trees that can be placed outside during the warmer weather and brought indoors when the temperature drops.
Traditional and modern finishes
Tailor your planter to your garden style with a choice of capping options, the traditional capping overhangs the planter lightly and is our bestseller. The modern option finishes flush with the rest of the structure providing a more minimalist finish; our Contemporary Planter Bench is a great example of our flush capping.
Colour
WoodBlocX planters can be customised with colour, choose a paint colour to brighten up your outdoor space or simply plant them up with plants that provide colour through the seasons, add cascading varieties to really utilise the space.
We offer a free bespoke design service to all of our customers so if you need to tweak your planter design slightly to suit you and your garden simply call or email us ad we will be happy to help.