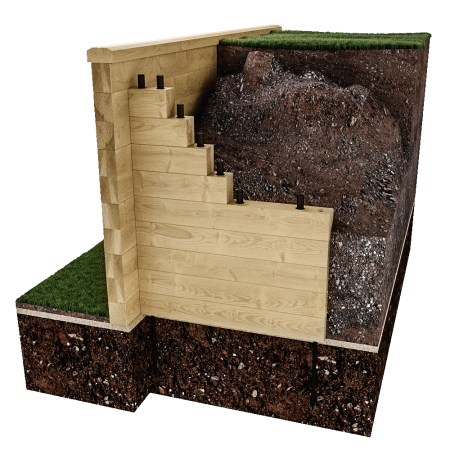 A DIY solution that looks far from DIY
There are hundreds of pre-designed beds, planters, ponds and more on our website to chose from, but if you project needs something totally bespoke, or if you have a big idea use our free design service and let our team bring your ideas to life.
Once your design is finalised, we can deliver in just 3-4 days, our kits are so simple to construct, your garden could be transformed by the end of the weekend.
Turn your garden vision into a reality
How do WoodBlocX retaining walls and terraces work?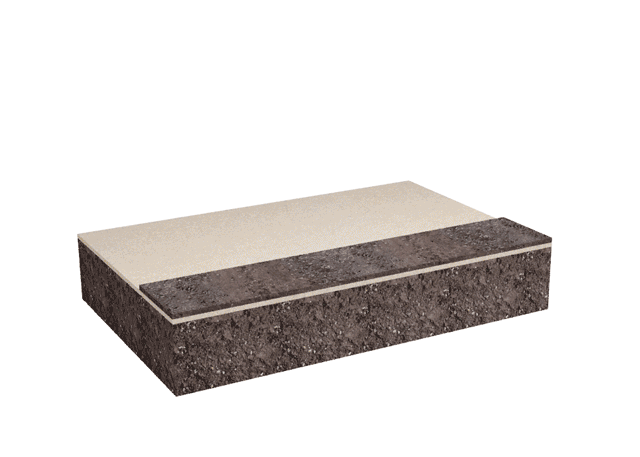 A single wall will retain earth up to a height of one metre (approximately 3').
Multiple walls in a terraced design can retain sloping gardens and banks of greater height.
Create straight or curving walls with ease.
Add steps, pillars and benches for ease of access, aesthetic value and somewhere to sit and enjoy your new garden!
The WoodBlocX are light and easy to build into walls. They need no power tools or technical knowledge to assemble.
WoodBlocX are made from pressure-treated, British, wood and last for at least 20 years without rotting or distorting, so you can be sure your design is safe, sturdy and durable.
WoodBlocX are also certified organic by the Soil Association, so there's no need to worry about leaching chemicals (which can be an issue with other timber such as railway sleepers).
Once you've finalised your design with us, delivery only takes 3-4 days.
Durable
We use the highest quality timber and pressure-treat it twice, penetrating 100% of the wood. Each structure is guaranteed for 15 years.
Strong
The unique modular system means WoodBlocX has more strength than masonry in some situations and will not crack with ground movement or frost.
Simple
You don't need any technical skills to build a WoodBlocX kit, and full instructions are provided for every design.
Attractive
Rough sawn wood, and two options for capping create a great finish with no need to varnish.
Our 3 Stage Bespoke Garden Design Service
A new garden design – or a new determination to transform the garden – can be a daunting prospect. Before you start, spend some time thinking about exactly what you want the garden for. Do you want purely ornamental planting, or productive areas as well? How much, if any, lawn do you want – do you need to supply a sports pitch or play area for the children? What about seating and entertaining areas? Where's the lawnmower going to live? Then assess what you want against how much time you have to look after it, amend your plans as necessary, then it's time to design your garden.
Click on the drop-down menu below to see each of the stages of our free design service.
The design needn't be complicated, but if the idea of working it all out fills you with dread, or even if you just want a second opinion, think about using a design service. Unlike others, our service is completely free and puts you under no obligation to buy.  All you need to do is send us a simple sketch, some sizes of the space you're looking to work with and we will be able to design planters, raised beds, ponds, seating areas or retaining walls to fit in perfectly.  The more detail and information you can send over the better, but if you are struggling even a few simple lines and rough sizes will be enough for us to get started.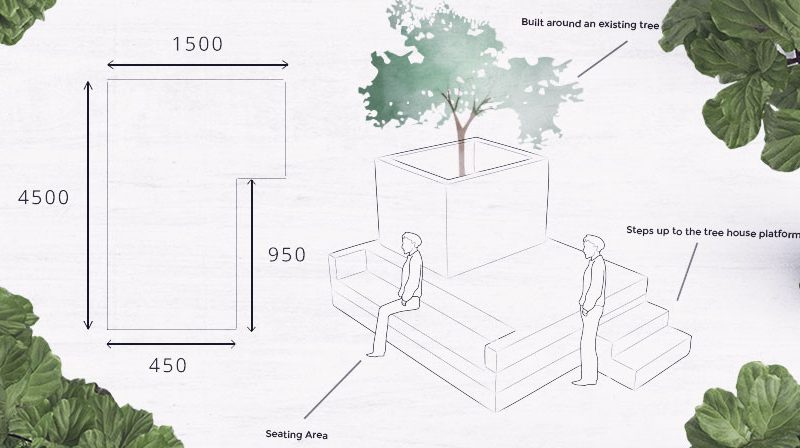 Using a tool like this - Online Sketchpad - can be a great way to help you make up your designs too, and allows us to get your design back to you even quicker. Just draw it up, export it as a jpeg, and email it over.
If you are in a real hurry you can just call us on 0800 389 1420 with a few simple sizes and we will be able to give you a rough estimate for your project over the phone instantly.
Along with a sketch if you are able to send us a picture or two of the space where you would like your WoodBlocX that helps us to put it into context and work out a design that will fit your space specifically.
We can now also accommodate for curves and angles of certain sizes so you don't have to be limited to straight walls and 90° corners. Let your imagination take over.
After receiving your details we can normally get a design back within a day. Sometimes in the Spring this can be longer as we get much busier at that time of year.
Once we have drawn up your free bespoke garden design we will email over a 3D model in a PDF. This will show your design and include a price for your specific new landscape design.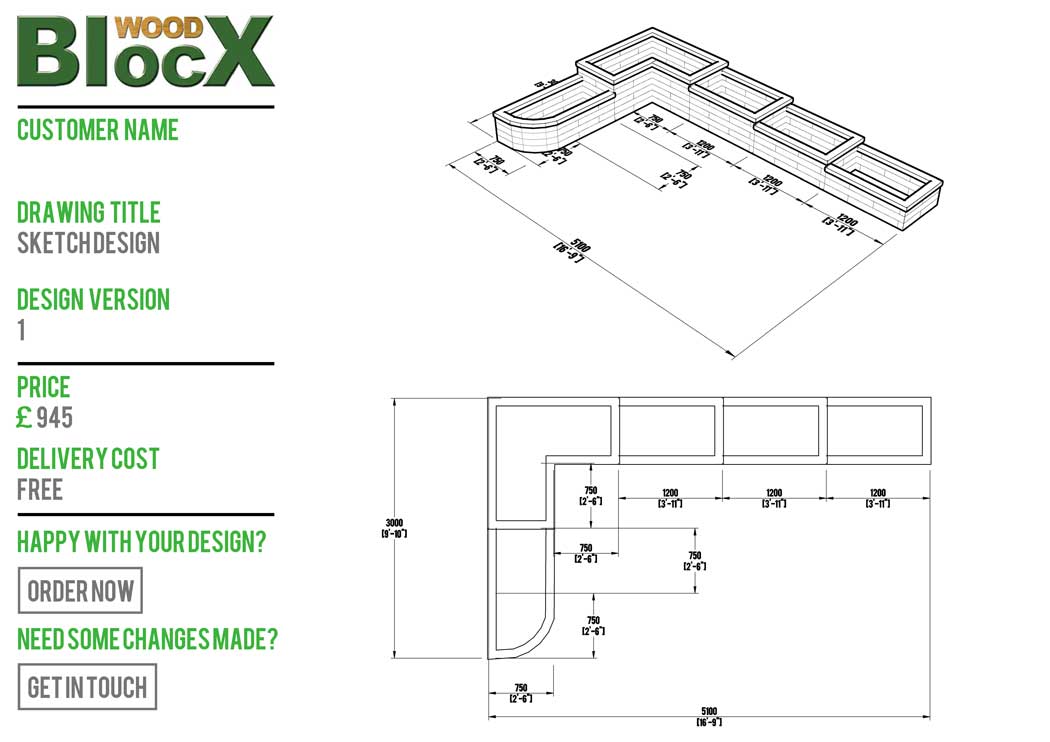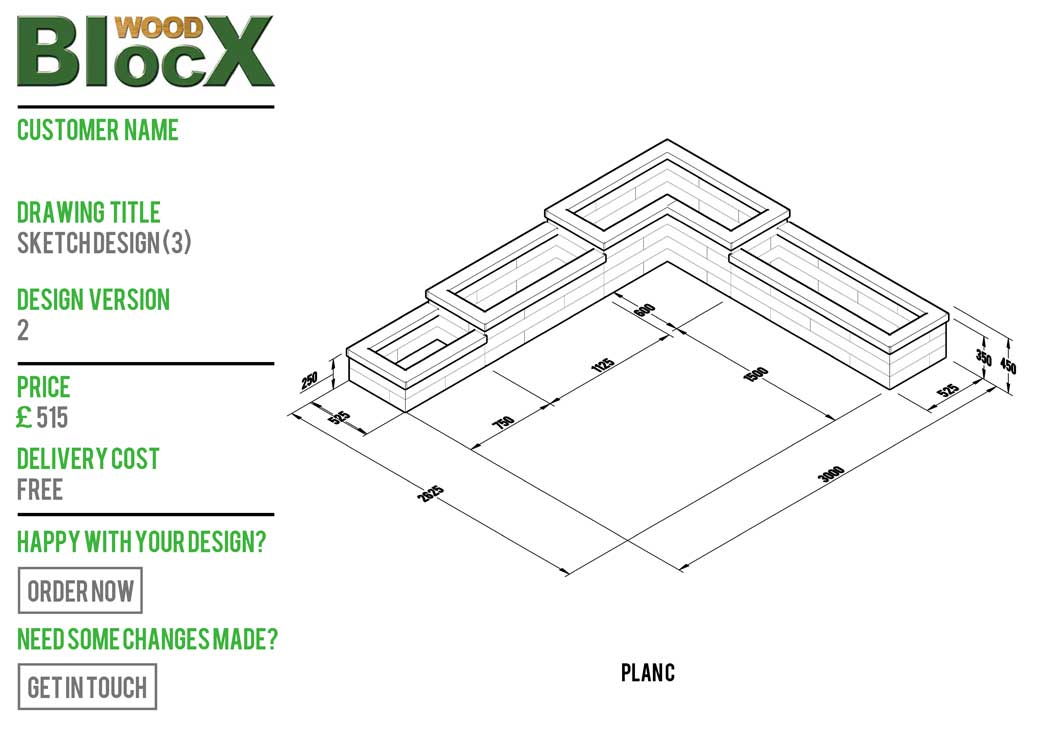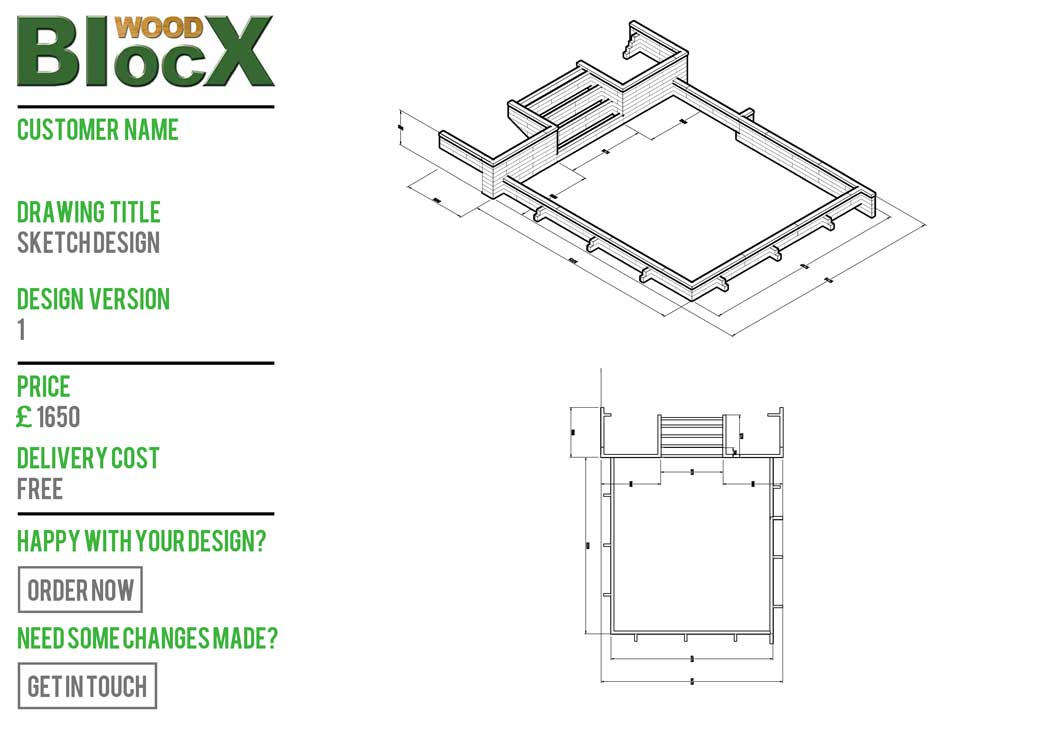 YOU CAN ORDER DIRECTY ONLINE
Take a look at your pdf's and if you are happy with them we will add your project to our website for purchase.  We will then send you a link so that you can order the BlocX online and choose a date that will suit you for delivery. We can normally get from design to delivery within a week.
No matter what our friendly design team is always on hand to help with any question or queries you may have about WoodBlocX.
Want to see some examples?  We have designed over 800 kits for our customers in the past years, you can browse some of our top picks below. We can also send out free sample kits if you would like to see and get a feel for what the BlocX are like. Just get in touch with us through our contact us page.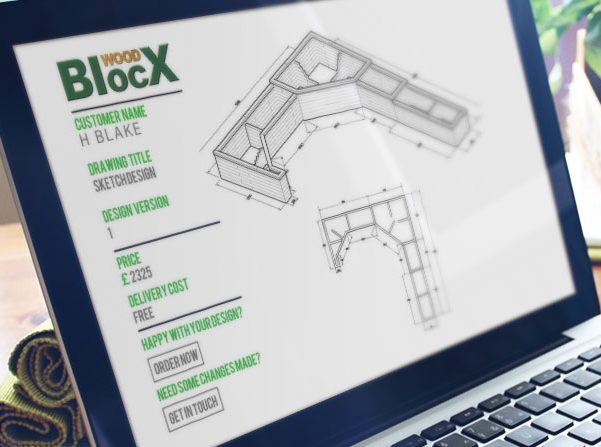 If you're ready to submit your garden idea to our designers, then fill in the form below and one of our team will be back in touch with you shortly.