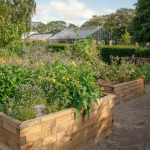 Saughton Park is one of Edinburgh's top ten parks, close the river Leith it has facilities for sports, recreation and has a rich history of growing plants for medicinal purposes. The park's walled and physic garden is where the term 'occupational therapy' was coined thanks to the pioneering horticultural work of Dr William Lowe more than 100 years ago.
The Physic and Kitchen Garden, as it is now known, recently underwent a huge transformation, plans to replace the 1950's sensory garden for the blind, which had fallen into disrepair, began at the start of 2019 and resulted in 17 large WoodBlocX raised were installed with several structures featuring integrated seating to create a functional space for both visitors and volunteers to enjoy.
The garden is looked after by Friends of Saughton Park, which is split into different groups and look after various parts of the park, the Physic Garden team, who were keen for the garden to appeal to all ages and abilities, designed and planted it. The group is also known as the 'lotions and potions' group, each of the WoodBlocX wooden raised beds that make up the garden each relate to different parts of the body, the plants within a particular bed each have medicinal properties relating to a particular part of the body. The central raised beds have been designed around parts of the body and the plants chosen are beneficial for that area, or ailments or diseases affecting it e.g. the heart bed contains foxgloves which have been used in the treatment of heart conditions since the 1700s; the oncology bed contains snowdrops whose active component is galanthamine, which used in anti-cancer treatments.
Our top three raised beds for growing edibles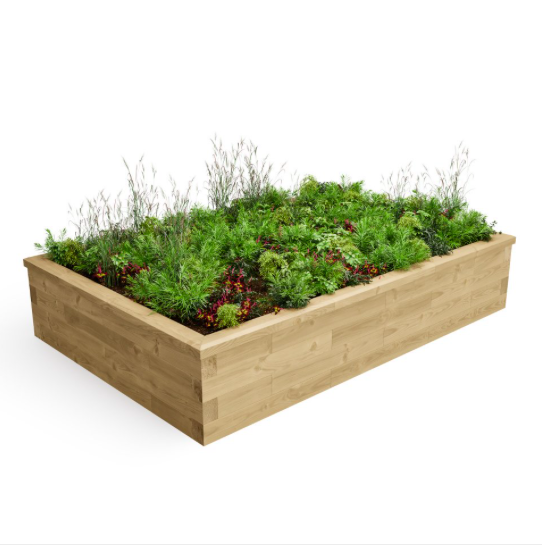 Raised Bed Best Seller
Size: 2.25 x 1.125 x 0.45m
Price: £344.00
A perfect size for a small vegetable, fruit or herb patch, or for adding some ornamental planting to any area, this raised bed is proportioned to be half as wide as it is long. It is narrow enough to reach all the plants without having to step on to the bed itself. The extra height also makes maintaining the plants that little bit easier on the back and knees, or for tending from a (wheel)chair.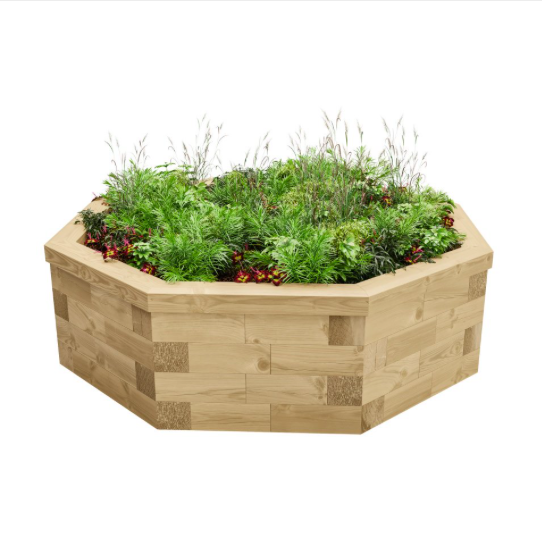 Octagonal Raised Bed
Size: 1.65 x 0.45m
Price: £344.20
This planter would make a striking centrepiece to a front or back garden or patio, and could be used for planting almost anything. It is deep enough to accommodate a small specimen tree or shrub that could be underplanted with bulbs or shade-loving plants.
To find how easy it is to build with WoodBlocX and to find out why our structures are so popular click here