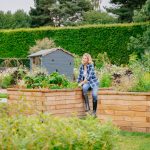 Our raised beds, planters, walls, seating and other garden landscaping solutions are made from renewable and sustainably sourced wood and are ideal for organic and natural gardening because we don't use any chemical treatments that will leach into the soil.
We want to help you to retune your garden mind-set with ideas for creating a space that is more in tune with nature by making some simple changes. Our Garden Detox competition aims to do just that!
We've got some fantastic prizes up for grabs that offer some great alternatives in the garden from battery power to alternatives to harsh chemicals.
One Ego Power+ Cordless Multi Tool Set
Prune and trim your way around the garden with the power and freedom of petrol without the petrol! This lightweight battery powered 56V multi tool from EGO includes two attachments for hedge maintenance and tree pruning. The power head has a brushless motor and is lightweight and perfectly balanced.
The prize includes a power head, battery, charger and long reach hedge trimmer and pole pruner attachments.
Five Neudorff garden product bundles
If you're keen to make conscious changes to the products that you use in the garden, especially weedkillers and slug killers following the recent news reports, this prize is ideal. Neudorff is the original alternative company and experts in natural gardening, offering a range of weed, feed and control products that use active ingredients from plants and other natural resources where possible.
We have five sets of product bundles worth over £60 each up for grabs which include: Sluggo Ultra Slug & Snail Killer (800g), BugFree Bug & Larvae Killer (750ml), WeedFree Weedkiller (750ml), Super Strength Seaweed Extract (1L), Organic Multipurpose Plant Feed (1L), Organic Tomato & Vegetable Food (1.25kg) and CleanLawn (8kg).
To find out more about our timber raised beds, planters, ponds, garden furniture, walls and the endless design possibilities using our unique modular system click the button below,