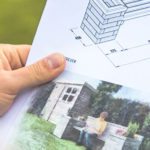 There's a lot that goes into designing a dream garden, so to help get your creative juices flowing we have compiled a list of our top favourite designers for inspiration, and you can watch how Rick McKeever from Lovania Nurseries used WoodBlocX to build his award-winning garden in the above video.
One thing before you start though, spend some time thinking about exactly what you want the garden for. Do you want it for purely ornamental planting with WoodBlocX raised beds and ponds, or are you looking to create productive areas as well? How big a lawn area do you want, if any? Do you need to provide a sport's pitch or play area for children? What about seating and entertaining areas - and storage (where's the lawnmower going to live)? Once the decision has been made, assess what you want against how much time you will have to look after it and amend your plans as necessary. Only then is it time to design your garden.
Now you have decided about what you want your garden to be used for, click on any of the designer links below for inspiration and ideas which you can adapt and implement in your own garden.
The design needn't be complicated, but if the idea of working it all out fills you with dread, or even if you just want a second opinion, think about using a design service. Unlike others however, the WoodBlocX design service is completely free and puts you under no obligation to buy. All you need do is send us a simple sketch, the size of the area you're looking to work with, and we will come back with a garden design featuring 
planters
, 
raised beds
, 
ponds
, 
seating areas
 or 
retaining walls
 using the WoodBlocX system to fit in perfectly, depending on your original requirements. The more detail and information you can provide the better, but if you are struggling, even a few simple lines and rough size estimates will be enough for us to get started