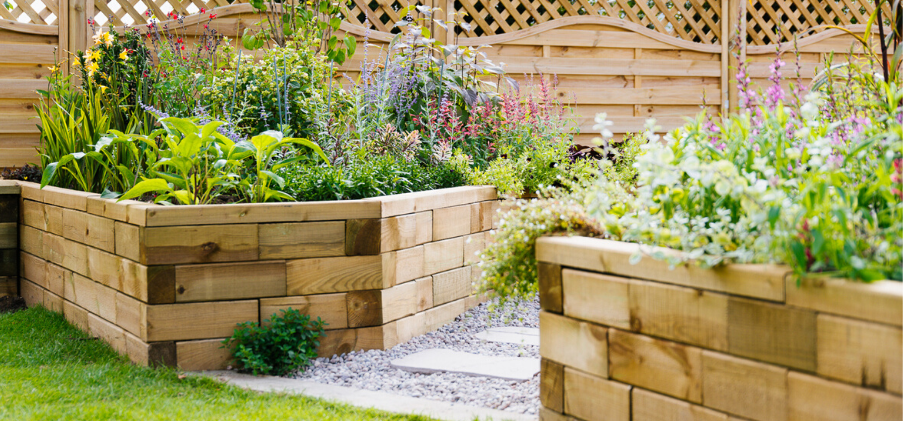 We have made getting inspiration and costs for your next raised bed, pond or retaining wall project quick and easy.
Whether you know exactly what you want and just need to add your measurements or you need some help, guidance or inspiration, we have got you covered with our calculator tools and free bespoke design service.
Building with WoodBlocX is a little like building with Lego. Our kits contain everything you need to build your structure and a set of step by step instructions to guide you every step of the way. You can find out more about how to build and the benefits of using WoodBlocX here.
Raised bed inspiration
If you need inspiration for your next raised bed project you have come to the right place. Whether you're looking to grow edibles or flowers our wooden raised beds are ideal. The modular nature of our system means that we can create almost any shape from traditional rectangle and square planters to bespoke designs that feature curves and angles.
Pond inspiration
Whether you're keen to encourage more wildlife into your garden, would like to keep fish or want to create the ultimate zen garden, our kits are popular choices for ponds. Choose from single and double skin options.
Retaining wall inspiration
Landscape your garden with beautiful WoodBlocX walls. Our structures make a great alternative to railway sleeper and brick walls. They can retain earth up to 1.05m, there are no substantial groundworks needed and you can build them yourself and make significant savings on labour costs. Click here to find more about the benefits of using WoodBlocX for your next retaining wall project.
Our Free Bespoke Design Service
Create beautiful combinations of our structures that fit your garden and lifestyle perfectly, from raised beds with seating to multi-functional retaining walls and much more. We can help you bring your vision to life, suggesting solutions to make the most of the space you have available to create your dream garden. No fuss, no hassle, just great service from start to finish.