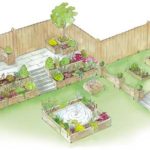 A new garden design – or a new determination to transform your garden – can be a daunting prospect. Caitlin McLaughlin, the RHS Young Designer of the Year 2016, gives us her take on what makes a successful garden design in the above video.
Below are some tips on things to consider when preparing to design a garden.
Before you start, spend some time thinking about exactly what you want the garden for. Do you want purely ornamental planting, or productive areas as well? Your plans might have to be amended as you go along to accommodate different circumstances – adding lower maintenance areas for example, or including more veg-growing space because you've discovered you enjoy cultivating plants for the kitchen. WoodBlocX can be used to build a wide range of raised beds, planters, seating, edging and even ponds – in a variety of shapes and sizes and all without a power tool in sight.
Another consideration is how much, if any, lawn do you want – do you need to supply a sports pitch or play area for the children? What about seating and entertaining areas and storage - where's the lawnmower going to live? Even the most difficult-looking of gardens can be transformed with a bit of thought. A steep slope can be terraced to create a stepped garden with flat beds and paths. Front gardens and courtyard gardens are often neglected, but a few simple beds or some edging can really transform their look and feel. Corner beds are especially good for small urban courtyards – WoodBlocX have single and multi-level options, or you can give them your specifications and receive a free bespoke design.
After assessing what you want against how much time you will have to look after it, amend your plans as necessary. Once these decisions have been made, then it's time to design your garden.

Design inspiration for your garden