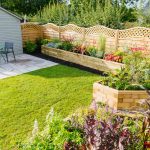 We offer all of our customers a free design service. We take away the head-scratching - all we need is a few minutes of your time to tell us your measurements, what kind of structure you're looking for and a quick overview of what style you're looking for and our experienced design team will do the rest.
Once we've made any changes to your design and you're ready to order we'll send you a link to purchase it you simply need to select a day for delivery that suits you. You'll be kept up to date via email on the status of your order.
Your order will be delivered to you on a pallet and will contain a set of simple-to-follow instructions that have been tailored to the design of the structure. If you need to move your kit to a different area in the garden the pieces are light-weight making them quick and easy to move.
Fill the bed with quality soil and start planning out which plants or veg to grow and once its complete sit back and admire your work and enjoy the compliments from friends and family!