Helen's octagon garden
Octagonal raised beds for an odd-shaped part of the garden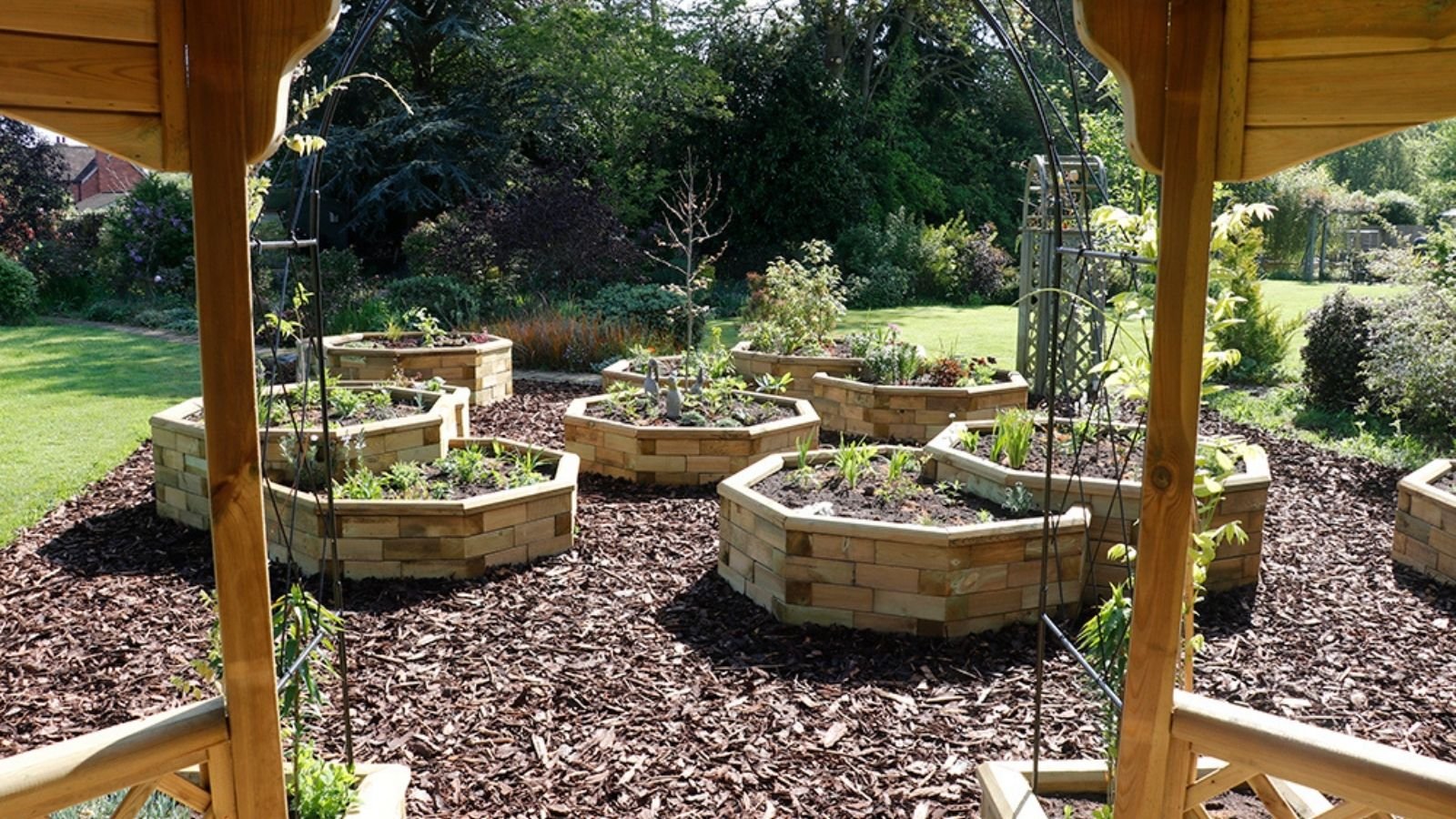 Helen has totally transformed an area of her garden that wasn't being used to its full potential. She wanted to create a new space within her garden where she could sit under the shelter and shade of a gazebo.
This part of her garden is a slightly unusual shape with two straight sides and two curved sides which meet in the middle, originally this area was home to a large holly tree which was removed in the winter to make space for her new garden.
Helen wanted to add raised garden beds to this area to create a structured feel to the space and it would allow her to showcase some of her favourite plants.

A huge holly tree (seen left) was removed in November 2021 ready for the 2022 build.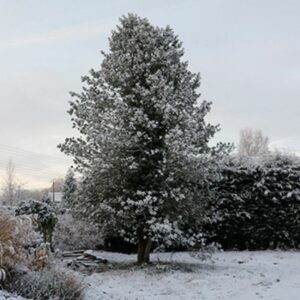 Flexible design
Helen said: "I liked the different shapes that are available, this enabled me to have raised beds in the same shape as the gazebo / summerhouse – at the early stage I hadn't decided on whether to go with a round structure or an octagonal shape. 
"I also liked the fact that you can customise the raised beds. I ended up wanting some planters to go around the gazebo but couldn't find any of the standard kit sizes that would work in the space I have so I now have four customised square planters, the size of which matches the width of the archway that I have at the entrance to the gazebo."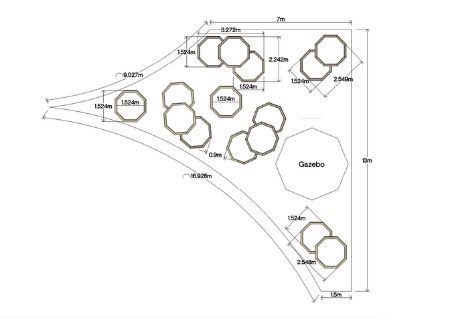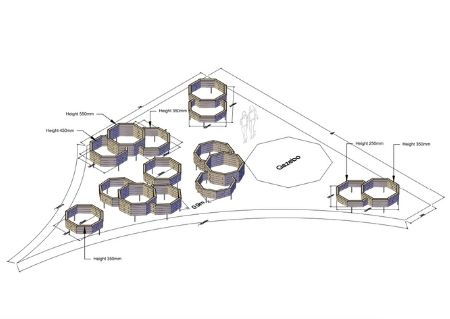 Design team support
Helen said; "I had an idea in mind when I contacted WoodBlocX, but I had questions. So, rather than clicking and buying, I decided to go to the bespoke design section to be able to ask questions. I knew the size of my garden plot and wanted to know if square and rectangular beds of certain sizes would fit. I also thought that having beds of differing heights would look aesthetically pleasing. So I gave my measurements and asked my questions. I received very personalised service. Specifically, I needed to know which heights would be most comfortable to work at when older, and if the size of beds I had envisaged would fit into my plot area."
Our designer, Harry created a scale plan of Helen's garden to determine the best possible layout working with Helen's original idea and the all-important gazebo centrepiece, this way we can ensure there is enough space to walk between the raised beds and have easy access for wheelbarrows or lawnmowers.
Building the garden
Helen used a team of installers to help with her build due to the scale of the project. It took the three people 11 days to complete the entire garden area, this included erecting the gazebo and putting on a slate roof to make it waterproof, putting on guttering and connecting it up to the waterbutts, erecting the raised beds, lining and filling with soil, putting down a weed suppressing membrane around the raised beds and gazebo and putting down bark chippings.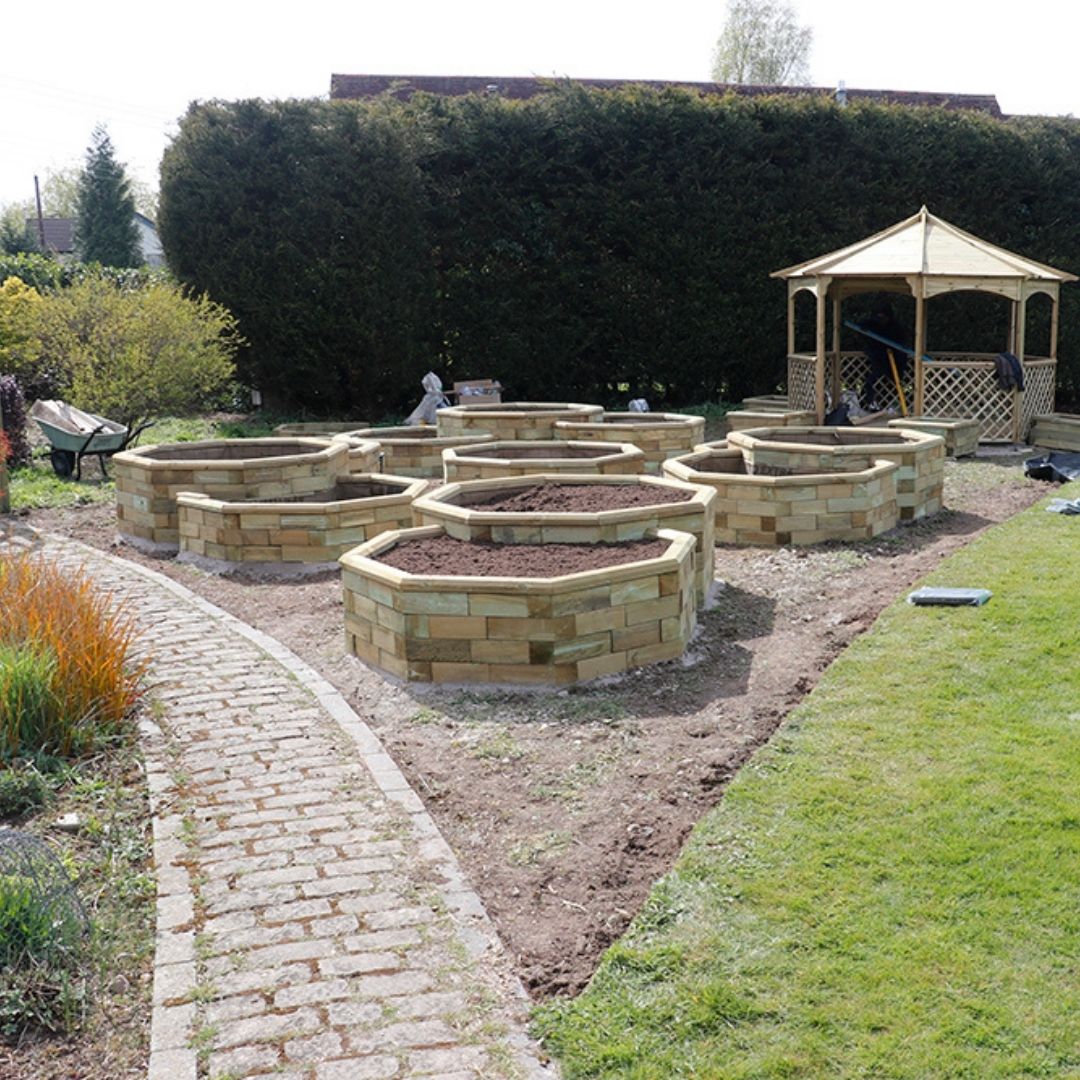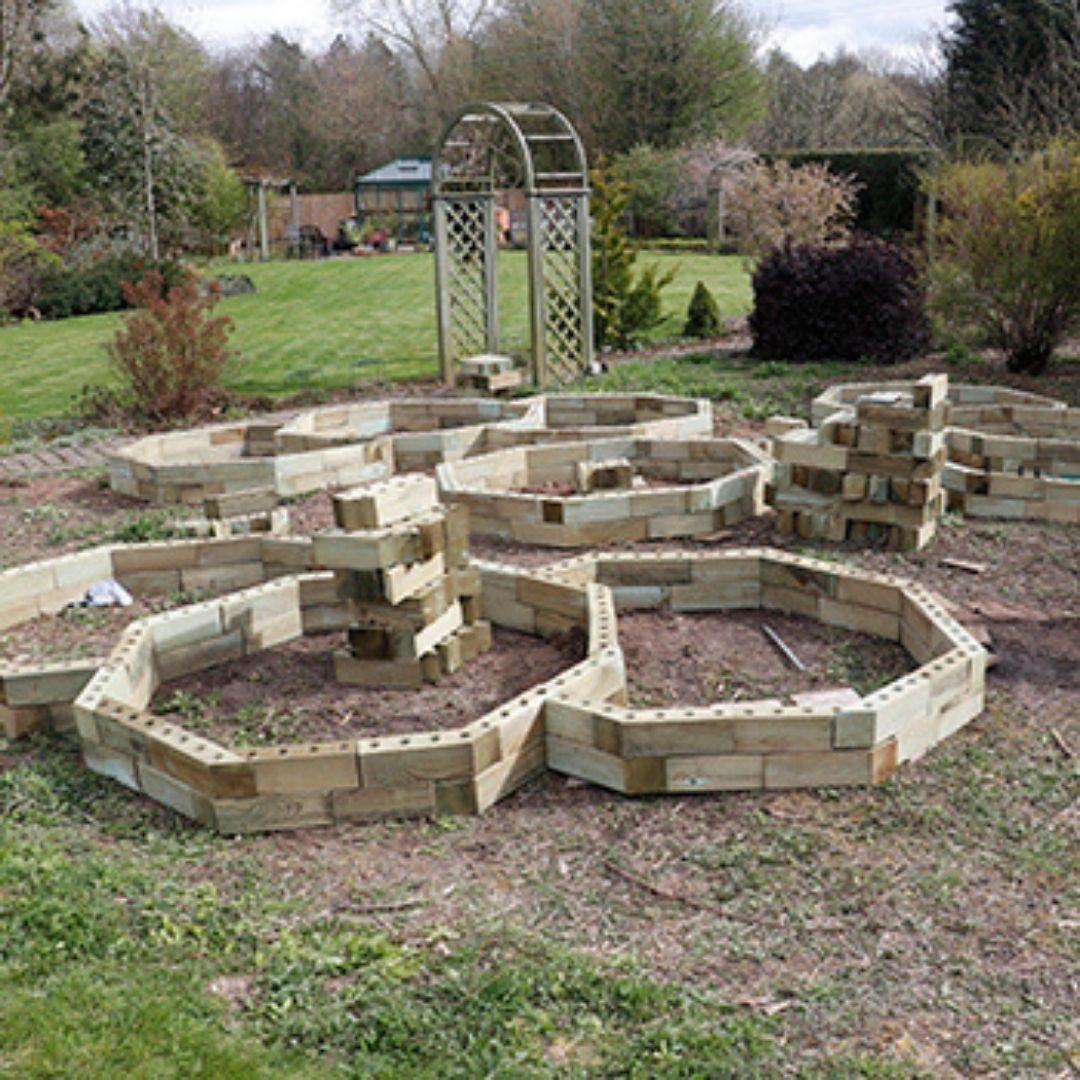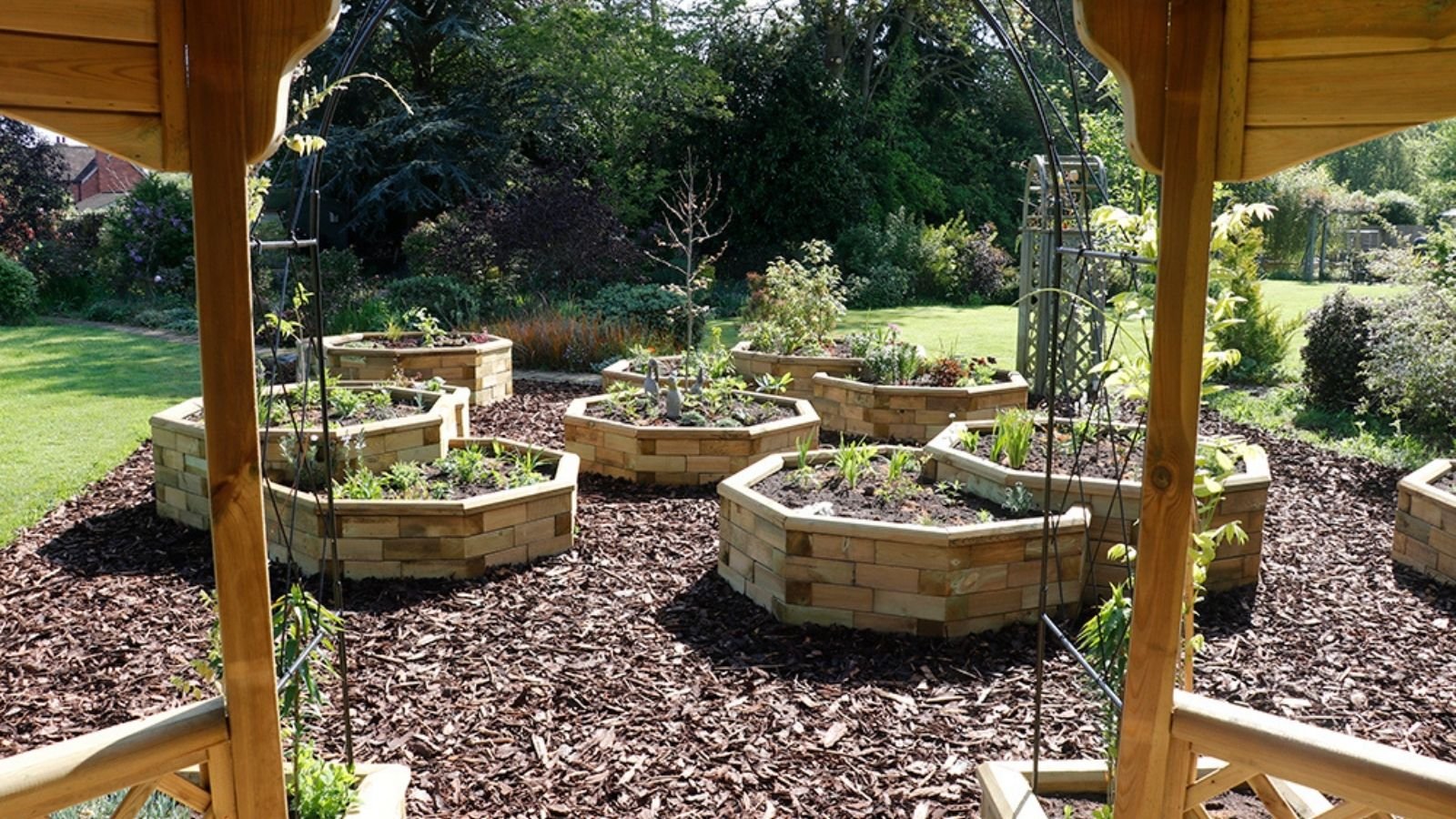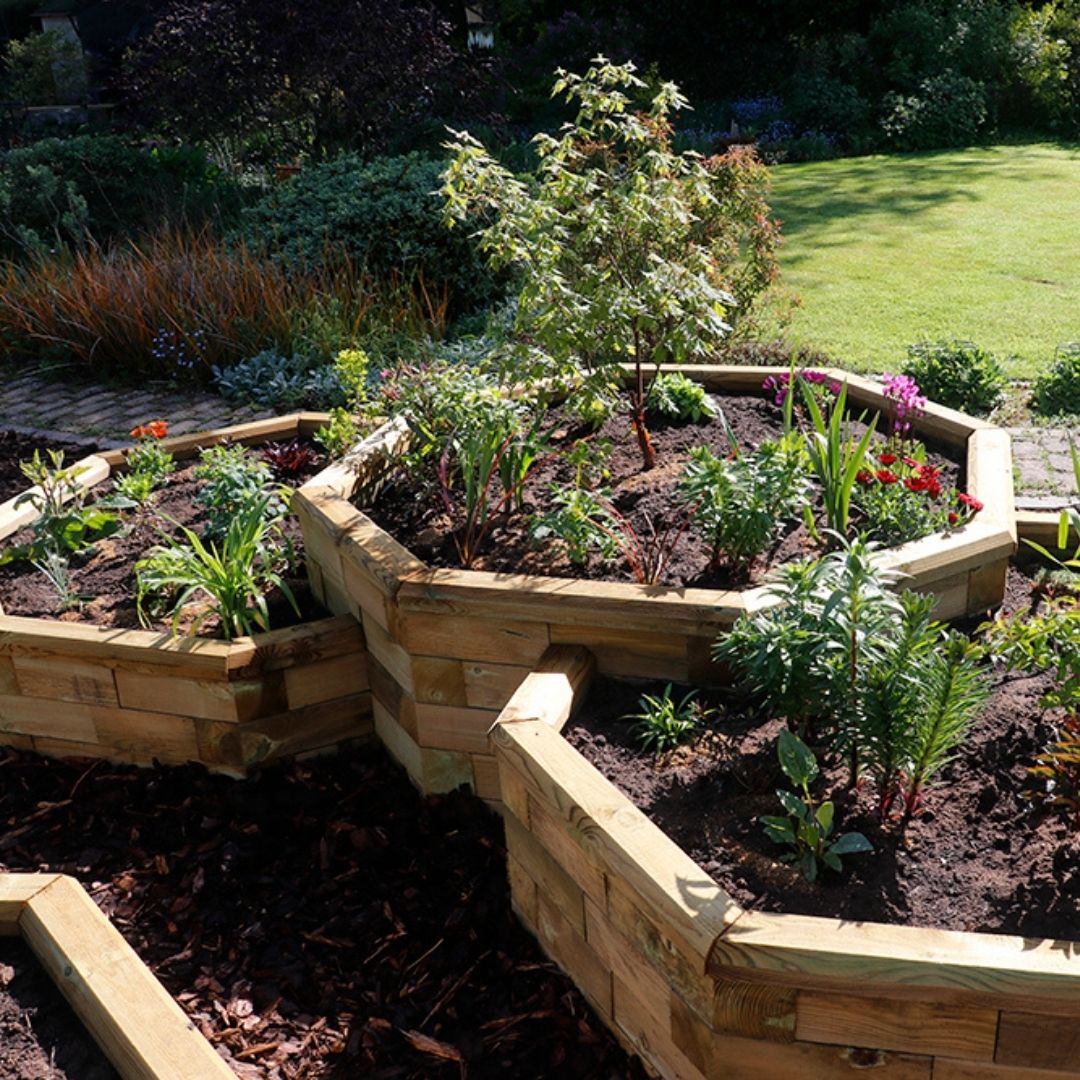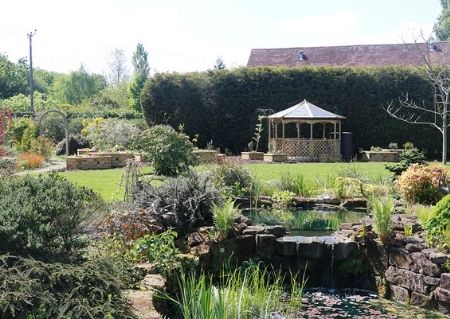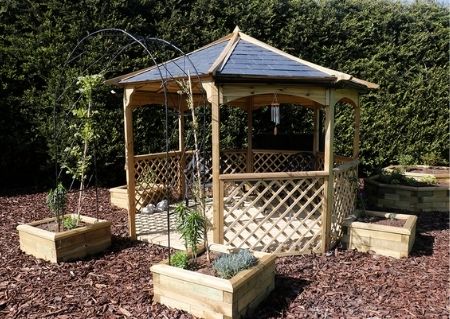 Octagonal raised beds
Octagonal raised beds make a great centrepiece are perfect for anyone looking for an alternative to the traditional rectangular raised bed. For single Octagonal raised beds use our Calculator tool to input your own measurements. Or use the buttons below to browse our pre-designed kits, If like, Helen you need something bespoke use our Free Design Service and out team will work with you to create the perfect design for your garden.