Ruth and James' low retaining wall
Using a low retaining wall to tier a new build garden
Ruth and James' new build L shaped back garden had a steadily increasing slope on one side, with limited sunshine on top of the L-shaped area and the grass was becoming patchy, and difficult to mow. With a narrow patio and unruly grass it required a complete facelift to increase its functionality, usability and overall aesthetics.
The garden before ---->
Planning the garden
Ruth and James started planning the garden by initially assessing the aspect of the garden and where the sun moved during the day in the both summer and winter. This helped to identify areas suitable for a storage such as a shed, seating area, dining, entertaining, planting and areas that required additional shade.
In the mornings the sun streams into the patio doors throughout the year and in the summer which means they can have breakfast on the patio. They decided to extend the patio area, and install a lean-to pergola against the house to, in time, generate shade and interest with climbing plants.
In the evenings the last sun spot is the top left of the garden so it was essential that this was maximised for a seating area.
This left a shaded corner at the top of the L-shape, and highest point of the garden, was perfect for a large shed. However being the tallest point in the garden it required tiering, or another option would be to remove the excess soil.
Ruth and James' had previously used WoodBlocX for their front garden update and decided to use a bespoke WoodBlocX wall design to tier the rear garden. Their design changed throughout the planning process to ensure they got exactly what they needed - amending designs is no problem for our team - they loved the idea of tiering the garden to create steps and a path to the shed, planters to add colour and texture, and to provide additional interest with segmenting the garden.
Preparation and building
Ruth and James are advocates of WoodBlocX! They were so impressed with their ease of design and manufacture that they were our first choice when considering our back garden. The ability to add in a curve within our planters was a huge selling point to move away from straight lines.
The tiering took the long weekend to install mainly due to the amount of digging required to achieve the levels they wanted. With intuitive building instructions and ease of constructing, the retaining wall came together in minutes.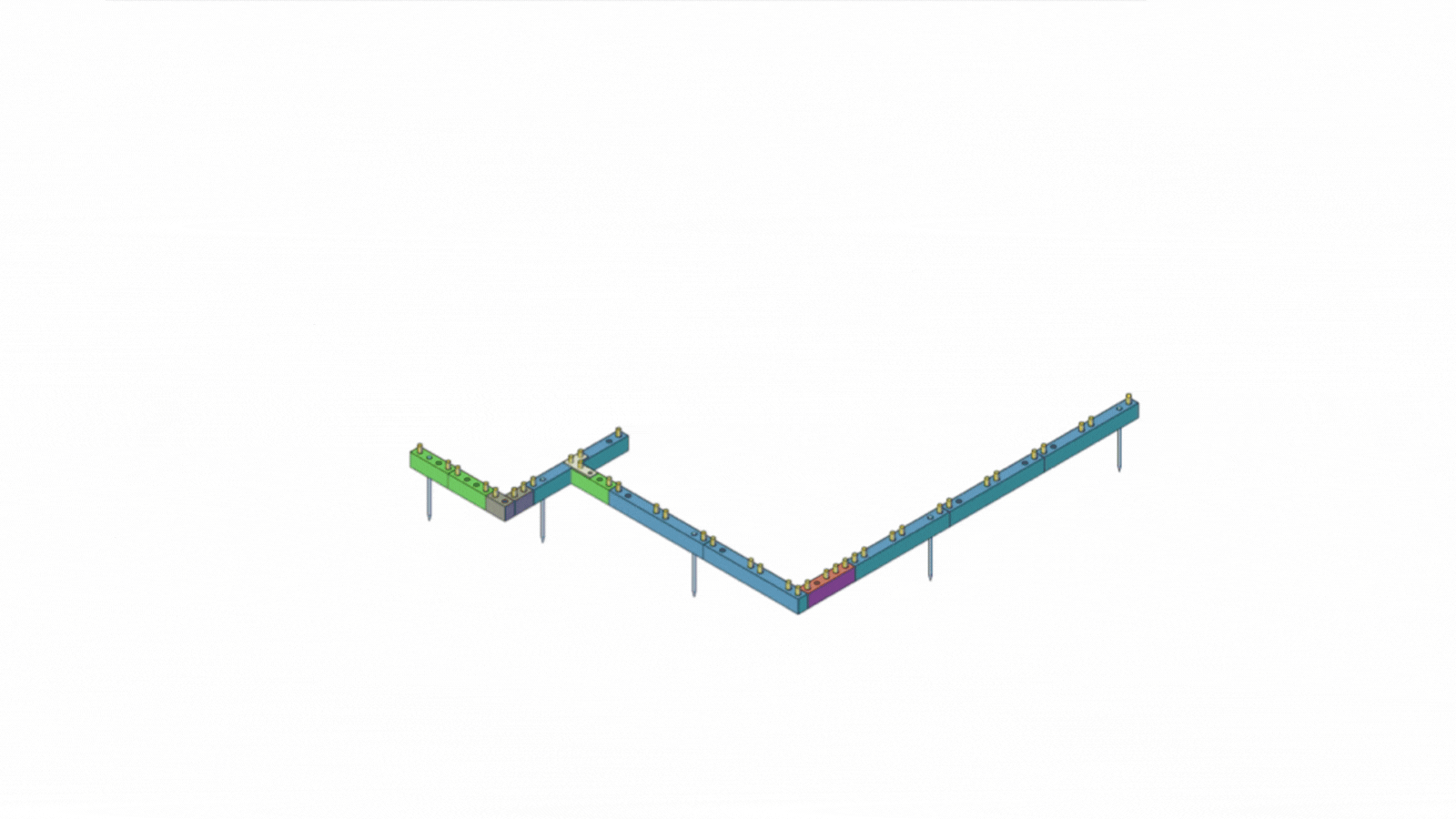 Ruth and James were able to completely transform their space with WoodBlocX, creating the perfect path to the shed, and plenty of space for plants and pots.
They are taking our time to choose the right combination of plants, however they are really pleased with how it is coming together, and hope to create a colourful cottage garden over the next year.
To begin they have added these plants:
Athyrium niponicum f.metallicum ferns (base filler)
Nepeta x faassenii 'Junior Walker' (base filler)
Anemone × hybrida 'Honorine Jobert' (mound forming)
Perovskia atriplicifolia 'Blue Spire' (Spikes)
Lupinus luteus (Spikes)
Wall / Fence Fillers
David Austin Gertrude Jekyll Climbing Roses
Use WoodBlocX for low retaining walls
WoodBlocX retaining walls can be built at numerous heights up to 1.05m, however our low retaining walls are a great option for adding tiers or improving the look of an old wall, whether you're completely removing it or want to face it up with a fresh new look.
For straight, L-shaped and U-shaped walls our, retaining wall calculator is great place to get your retaining wall project started, simply select your preferred measurements to get an instant price. For bespoke designs that include tiers, steps, planters and even seats, our Free Design Service is the best place to start, submit a request and a member of design team will work on a design for you.