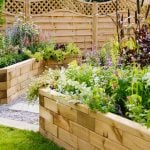 WoodBlocX structures are renowned for looking good and are ideal to use in place of railway sleepers, wooden boards and even bricks.
Looks aside, one of the main benefits that our customers find is our structures are really easy to build, enabling them to update their gardens quickly without having to spend hours with complicated parts and instructions and in order for us to get this across to our customers in the most effective way we have created a brand new short video.
We found the perfect location to film the guide, not only is the garden stunning, it is also where the majority of the garden and plant photography is shot for magazines and newspapers.
GAP Gardens in Essex is one of the UK's leading gardens-and-plants picture agencies, it has a collection of more than 600,000 high-quality images used by magazines and newspapers.
Our team installed a number of angular and rectangular raised beds to provide the backdrop for the video, being a permanent fixture in the garden now the planters are sure to be featured in new photography from the gardens so keep your eyes peeled for WoodBlocX in your favourite gardening magazines.
This is us in action below on location at the gardens, we shot the new footage over three days and managed to enjoy a little bit of Essex sunshine too!